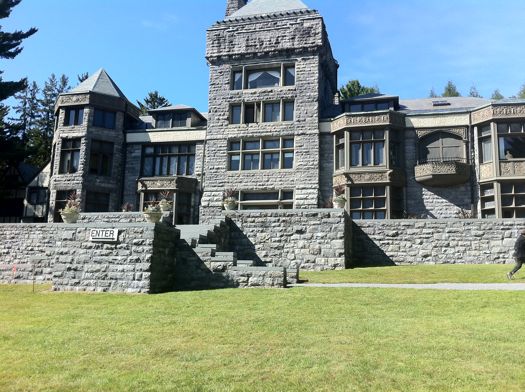 Yaddo, The Artist's retreat in Saratoga founded by Spencer and Katrina Trask is opening for tours for one day in September. The house, normally closed to the public, hosts artists, writers, filmmakers, composers and performance artists. Leonard Bernstein, John Cheever, Truman Capote and Eudora Welty are just a few of the artists who have had residencies there.
The main house and cottages have opened for tours about five times, and each time they sell out, and the waiting list is very long. They'll open for public tours for only the 6th time in the organizations 114 year history on September 21. Two hour tours will be offered at 8:30 am, 11am, 1:30 pm and 4 pm. There will also be a deluxe tour available to 50 guests on September 20, from 4-7 pm with a reception. Tours are $50. Tickets are available here. The deluxe tours are $250.
We took the tour in 2011 and it's really interesting. You get to see the dining rooms, a studio, the elegant staircase where John Cheever is rumored to have ridden and antique sled, and artist's studios. Even the pencil sharpener under the stairs made us wonder what was written with the No. 2s sharpened there.
You can check out the rose garden and rock garden at Yaddo anytime between dawn and dusk for free. It's a great place to have a quiet picnic in Saratoga.