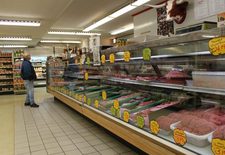 Greulich's Market in Guilderland, in business since 1949, has closed, according to its Facebook page. The Gazette's Bethany Bump reports the situation around the closing is unclear, and there was at least some indication that the store might still have a future.
Greulich's, near the border between Guilderland and Schenectady, was like something from another time -- a small, independent grocery store that focused on customer service. But the grocery business is a notoriously difficult industry with tiny margins. And as manager Robert Van Allen told Liz Clancy Lerner for AOA a few years back, Greulich's was feeling the pressure of staying small in a world of supermarket giants:
You gotta realize when you go into a big chain, their groceries are going to be cheaper; they'll always be cheaper because they buy railcar loads, where I buy one at a time. ...
The biggest change is that years ago Hannaford wasn't down here, the beverage center wasn't down here. So when the other places come in, probably our grocery business has gone down a little bit -- but our perishables are still way up there because we can offer a more personal touch to that. The beer business has gone down because that's gone to drugstores and discount beverage stores because they get a huge quantity.
But as Van Allen told Liz about managing a small, independent store: "You become tight knit and you're able to do things on your own [here] where in a chain you have to just follow the policy 'bang, bang, bang, bang, bang.'"
Hi there. Comments have been closed for this item. Still have something to say? Contact us.