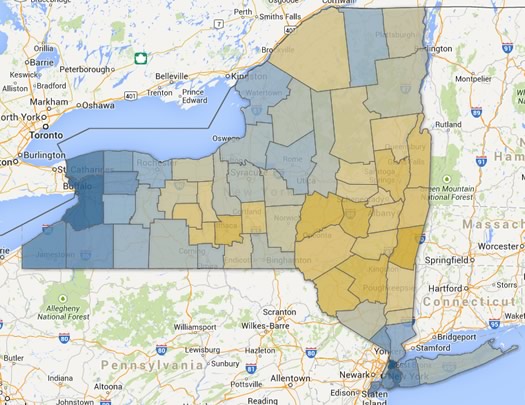 Map of the day: The above is a county-by-county breakdown of votes in the Democratic gubernatorial primary.
As you know, Andrew Cuomo beat challenger Zephyr Teachout 60-33. But it was a strong showing for Teachout. And as the map indicates, she ran ahead of the governor in many parts of the state.
There's a clickable large-format map after the jump, along with a few notes.
Clickable map
It's above in large format -- click that link or scroll all the way up.
Notes
+ Cuomo won majorities of votes among the Democratic primary voters in 29 counties, Teachout in 23.
+ But Cuomo's margin of victory is largely attributable to rolling up large percentages in counties with a lot of votes. For example: Cuomo won 64 percent of the votes downstate (Rockland and Westchester counties and south). And those counties collectively made up 66 percent of all the votes cast in the primary.
+ Teachout was strongest in the eastern part of upstate. The challenger won the Capital Region core 59-33 over Cuomo. But those four counties only represented about 6 percent of all the votes cast.
+ In a typical general election a 60-33 win would pretty good. But for a sitting governor in a party primary it's bad by the standard of recent history. Ahead of the primary FiveThirtyEight looked at party primary races around the nation involving incumbent governors since 2002 -- and Cuomo's percentage of the vote in this primary ranks near the bottom of this list.
It's an especially weak result for Cuomo considering two other factors: 1) Just a few months ago polls indicated very few people knew much of anything about Zephyr Teachout and 2) Cuomo had an enormous money advantage.
+ One of way of looking at the primary result is that the more liberal parts of the Democratic Party were upset with Cuomo, so they voted for Teachout. Another (not necessarily mutually exclusive) way is that people weren't voting so much for Teachout as against Cuomo. So it will be interesting to see how things play out in the general election. Cuomo is thought to have a big lead on Republican Rob Astorino. Will people who support(ed) Teachout stay home? And while it's hard to see a lot of Democrats voting for Astorino out of spite for Cuomo, maybe Astorino will benefit from some not-Cuomo votes among the wider electorate.
Hi there. Comments have been closed for this item. Still have something to say? Contact us.