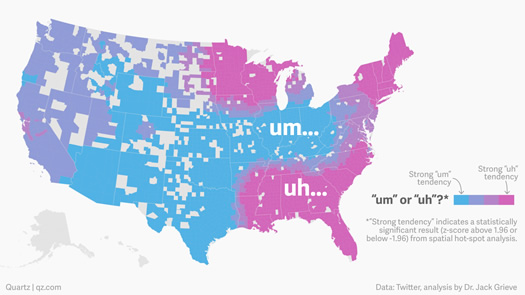 The map above is via Quartz. And it's based on the work of a linguistic researcher who sifted through millions of Twitter posts looking for geographic patterns indicating where people are more likely to use "um" or "uh." Blockquotage:
The regional breakdown is clear, and it doesn't look much like other maps that try to show where some phenomenon or another is happening in the United States. Grieve said the use of "um" looks to follow the elusive "Midland dialect," which linguists have suspected follows the Ohio River southwest from central Pennsylvania. That accounts for most of the blue that sweeps from West Virginia all the way to Arizona. Grieve said the "uh" and "um" analysis is the first time his research has shown clear evidence of the Midland dialect.
The Quartz article is interesting and includes some important details about how the map was created.
We were just struck by the distribution of "uh" -- the Northeast and upper Midwest.. OK, maybe not hard to believe. But the South as well? Surprising.
(Also, probably coincidental more than anything: The strong "uh" tendency starts to fade out in New York State about the same place as the pop/soda line.)
Earlier: An Albany dialect?
map: Quartz
Hi there. Comments have been closed for this item. Still have something to say? Contact us.