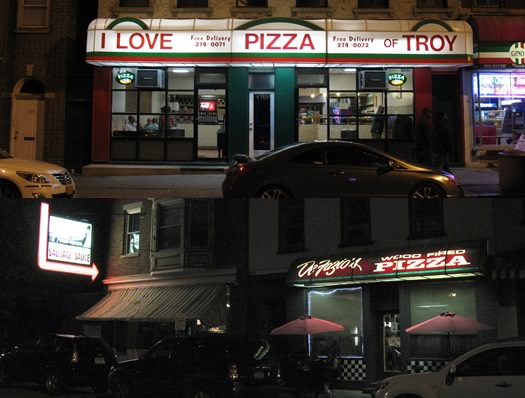 The 2014 Tournament of Pizza, sponsored by Keeler Mini -- the Tournament of Pizza to end all Tournaments of Pizza -- heads for Troy and matchup between 4th Street rivals I Love, a two-time semifinalist, and reigning tournament champ DeFazio's.
This year's clash-of-champions format includes first round matches consisting of two pizzas. Highest aggregate score advances. And, again, the two types of the pizza for this first round: sausage and the deceptively difficult broccoli ricotta white pizza.
Pizza fuit, pizza est...

A quick note about how all this works:
Unlike in years past, the judging for the first round of this year's TOP occurred at the shops and, as a result, was not blind. Pizzas are scored in four categories: crust, sauce, toppings, overall taste. The scores from the judges -- each matchup is scored by a panel of 4 or 5 judges -- are combined and pizzas are scored on a 0-100 scale.
The pizzas
I Love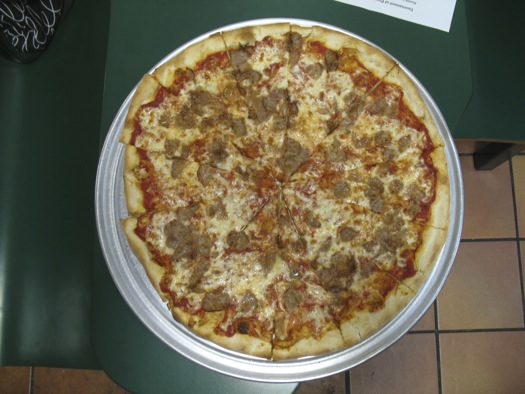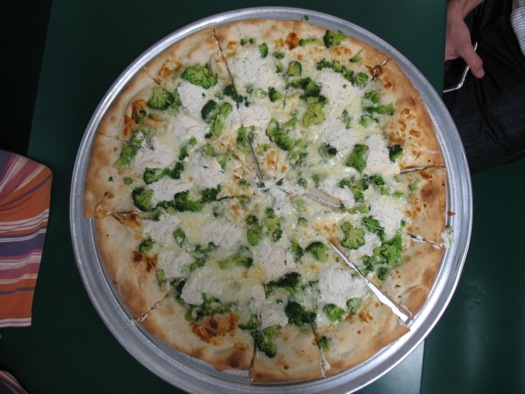 DeFazio's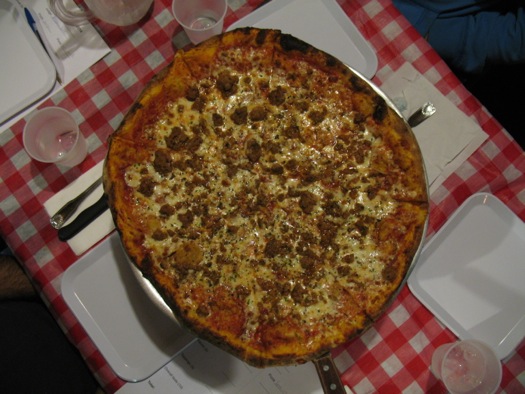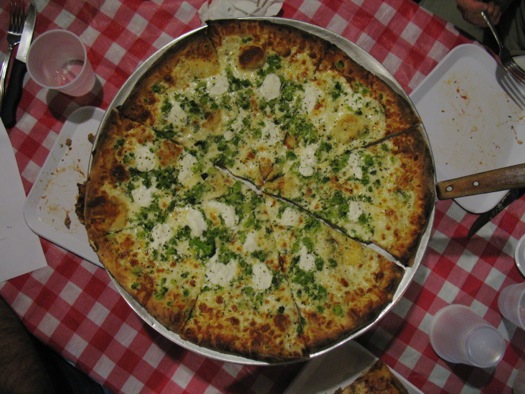 Scoreboard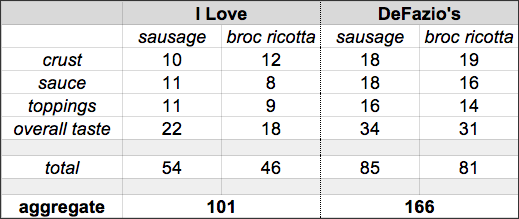 Post game
DeFazio's takes care of business, with authority.
Sausage
I Love
Of I Love's two pizzas, this was the second to come out and a few judges commented they probably would have liked it better right out of the oven. Even so, they preferred the sausage pie a bit more than the broccoli ricotta. Judges described the crust as "chewy" and "sweet." Many judges noted the sauce was on the sweeter end of the spectrum. The sausage got OK marks, and some commented they would have liked to have seen more of it on the pizza. Overall, it wasn't so much that most of the judges didn't like this pizza -- it was a "pleasing combination of sweet and savory," one judge summarized -- it just didn't light them up.
DeFazio's
DeFazio's started strong with a crust described as having "nice char" and being "yeasty" and "crusty" (though one judge thought their portion was a bit unevenly cooked). The pie won praise for a "nicely portioned" amount of sauce, described as a "warm and bright" with "good tomato flavor." The cheese was called "rich." And the sausage described as "meaty," with one judge detecting paprika in it -- though another judge, while praising the quality of the meat, commented that it tasted a bit more like a meatball than sausage. The combination of somewhat thick crust, flavorful sauce, rich cheese and sausage was summarized as "almost a knife and fork affair -- so densely delicious" by one judge, and another called it a "very good slice." And even though one judge thought the pizza was 2 minutes in the oven away from being a near perfect score, the pie still produced a stellar score of 85, one of the tournament's all-time high marks.
Broccoli ricotta white pizza
I Love
I Love got higher marks for crust on this pizza -- one judge called it "well cooked," and another said, "love the poofy end crust and color on the bottom." But it couldn't carry that momentum through the toppings. A seasoning of black pepper -- or to be more precise, the amount of black pepper -- with the ricotta seemed to throw the judges off a bit. One judge described it as the "dominant taste of [the] pie." And a few judges said they would have liked the ricotta to register as a more prominent flavor.
DeFazio's
The crust on DeFazio's broccoli ricotta pizza fared a bit better than its sausage pie, with one judge praising its "great color" and another calling it "perfect" and another "amazing" and another saying the "the end crust is magic." Judges enjoyed how the olive oil on the pie helped mellow the "heavy" garlic flavor. The ricotta was called "very creamy," though one judge found it to be lacking in flavor. A few judges liked the broccoli -- saying it had "nice snap" and "great color" -- and few others thought it more pedestrian, and perhaps drowned out a bit by the cheese. Overall the pizza was very warmly received -- a score of 80 or above is very good. But there was some variance among the judges -- with one marking the pie a 17/25 and another awarding a perfect score.
Up next
I Love has many fans, and one of the judges said they'd be back for a slice soon. But DeFazio's was just too much, posting two 80+ scores. That is doing some serious work. And it heads to the semifinals with a lot of momentum.
Tomorrow: Last year's tournament runner up, DC's of Albany, faces 2012 overall champ Marisa's Place of Guilderland.
The 2014 Tournament of Pizza is sponsored by Keeler Mini
Hi there. Comments have been closed for this item. Still have something to say? Contact us.