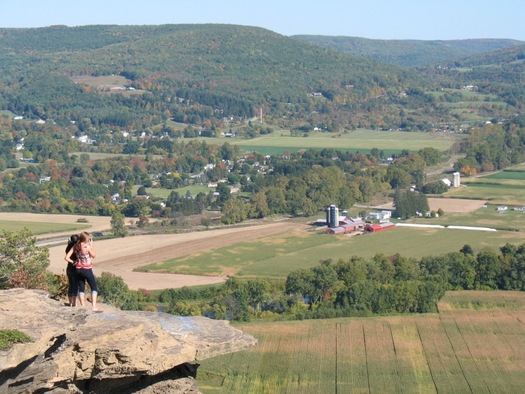 If you're looking for a quick day trip, especially as the leaves turn this fall, here's a good bet: Vroman's Nose.
What is it?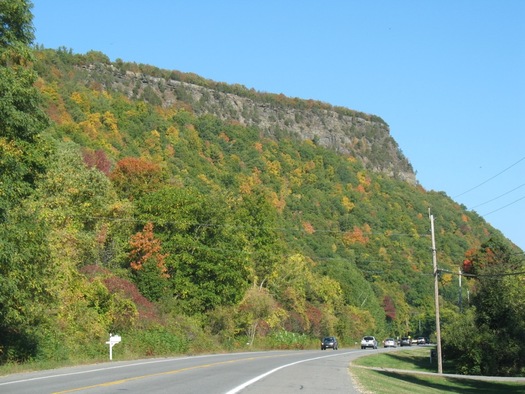 Vroman's Nose is basically a giant chunk of rock that rises about 600 feet above the Schoharie Valley and provides great views of the valley. It was formed by glaciers as they scraped across the area 50,000 years ago. It's named after the Vroman family, one of the early inhabitants of Schenectady, which acquired the land in the early 1700s. And also, you know, because it kind of looks like a nose.
Today Vroman's Nose preservation is managed by the Vroman's Nose Preservation Corporation, and it includes hiking trails and some excellent views (that's worth mentioning again).
Where is it?
Vroman's Nose is in Fulton, just outside Middleburgh, in the Schoharie County. It's about 45 miles from Albany -- less than a hour's car ride.
From the Capital Region core, you can take I-90 west to I-88 south. And then you can hop off the interstate at either Exit 23 (Route 30A) or Exit 22 (Route 145) and head south. Alternately, you can head out US 20 and Route 7 for slower, more scenic trip.
There's a small dirt parking at the trail head, and grass lot for overflow parking -- and most nice weekends, there will be overflow. (There's also now a cute little gift/snack shop adjacent to the parking lot.)
Why go there?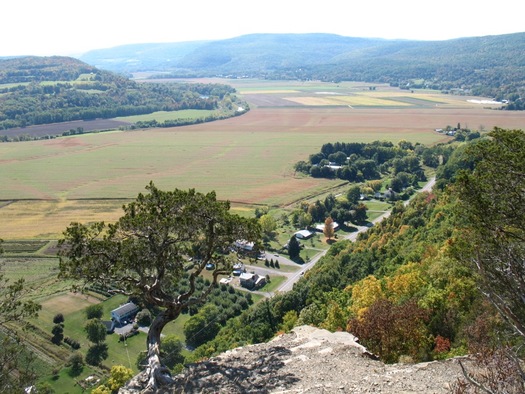 Because the views of the surrounding valley are fantastic. And while the hike to the top is basically uphill the entire way (this video provides a glimpse), it's a very manageable half mile or so. If you're not in hiking shape, you'll feel it a bit, but it's not bad by any means, thanks in part to the trail being shaded most of the way. Considering the payoff at the top, the effort is well worth it.
As a result, Vroman's Nose is very popular. And you'll almost certainly see other people there. (But you can share, right?)
Oh, and entrance is free. That's good, too.
Photos?
You know it. There are a bunch above in large format -- click or scroll all the way up.
What else is there to do out there?
Well, you won't be far from Howe Caverns, if you'd like to check that out. The Iroquois Indian Museum (earlier) and Old Stone Fort are also out that way.
We recommend just allowing yourself some extra time to explore along Route 30. That stretch from Vroman's Nose back north includes the villages of Middleburgh and Schoharie, along with multiple farm stands (like Bohringer's) and antique shops. The villages have some beautiful homes, there are multiple places to stop to eat, and if you've never checked out the Carrot Barn -- hey, this is a good time to do so.
And if you're headed back to Albany or other spots in that direction, you can continue up Route 30 to Route 7 and then US 20. It's a nice drive.
Hi there. Comments have been closed for this item. Still have something to say? Contact us.