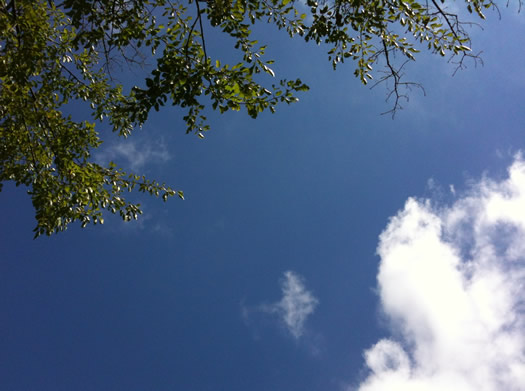 We've been on a pretty great run of whether the last month or so. And just last week, while sitting on a restaurant's deck, we said something to the effect of, "This has gotta be the nicest weather day of the whole year..."
We got to thinking about that idea -- the "nicest weather day" -- and whether (ha) we could somehow rank the days of this year by how their weather.
And that's exactly what we did...
How we did it
We pulled daily weather data for Albany from the National Weather Service (all categories except one) and Weather Underground (cloud cover). We then lined it all up and then scored the days like this:
For every 10 degrees deviation of the high day's high tem from 75 degrees: 1 point
(That just seemed like the perfect temperature. Your preferences -- and thus scores -- are probably different.)
For every 10 degrees deviation from the day's average dew point from 55: 1 point
(A dew point of 55 degrees is considered right in the middle of the "comfortable" range.)
For every .25 inches of rain: 1 point
For every 2 inches of snow: 1 point
Cloudiness: 0 points for a totally clear day, up to 4 points for a totally cloudy day
So, the fewer points a day accumulates, the better the weather.
Please note
Using different "ideal" marks for the weather would result in different ranks. And, also, you know, this whole thing is kind of ridiculous.
2014 (so far) weather days ranked
Top 5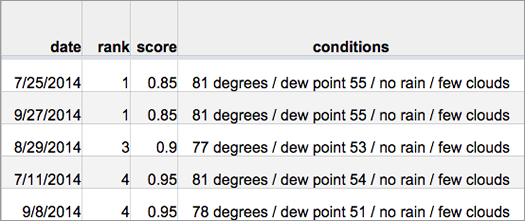 By the way: The "worst" weather day of the year was February 5 -- 27 degrees max temp, dew point of 18, 10+ inches of snow, and totally cloudy.
All days as a graph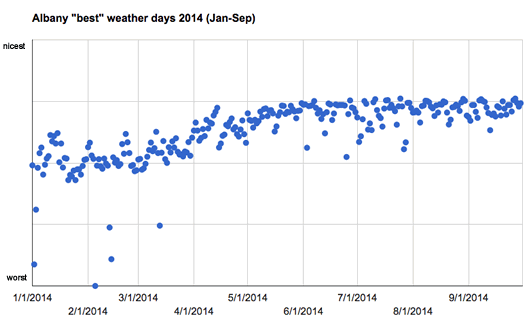 All days as a table
Hi there. Comments have been closed for this item. Still have something to say? Contact us.