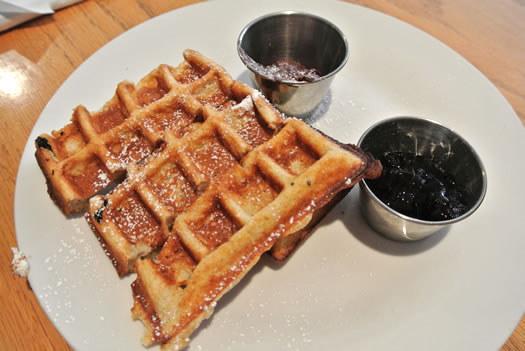 By Deanna Fox
The nearest Waffle House is 127.94 miles away from Albany. What a shame.
I'm normally not a big proponent of chains, but few places understand the utility and magnificence of a waffle. Waffles are the superior batter-based, carb-loaded breakfast option. Pancakes are great, don't get me wrong, and so is French toast, but neither can be manipulated the way a waffle can.

Many places in the Capital Region serve waffles, but few embrace the true glory of the waffle the way Iron Roost in Ballston Spa does.
To waffle, in North American English, means to fail to make up one's mind.
Can't decide between sweet and savory at brunch? Just get a waffle. Pile it high with whipped cream and berries or fold it over melty, smoked Gruyere and pulled pork or a slab of baked ham for a perfectly portable breakfast sandwich. Either way, you win.

Or better yet, get a few friends together to try out Iron Roost, and sample from a bevy of menu options like the bananas foster waffle (slathered with cinnamon rum sauce), lemon mascarpone and strawberries (exactly as it sounds), or a steak and eggs waffle sandwich (which features a less-sweet waffle, mushrooms, and a generous helping of mushrooms).
Keep in mind these aren't Belgian-style, thick, bready waffles. Iron Roost makes a thin-style waffle with a crunchy exterior that melts away in your mouth, but holds up to even the thickest layer of maple syrup. This is my preferred style of waffle, mainly for its efficacy as a platform for so many flavor combinations. It just holds up better than its fluffy sibling.

On my last visit to Iron Roost, I enjoyed waffles two-ways. First up: the waffle sticks ($5.50), which aren't truly "sticks" but rather a regular waffle sliced soldier-style. This is a good option for the little hands of children, especially since there is no pesky fork and knife to mess with. Choose one "dipper" to accompany your sticks, or get another for a 50-cent upcharge. (We went with Nutella -- because whenever given the choice of no Nutella or Nutella, the answer is always Nutella -- and grape jelly.)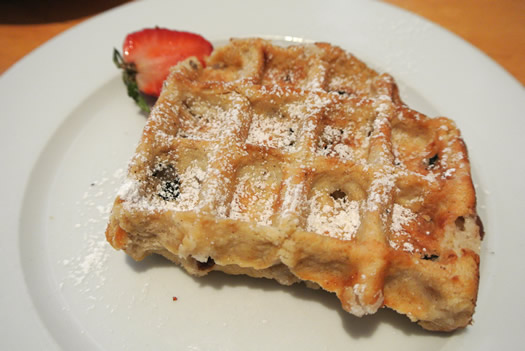 The other waffle was Iron Roost's take on the Liège waffle (named after the Belgian city, say it like lee-ejz) ($3.50). Liège waffels are denser and chewy than the waffles typically eaten in the United States, and they have bits of pearl sugar in them. These glistening orbs of sugar caramelize under the heat of the waffle iron. Eaten warm, Liège waffles are a delight. Cold, they're clunky and taste a bit stale. So make sure you ask for a warmed Liège waffle.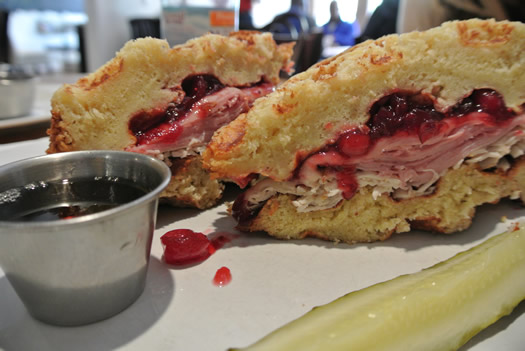 My dining companion chose the French toast waffle ($8), which is basically just brioche-based French toast cooked in the waffle iron. I ventured into French toast territory, as well, opting for the daily special of a Monte Cristo sandwich ($9, filled with cranberry sauce, ham, turkey, and Swiss cheese on the same battered brioche French toast). Both only bolstered my feelings of how the waffle trumps the rest of the breakfast carb competition. The former dish was a suitable example of French toast, but lacked that browned, crisp exterior that griddle-cooked French toast is known for. The latter would have been a wonderful sweet-meets-savory meal if it had been on a waffle. The heavy, soggy consistency of the French toast made the entire sandwich overwhelming, and I found myself picking at the middle and barely touching the bread. Having had nothing but spectacular service and food at Iron Roost until this point, I'd say that this was more a fluke than anything else.
Front Street in Ballston Spa might be one of the Capital Region's best-kept secrets, and Iron Roost has been a fixture on the strip since it opened in 2012. A stop there punctuates a morning spent perusing the quaint shops that line Front Street and its adjoining avenues, when you simply can't decide between breakfast and lunch.
Walk in with an empty stomach; walk out with a new appreciation of the waffle.
Deanna Fox writes about many things, mostly about food. More can be found on her website, Twitter, or Instagram.
Earlier on AOA:
+ In-between places: Ballston Spa
+ Pika's Liege Waffles at the Troy Farmers Market
Find It
Iron Roost
36 Front Street
Ballston Spa, NY 12020
Hi there. Comments have been closed for this item. Still have something to say? Contact us.