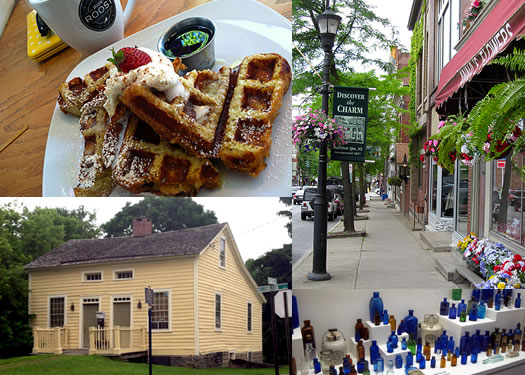 By Casey Normile
The Capital Region is full of cities, towns, villages, and hamlets. And some of these places -- like Albany or Saratoga Springs or Troy -- get lots of attention. This series isn't about those places. It's about those other spots -- the "in-between" places.
First up: Ballston Spa.
If you haven't visited in a while -- or have never been -- here are a bunch of facts, tips, and highlights to get you started...
Location: Saratoga County, less than a mile southwest of Saratoga Springs on Route 50. The village is on the Milton/Ballston town line. It's the county seat for Saratoga County.
Population: 5,417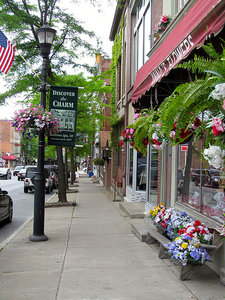 Some numbers:
+ The village itself is only 1.6 square miles.
+ The median household income of the village is $43,767, and the median age of residents is 38 years old.
+ The average travel time to work for residents is 21 minutes.
+ Though tiny, the village is a hot spot during the weekday -- its population increases more than 21 percent due to commuting. That's the fifth highest percentage increase in the Capital Region core.
History
The village is named after the founder of the partially surrounding town, Reverend Eliphalet Ball -- "Ball's Town" (There's a story that he paid his brothers a barrel of rum for the right to name the town after himself). He not only has a cool first name -- he was also said to be third cousins with George Washington.
The village was first settled in 1771 and grew in popularity with the discovery of mineral springs there. People would travel from all over to take advantage of the pure mineral water, though it was never quite as popular a destination as its neighbor, Saratoga Springs.
In the nineteenth century, it became home to the West Mill Complex, used by George West to manufacture his somewhat-important invention: the square bottom paper bag. He became known as the "Paper Bag King." (Falling somewhere behind the paper bag in his list of accomplishments, West was also a Congressman.)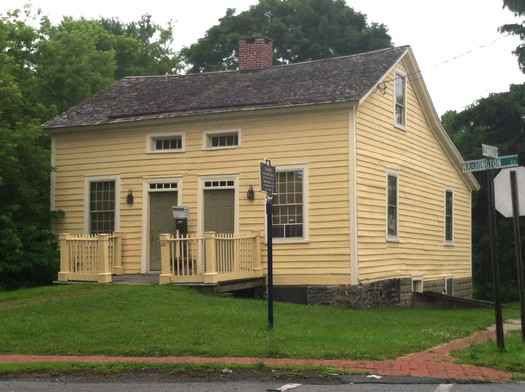 Birthplace of Abner Doubleday

Ballston Spa was the birthplace of Abner Doubleday. He was born on the corner of Washington and Fenwick St. Doubleday was a Union general in the Civil War and fought at Gettysburg. He's also said to be the inventor of baseball -- but probably wasn't. The house where he was born still stands today.
Today
Ballston Spa is making a name for itself as more than just a sidenote to Saratoga. New restaurants are making it a nice place to visit and the Victorian homes and location make it a nice place to live.
Places to eat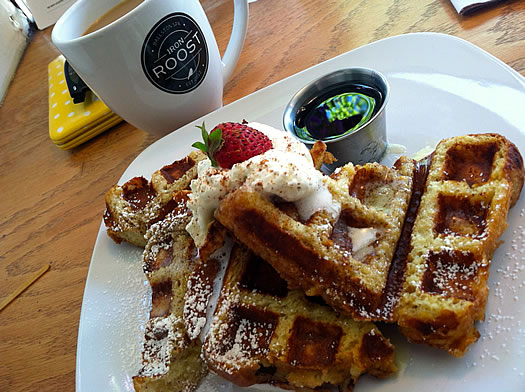 The Iron Roost: A new gourmet waffle and coffee stop that opened last year. They offer the standard waffle, but they also offer a French toast waffle, breakfast sandwiches on a waffle AND a BLT on a waffle. It's quirky and casual.
Sunset Café: It has a wide menu of southwestern cuisine and was suggested by Ballston Lake resident Matthew Carefully. "It can satisfy folks on a $15 beer + quesadilla tab, or on a $40 steak + wine + dessert night. "
Fifty South: A restaurant focused on using locally-sourced ingredients, and aims to appeal to wide variety of diets -- gluten-free, vegan, vegetarian, soy free. Or just someone looking for a burger (it'll be "all natural organic, humanely slaughtered, grass-fed" beef).
The Factory Eatery & Spirits: It's housed in the historic paper-bag-factory-turned-chocolate-factory and is listed on the National Register of Historic Places.
Spots to highlight
+ Front Street and the surrounding area are pedestrian friendly and have a quaint village feel. You can grab a bite to eat, shop for antiques, and browse art galleries and stores.
+ Also on Front Street: The Whistling Kettle. The Ballston Spa mainstay draws tea lovers from all over, and still manages to remain relaxed and welcoming.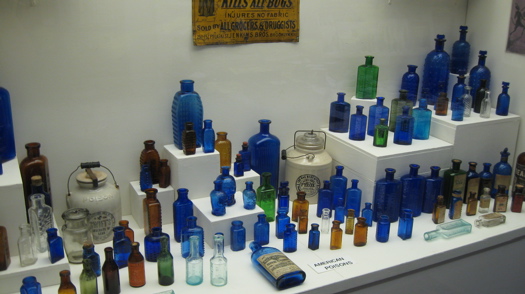 At the National Bottle Museum.
+ The village is home to The National Bottle Museum -- as well as the Brookside Museum, which chronicles the history of Saratoga County.
+ The Saratoga County Fair grounds are in the village. The fair is July 16-21 this year.
+ The 6th annual Ballston Spa Film Festival is this August 2-3 this year. The festival screens short films both from local filmmakers and from around the world.
+ The village also has some gawk-worthy Victorian homes. They're spread throughout the village, but if you stroll down East High Street, you'll find an entire block of homes from a different time.
In a few words
Says resident Matthew Carefully: "I feel like there's an unpretentiousness about the town that is simple, hopeful, and yearning to grow. It's small but full and teeming with energy. Ballston Spa has nothing but potential with a solid sector of good businesses in place. There are some gorgeous homes and nice neighborhoods just up and to the east of where 50 and 67 meet in the center of town. There's a ton of traffic that flows through on Route 50 and I think the opening of Iron Roost is a sign that we will see unique new businesses not even bother with Saratoga Springs and make their homes in Ballston Spa."
Hi there. Comments have been closed for this item. Still have something to say? Contact us.