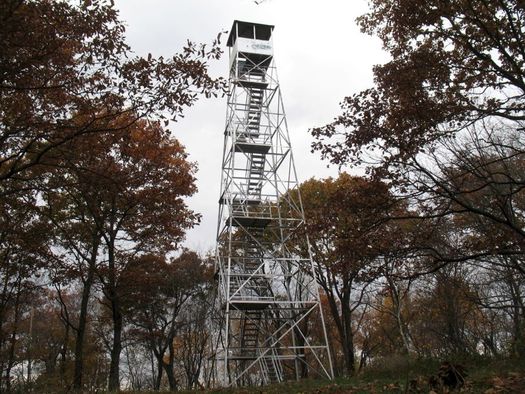 Here's another quick trip that could be fun this time of year: Beebe Hill and its fire tower.
What is it?
Beebe Hill is a state forest in Columbia County, near the border with Massachusetts. (It connects with Harvey Mountain State Forest.)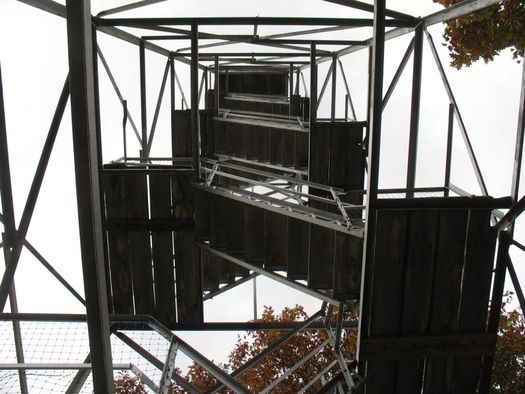 Looking up at the fire tower.
The summit of Beebe Hill includes a 60-foot-tall fire tower that you can climb. It was originally constructed in the 1920s in the Berkshires, before being moved to Columbia County a few years later. In the 1960s it was moved -- via helicopter -- to Beebe Hill, where it was actively operated until 1987. (It's been maintained -- and gotten some safety upgrades -- since then.)
Where is it?
Beebe Hill State Forest is in Austerlitz. It's about a 45 minute car trip from Albany.
From most places in the Capital Region, it's probably best to head out on I-90 almost all the way to the Massachusetts border and exit at B3. Then head south on Route 22, and turn right on county Rt 5. Here are Google Maps directions.
Why go there?
Because of the fire tower. There are some great views of the surrounding area -- especially during the fall.
The hike to the top of the hill is nice, too. It leads through deciduous forest -- a lot of oak trees -- so, again, it's beautiful in the fall. And the roughly two-mile roundtrip hike isn't hard. It's mostly uphill on the way to the tower, so if you're a little out of shape you'll feel it, but the distance keeps it from being difficult. (You will want to wear some sturdy shoes, though, because the trail is kind of rocky and root-filled in places.)
There's also a lake at the head of the fire tower trail. It's pretty.
And access is free.
One note about the fire tower: It didn't noticeably shake, sway, or rattle while we were climbing it recently. But if you are afraid of heights, there is a good chance it will push that button for you.
Photos
There above in large format -- click or scroll all the way up.
What else is there to do out there?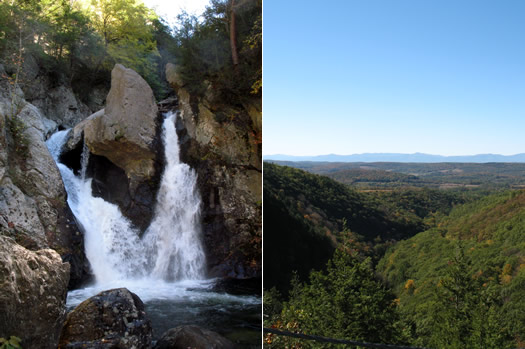 Bash Bish Falls
Well, you're in Columbia County already, so there's a bunch of stuff you could do.
If you're looking for more hiking of the not-hard-relatively-big-payoff variety, you could keep heading south on Route 22 to check out Bash Bish Falls (which are in Massachusetts, but you can get there from New York's Taconic State Park in Copake Falls).

Chatham Brewing Co. now has a storefront on Hudson Ave in the village of Chatham.
If you're interested in a different direction (literally and figuratively), you can hop on Route 203 and head over to Chatham, which is about 7 miles away. It's a cute little village with a bunch of shops and places to eat.
[Thank to Big 'Vic' Proton for suggesting this spot.]
Earlier on AOA:
+ Quick trip: Vroman's Nose
+ 12 hours in Columbia County
Hi there. Comments have been closed for this item. Still have something to say? Contact us.