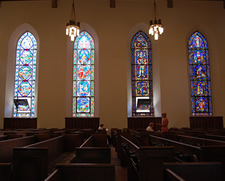 Liz emails:
I am looking to join a new church, and truthfully, one thing I'm really looking for is a congregation with a healthy number of members in their 20s and 30s who are active with the church and get together for fellowship activities (and fun). Can anyone recommend a church that skews a little younger or has an active group of younger congregants?
It's a bunch of years since we've had a church question, and it sounds like Liz has something specific in mind.
So, got a suggestion for Liz? Please share!
Hi there. Comments have been closed for this item. Still have something to say? Contact us.