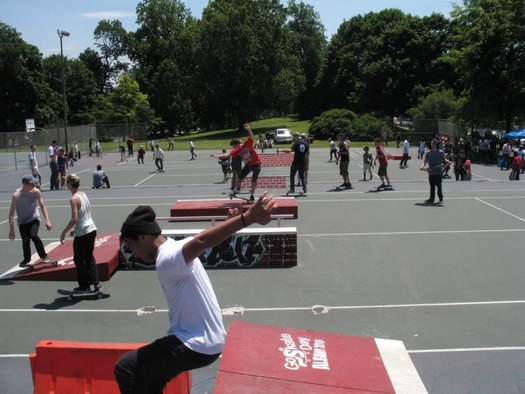 The city of Albany announced Thursday that a skate park is being planned for Washington Park. And there's a public info session about it lined up for Thursday, November 13 from 6-8 pm at Bleecker Stadium. From a press release:
Department of Recreation staff will provide a brief overview of the planning effort and an introduction the city's vision for the proposed skateboard park at Washington Park. The public is invited to provide suggestions on issues, impacts and considerations that should be addressed in the creation of a draft plan and draft environmental impact statement.
People unable to attend the meeting may provide written comments by Friday, November 28, 2014 to: Elisabeth Draper, Deputy Commissioner, City of Albany Department of Recreation, 7 Hoffman Ave, Albany, NY 12209.
Draper* says the city is looking at converting four currently underutilized tennis courts into the skatepark. That location -- "The Blue Banks" -- has been used for Go Skateboarding Day events in the past.
A skate park for Albany has been on the wish list of a lot of skaters for a long time. As Dylan Longton, the local organizer of Go Skateboarding Day, pointed out to us last year, skaters get hassled for skating at places like the Soldiers and Sailors Monument, but the city lacks a place where it's explicitly allowed.
"I'm stoked on the movement finally," Longton said to us Thursday via text, adding he'd like to offer input on the design of the park. "[The] location is perfect and a lot of skateparks are made on old washed up tennis courts and the way the Blue Banks are it is already a great foundation to have something to offer for all styles of skating and bmxing."
Added Longton in a follow-up text: "And a shoutout to Trev [Trevor Culley] at Seasons Skateshop for going to the council meetings and staying with the skatepark movement."
Earlier on AOA:
+ In the park for Go Skateboarding Day
+ A concrete vision of the future for skateparks in the Capital Region?
*Elisabeth Draper has written for AOA a few times in years past.
Hi there. Comments have been closed for this item. Still have something to say? Contact us.