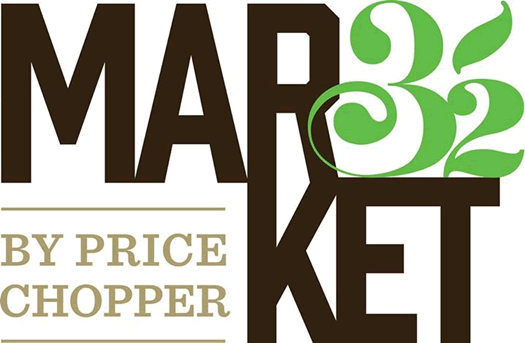 Price Chopper's parent company announced Tuesday morning that it's rebranding as "Market 32," part of larger campaign to modernize its stores. The "32" is reference to the chain being founded in 1932.
The company says the new stores will have "expanded food service options, an enhanced product mix and a re-emphasis on customer service."
From a press release:
"Market 32 represents the next leap forward for our company. We have evolved from the Public Service Market to Central Market to Price Chopper by responding to customers' changing needs over time and Market 32 is the next natural progression for us," said Neil Golub, Price Chopper's executive chairman of the board. "Early learnings gleaned from our Market Bistro concept store have put our next generation in an excellent position to make this move today." ...
"Market 32 combines what we are hearing from our customers and what we are learning at Market Bistro with some of the best thinking in the retail industry, and will focus on delivering a distinctively different shopping experience to our customers. Our stores will meet customers' needs today and for decades to come. Most importantly, though, we will continue to offer great value for great food and service," said Jerel Golub, Price Chopper's president and CEO.
That the Golub Corp, PC's parent company, is looking to up its game chain-wide isn't surprising. The supermarket industry is famously competitive and intense.

The Capital Region is a good example: in just the past few years competition here has scaled tremendously with the return of ShopRite, upscale competitors such as Fresh Market and Whole Foods and Healthy Living Market, the long-sought Trader Joe's, and already-established local players such as Hannaford and Honest Weight renovating and building new. And of course, there's also competition from Walmart and Target and Aldi and other players.
When the Market Bistro concept store opened in Latham earlier this year, company officials emphasized that it would be used to test new ideas that could be spread to its other stores. And it sounds like the mentioned Market 32 elements -- like the expanded food service options -- are in line with that goal.
The company says the first three Price Choppers to undergo the switch will be locations in Clifton Park, Wilton, and Pittsfield, Massachusetts. A new store in Sutton, Massachusetts will be built from the start as a Market 32. It projects that more than half of its 135 stores will be converted in five years.
Later on AOA: Around the virtual water cooler: Price Chopper name change
Hi there. Comments have been closed for this item. Still have something to say? Contact us.