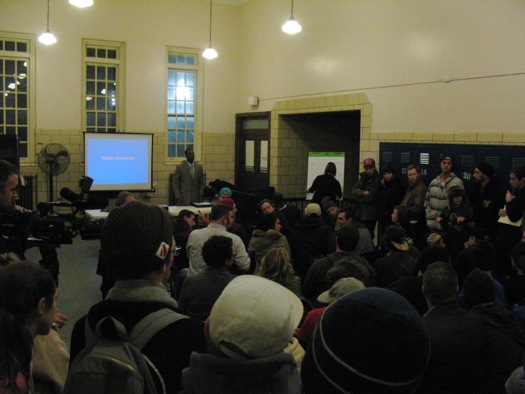 Quick follow up on the plan for the Albany skatepark, from a packed public meeting about it Thursday evening:
+ The current plan is to get a plan. As Albany city recreation commissioner Jonathan Jones told the crowd: "This is in the infancy stage."
+ Jones and deputy recreation commissioner Elisabeth Draper were there to collect feedback to fold into planning for the park. Said Jones about the desire to draw on ideas from the public: "It will cost us as much to build a bad park as a good park."
+ About the cost: City officials say there's no budgeted money for the park, and they don't have a rough estimate yet of what it could cost.
For some context: Syracuse built opened a new skatepark this year at a cost of $400,000. That city pulled together the money from its own budget, state funding, a neighborhood association, and a grant from the Tony Hawk Foundation.
Jones and Draper said they were on the lookout for potential funding sources. And it sounds like details from the planning process will be used to bolster grant applications.
+ Though there's not yet a draft plan for the park, there is an outline for the idea: Four rundown tennis courts at Washington Park -- about 12,000 square feet -- would be repurposed for the park. This spot -- "The Blue Banks" -- is already a de facto skating spot. Draper mentioned the change in elevation at the courts could lend itself well to a skatepark.
But that spot apparently isn't set in concrete. And Jones even seemed open to the idea of another skatepark somewhere else in the city.
+ The meeting was packed with skaters and many had ideas for what the park should -- or shouldn't -- include. Jones said he "strongly" supported the idea of a design committee to aid in designing the park.
+ Interesting idea that seemed to find favor with many of the skaters: Using the park to recreate certain aspects of spots in the city that are already popular with skaters, like the Soldiers and Sailors monument.
+ Ideas that didn't go over well: the possibility of having the park administered by an attendant, and requiring helmets. As one skater framed it, the park should be as easy as possible to skate at so that it's a more attractive options than other spots where skating isn't allowed.
+ The meeting was unusual, in a good way, in that seemingly everyone there was in support of skatepark -- skaters (obviously), reps from the Washington Park Conservancy and neighborhood groups, even a few (apparently non-skating) parents showed up to cheer on the idea. It'll be interesting to see if all that support can be channeled into finding the funding necessary, and arriving at a welcome design.
Hi there. Comments have been closed for this item. Still have something to say? Contact us.