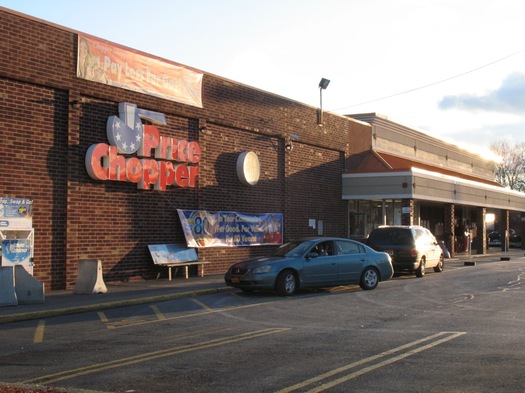 I'm the CEO of a supermarket chain that just announced it's changing its name -- ask me anything.
OK, that's not exactly how Golub Corp CEO Jerry Golub introduced himself on Facebook Friday afternoon. But the huge FB thread -- more than 500 comments -- took on an AMA-style feel with Golub fielding questions and comments about Price Chopper's impending name change and modernization campaign.
This response from Golub, to a question about the company upgrading its stores in urban areas, caught our eye and we thought it'd be interesting bit to people around the city of Albany (emphasis added):
Jerry Golub: We will also be updating our smaller and urban stores. The first will be our Delaware and Madison Avenue stores beginning early next year although they won't be getting the complete Market 32 identity right away. We want to introduce the complete Market 32 concept in the larger stores and then apply it to the smaller stores.
Update: We checked with a Price Chopper rep about the updates planned, and specific details aren't ready to be released yet. But the planned updates were described as part of the chain's overall modernization effort.
A few other exchanges that caught our eye...
Why spend $300 million on rebranding?
Jerry Golub to Lisa Jones: This is actually a big misconception that needs to be cleared up. We're investing $300MM in an extensive plan to modernize our stores that will entirely change their look and feel, while offering an enhanced selection of products, a focus on health and wellness, and other elements that will enhance the shopping experience. The portion of the total investment that pertains to the name change is actually very small. Updating our stores is something that is necessary if we want to continue to be relevant and meet our customers changing needs. We would be spending close to that amount to update and modernize our stores, even without a rebranding effort. The good news is that this money will not only be used to update the look and feel of our stores, but will be used to add important elements and offers to improve the shopping experience.
Why change the name?
Jerry Golub to Samantha Messler: As I said earlier, we did not start with the intention of changing our name. We started with the goal of determining the type of shopping experience that our customers are looking for now and in the future. Once we had a clear vision of what that experience will include, and how it will be unique and relevant, we had to hold up a mirror to the Price Chopper name and ask ourselves if the current name reflects where we are going as a company. That's when it became clear to us that the "Price Chopper" name was too limiting and needed to be changed.
But that name!
Jerry Golub to Jon Groden: It's interesting to me that so many people have expressed negative opinions about the name... it's boring, not memorable, the "32" makes no sense, etc. Price Chopper is a very descriptive name - the name by itself creates expectations. Market32 is not descriptive by design. We want it to be able to evolve with our company over time. If you have heard the name "Google" 15 years ago, would you have liked it? And now it's a verb! We don't expect to become nearly as prominent as Google, but the point is that a name is what you make it!
Other names?
Jerry Golub to Nancy Prince Kruegler: Honestly, I don't even remember. #market32 received the most positive customer response to all of the names we considered.
Why not a local design firm?
Jerry Golub to Elisa D'Alessandro: Hi Elisa - there have been many different opinions expressed regarding the logo. Creating a logo that will be effective and memorable is an art, not a science and we believe the logo is a great reflection of what you'll find inside our Market 32 stores. I would ask that you wait until everything comes together before passing judgement on the logo. We chose an agency that has extensive experience in supermarket design and branding - we felt this would be the best choice for us given the importance of these decisions.
____
Earlier on AOA:
+ Around the virtual water cooler: Price Chopper name change
+ Price Chopper is rebranding itself as Market 32
+ Where the supermarkets are -- and aren't
Hi there. Comments have been closed for this item. Still have something to say? Contact us.