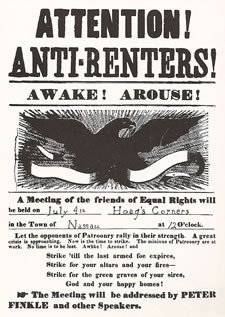 This week we've been reading a bit about a wild episode of local history that we hadn't know much about: The Anti-Rent War, also known as the Helderberg War. Here's a clip that gives a broad outline of the story from The Anti-rent Era in New York Law and Politics, 1839-1865 by Charles W. McCurdy:
On July 4, 1839, angry tenant farmers on New York's oldest estate assembled in the Albany County village of Berne to adopt a declaration of independence from their landlord. Nobody counted heads that afternoon. But 3,063 families leased farms on the 726,000-acre Manor of Rensselaerwyck, and all of them had cause to complain. Manor contracts required an annual rent for every 100 acres ranging from ten to fourteen bushels of wheat, delivered to the landlord and ready for milling. All mill sites and mines were reserved, together with all rights necessary and proper to make them available to the Van Rensselaer family or its agents. Mills might be built, cropland or pasture flooded, and roads laid out on the tenant's premises without payment of compensation. There were also feudal dues. Every year farmstead heads owed a day's labor with horse and wagon and were bound to deliver "four fat fowl" on rent day ... Every indenture enumerated remedies for breach of this or any other covenant. Among them was the landlord's right to reenter the premises and repossess not only the land but also any improvements -- houses barns, fences, growing crops -- annexed to the land. Taken together, proclaimed the Independence Day mass meeting at Berne, these contractual provisions amounted to "voluntary slavery." The time had come to avow "that we can no longer endure the infamy of tamely entailing upon future generations such wretchedness and unhallowed bondage as inevitably awaits them if we any longer submit ourselves to be thus unjustly, unrighteously, inhumanly oppressed and imposed upon." So began the longest rent strike in United States history.
The whole situation was something like a super intense version of an American Downtown Abbey that mashes together the remnants of Dutch influence, economics, agriculture, and politics.
The death of Stephen van Rensselaer III -- probably the richest person in the United States at the time -- prompts a breakup of the patroon of Rensselaerswyck, what was essentially a feudal estate that included much of what's now the Capital Region. Authorities try to collect back rents. Farmers revolt, taking up arms against law enforcement. A posse that included a former governor of New York is turned back. There's a revolt leader named "Big Thunder." William Seward plays a role as governor of New York. People are tarred and feathered. Again, it was intense.
A portion of McCurdy's book is on Google Books, and it looks like a good way of reading up on the topic. There's also a Wikipedia entry related to the episode. And here's an Encyclopedia of New York State page about it.
Old Songs: We started reading about this topic this week because Old Songs is hosting a "Down with the Rent! The Anti-Rent Rebellion of New York" music event this Friday and Saturday featuring songs and stories related to the Anti-Rent Revolt. Tickets are $20.
image via Wikipedia
Say Something!
We'd really like you to take part in the conversation here at All Over Albany. But we do have a few rules here. Don't worry, they're easy. The first: be kind. The second: treat everyone else with the same respect you'd like to see in return. Cool? Great, post away. Comments are moderated so it might take a little while for your comment to show up. Thanks for being patient.