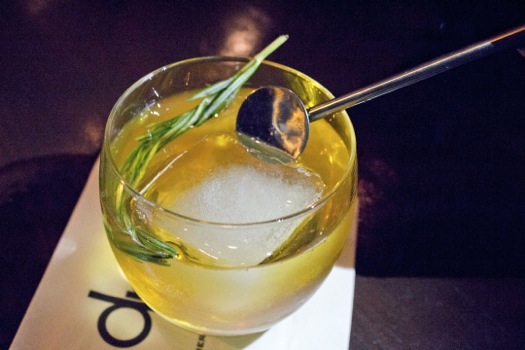 By Lauren Hittinger
It's December, which means we are officially into holiday party time. I know that you're not looking forward to endless crudités and cubed cheese. Let's be honest. It's all about the holiday cocktail.
Here at All Over Albany we recognize the importance of a good festive drink. That's why we asked five local bars to create the perfect holiday cocktail. To make things even more interesting, we requested that each beverage contain at least one ingredient local to the Capital Region.
We brought along some tasters to give their opinion, roped in designated drivers, and headed off to try the five festive creations.
The tasters
To sample each cocktail and provide opinions, we brought along Daniel B. of the
FUSSYlittleBLOG
, Albany Jane of
Albany Eats!
, and
Deanna Fox
, food writer and culinary instructor.
It was a tough job, but somebody's gotta do it.
New World Bistro Bar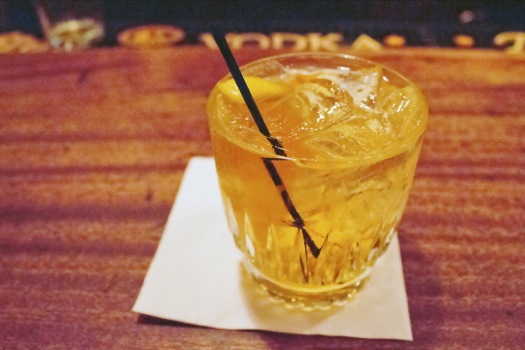 Drink: The Rip Van Winkle
Ingredients: Catskill Provisions NY Honey Rye, Licor 43, orange biters, and orange twist
Created by: Sarah Jane McLaughlin
Available: Yes, on a seasonal bar menu
Our recommended occasion: Alongside a hearty holiday meal
This drink is composed of a small number of simple ingredients, which lets each flavor shine. Its no-nonsense presentation in a lowball glass extends this drink's classy appeal.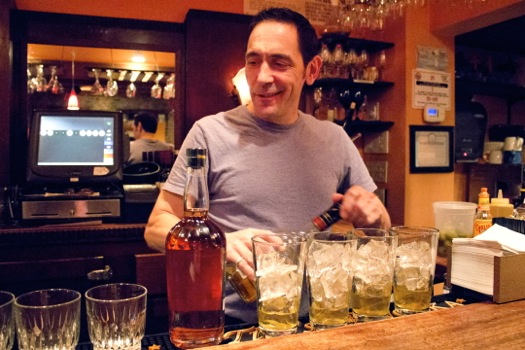 Daniel B.: "This is actually my favorite type of cocktail -- an aromatic cocktail with a base spirit, with a bit of bitters and something sweet. This is well balanced, and the spirit comes through. There is a good interplay with the darkness of the rye and the brightness of the orange."
Albany Jane: "This would be good with Thanksgiving dinner. It's not too sweet and not too sharp. It's like a honeyed Old Fashioned."
Deanna Fox: "The Rip Van Winkle has the kick of a rye Manhattan but is much sweeter--closer to an Old Fashioned. You don't taste the alcohol at first nip -- you catch it after you swallow, which makes this deceptively appealing. The licorice feels very wintery. Overall, this is a nice take on classic whiskey cocktails and is easy enough for someone to replicate at home."
Yono's / dp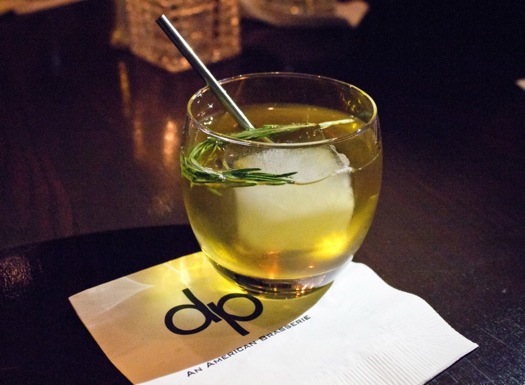 Drink: Kegeln
Ingredients: Maker's Mark, Nine Pin Cider, Harvest Spirits Apple Brandy, and rosemary
Available: Yes, on the current cocktail menu
Our recommended occasion: Impressing a first date with a fancy cocktail
The Kegeln has a really nice presentation, with a giant ice cube, fancy straw with attached stirrer, and sprig of rosemary. It was beautiful. There were also quite a few competing flavors in this drink.
Daniel B: "It's a little too heavy handed on the cider, or it needs a different cider, since that overpowers the other elements. I like the sprig of rosemary and the flavor that it brings."
Albany Jane: "When I first sipped it, I was like, 'Oh @#$%, that's strong.'"
Deanna Fox: "This is an unfortunate case of the sum NOT being greater than the parts. It's far too sweet overall. You lose the cider, which is a pity. Maybe the [Nine Pin] ginger cider would be a good addition, but at the same time, it might not work from the bar's perspective, since the flagship is likely what is on tap."
Angelo's 677 Prime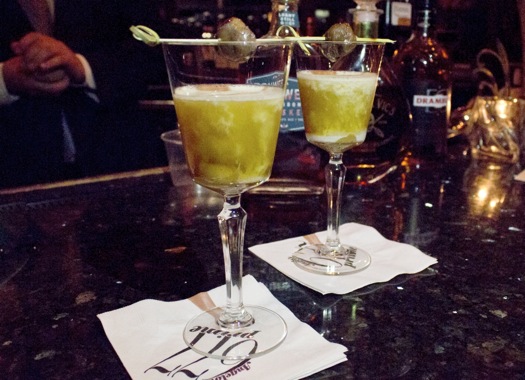 Drink: Fireside Chatter
Ingredients: Albany Distilling Ironweed Bourbon Whiskey, Trader Vic's Roasted Chestnut Liqueur, Drambuie, dulce de leche, half + half, dash of cinnamon, and roasted chestnuts
Created by: Jamie Ortiz
Available: call ahead if you'd like to try one of these
Our recommended occasion: Cuddling by the fire after dinner
When thinking about the perfect holiday cocktail, Jamie Ortiz wanted to avoid the "snowflake-tini" and created something a little more sophisticated instead. Assembling the cocktail involved a torch, which has a "wow" factor. The Fire Side Chatter is designed to start off strong and move to sweeter flavors, creating a nice holiday beverage that has a good balance of cocktail and subtle sweetness.
Daniel B.: "This is a dessert in a glass. I expected it to be sweeter than it was. I'm pleasantly surprised that it is more restrained than the sugar bomb that it sounds like. The chestnut and bourbon combo is nice. This is very much a high-flyer act of balancing the bitterness of the burnt chestnut and the sweetness of the dulce de leche."
Albany Jane: "I could see this as an after dinner drink. It's sweet and creamy, but not too much like a milkshake. It's well balanced for a sweet beverage."
Deanna Fox: "This reminds me of a soda float, elevated to the adult level. It's balanced, not overly sweet, and the dulce de leche at the bottom was the perfect ending. The end tastes like the dredges of a caramel sundae with vanilla ice cream and wet walnuts. (Drinker beware, though, drinking this too quickly -- which is easy to do -- will result in the same turvy belly feeling as drinking that 20-ounce Stewart's milkshake far too quickly.) Anything brûléed or that requires a blowtorch excites me, so I loved this drink. Some will say that adding cream to a cocktail is a cheat, and that it masks inferior mixology skills (whereas cream texture should come from egg whites), but I disagree in this instance."
____
Tomorrow: This festive tour makes stops at Speakeasy 518 and The Malt Room. And the tasters will pick their favorite cocktails.
Lauren writes about shopping, crafting, and living well on a small budget at The Thrifty Ginger.
Hi there. Comments have been closed for this item. Still have something to say? Contact us.