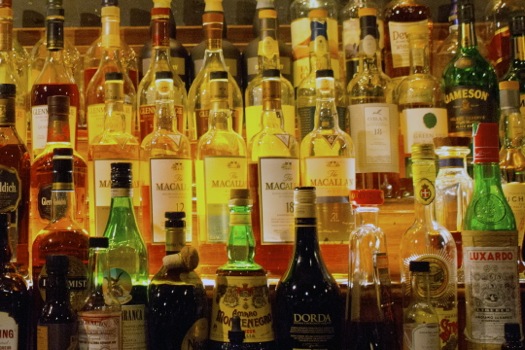 By Lauren Hittinger
Since the holiday cocktail is such a central part of any festive fête, we asked five Capital Region bars to create locally-themed versions of their favorite seasonal drinks.
Last time we stopped by New World Bistro Bar, dp, and 677 Prime to try their creations.
Today we'll finish up the tour with Speakeasy 518, The Malt Room, and the tasters pick their favorites.

The tasters
Once again, the tasters for this cocktail tour: Daniel B. of the FUSSYlittleBLOG, Albany Jane of Albany Eats!, and Deanna Fox, food writer and culinary instructor.
Speakeasy 518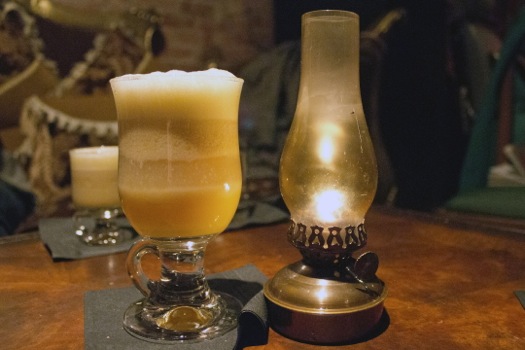 Drink: Albany twist on the Tom and Jerry cocktail
Ingredients: Egg whites, egg yolk, Albany Distilling Amber Rum, Remy Martin Cognac, and hot water
Created by: Robert Mack
Available: May be on the winter menu- call in advance to guarantee availability
Our recommended occasion: Warming up with family after being out in the cold weather
True to Speakeasy form, this is a traditional drink that requires some careful preparation. Robert Mack mixed us a batch of these Tom and Jerry cocktails tableside, pouring the hot spirits over room temperature whipped egg whites. It was nice to have a warm cocktail, and the presentation elevated the experience.
Daniel B.: "I love this. Making a Tom and Jerry at home is a real pain in the ass, but having someone make it for you is a great treat. A lot of craft and love was put into the drink. It's well considered."
Albany Jane: "This is delicious. The egg white added richness without being creamy. It's really smooth between all layers--they transition well. Drinking at the Speakeasy is nice. It's cozy and wintery."
Deanna Fox: "Cocktails can be art. We were treated to a delight for the eyes, lips, and nose. The perfect layers created by water, alcohol, and two preparations of egg tempted us by sight long before it did by smell or taste. Where many bars will make a drink appealing with a series of elaborate flourishes and garnishes, the Tom and Jerry was intriguing just because of the structural breakdown of the liquids in the glass - it was much a study in alchemy as in mixology. I loved the communal preparation of the drink."
The Malt Room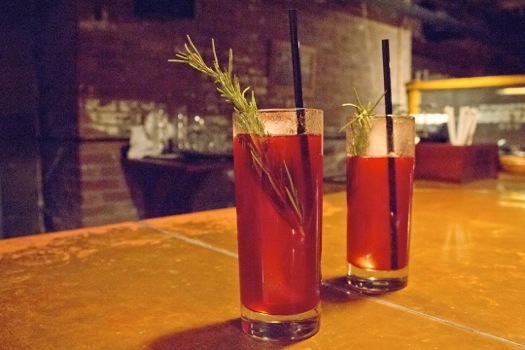 Drink: Cranberry Shrub Fizz
Ingredients: Cranberries, red wine vinegar, sugar, Goold Orchards apple cranberry cider, Fee Brother's cranberry bitters, pimento dram, Harvest Spirits Applejack, club soda, and Bootlegger Vodka
Created by: Chris Corcoran
Available: Offered as a special throughout the holiday season
Our recommended occasion: Holiday cocktail party at your house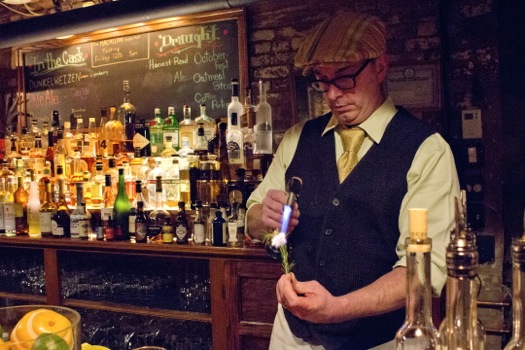 In cocktail land, a shrub is an old-fashioned drink -- popular before refrigeration during America's colonial era -- that uses vinegar as a preservative. Chris Corcoran likened it to old school Gatorade. This Cranberry Shrub Fizz was tart and sweet, and presented with a tall rectangular ice cube and rosemary sprig.
Daniel B.: "I like the flavors--they speak to fall and holiday. It's a little syrupy, so I'd like to see more dilution. The base spirit gets a little lost, but it has delicious cranberry and spice flavors. I'd love to mix this with champagne."
Albany Jane: "This is a good execution of rosemary and apple cider. It has a sort of slushy consistency. The rosemary adds a nice aromatic when drinking."
Deanna Fox: "I was so happy to see a non-brown base liquor in a wintertime cocktail. As a lover of shrubs (I make them at home often), I'm glad to see a local establishment give the long-forgotten beverage a new introduction. The drink looked like the holidays, with the rosemary sprig and the bright pink/almost-red hue. My only gripe was it was almost too syrupy. I think if it was topped with a bit more soda water -- better yet, champagne! -- it would be perfect. I would assemble the base ingredients in flute glasses before guests arrived to a holiday party, top with sparkling wine as they walked in, and greet them with this little bit of conviviality in a cup."
The Favorites
While we loved trying each cocktail, we of course had our favorites...
My favorite: Fireside Chatter, 677 Prime
Daniel B.: Albany twist on Tom and Jerry, Speakeasy
Albany Jane: Albany twist on Tom and Jerry, Speakeasy; The Rip Van Winkle, New World Bistro
Deanna: Fireside Chatter, 677 Prime; Albany twist on Tom and Jerry, Speakeasy
Thanks to Daniel, Albany Jane, and Deanna for coming along on the tour.
And thank you to New World Bistro Bar, dp, 677 Prime, Speakeasy 518, and The Malt Room for accommodating us on our holiday cocktail tour.
Lauren writes about shopping, crafting, and living well on a small budget at The Thrifty Ginger.
Say Something!
We'd really like you to take part in the conversation here at All Over Albany. But we do have a few rules here. Don't worry, they're easy. The first: be kind. The second: treat everyone else with the same respect you'd like to see in return. Cool? Great, post away. Comments are moderated so it might take a little while for your comment to show up. Thanks for being patient.