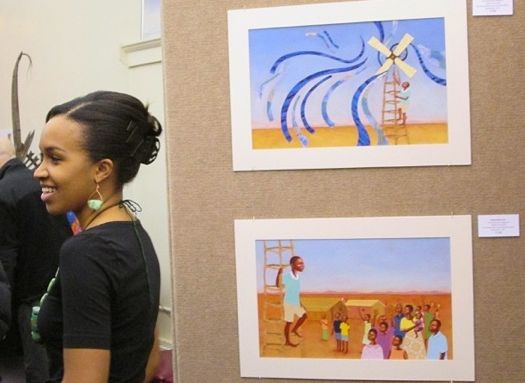 Gifts and giving are on most everyone's mind this month. So we thought we'd ask a few people to share some thoughts on presents, past and present.
Next in the series, Elizabeth Zunon. Elizabeth grew up in Cote d'Ivoire, West Africa, where the bright, colored patterns of everyday fabrics and tropical vegetation left a lasting impact. Today she lives in Albany, where she illustrates children's picture books, including The Boy Who Harnessed the Wind and the upcoming One Plastic Bag.
What gifts would you like to get this year?
I'm going to go corny here and say the gift of time with my family to do holiday things, like trim the tree and make gingerbread cookies. For the first time in a while, my work schedule is such that I don't have a lot of looming deadlines approaching soon, and I will have time to relax and really take in all the holidays have to offer. I want to go sledding!
What gifts would you like to give this year?
I'd like to turn some of the bright, patterned decorative items I got on a recent trip to New Mexico into something for the home... pillowcases....coasters.... who knows.
What charity or cause do you want to support?
I would like to support my own non-profit called "Sweethearts for a Cause", started by my mother, a family friend and myself. We are very very small, and raise funds through bottle drives, T-shirt sales and saving spare change to send money when we can to a group of orphanages in Cote d'Ivoire (the Ivory Coast), West Africa.
What is your most memorable gift from childhood, holiday or otherwise?
My most memorable gift from childhood was my American Girl Doll: Addy. Addy was a gift from my grandparents, who knew how much I loved reading the American Girl book series. The very first thing I did when I unpacked Addy from the box was to sit her in my little brother's high chair, undo her perfectly braided long hair, and start brushing and combing it. She's sitting in a box in the attic somewhere now, half-bald.

More holiday gifts:
+Sean Rowe
+ Heather LaVine
+ Lecco Morris
Hi there. Comments have been closed for this item. Still have something to say? Contact us.