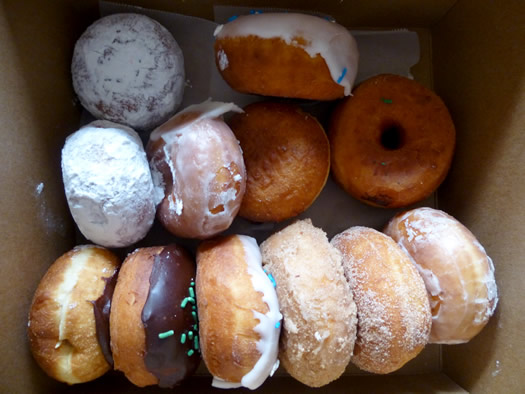 By Daniel B.
We've enlisted Daniel B. to survey Capital Region donuts -- and pick his favorites -- for a short series called The Best Dozen.
Donuts are sweet. Well, technically they aren't. They are fried dough that are are then glazed, dusted with sugar, or frosted. Sometimes they are even filled. It's these finishing touches that actually make the donuts sweet.
There are forces at work to help temper the sweetness of donuts. Primarily it's the fat from the frying oil. Richness cuts the sweetness. And then of course there is the bracing bitterness of coffee. It's one of the reasons these two morning staples are almost inseparable from each other.
The best donuts are well balanced, with enough toppings or fillings to provide great flavor and enough sweetness to brighten your morning. But if you aren't careful at The Cookie Factory you could end up with a box of sugar bombs. (Unless, of course, that's exactly your aim.)
After recently trying the flavors available at this Troy shop one morning, here's how to get the best dozen...
About the shop
The Cookie Factory isn't obviously a donut shop. However, one of its awnings clearly states that in addition to rolls, breads, pies, cookies, and cakes, donuts are available inside.
Even when you walk inside, the donuts are almost hidden on a rack several feet behind the display counter. The flavors aren't labeled. And there's nothing to tell you that a dozen will cost a mere $7.99. What you will see is an impressive variety of cookies and pastries. All of them are tempting. But none of them are donuts.
On a recent visit, there were only seven flavors available. Notably, none of them were as ethereally light as on prior visits. But that's okay. Even with a denser donut, there are enough winners to fill a box. Be forewarned, The Cookie Factory is closed on Mondays. It does open at 7 am the other six days each week.
The mixed dozen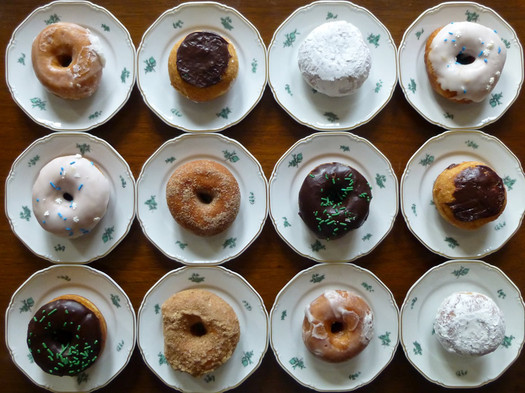 Column by column, left to the right:
Glazed
White iced
Chocolate iced/
Boston cream
Cinnamon sugar
Double dipped/
Jelly
Chocolate iced (duplicate)
Glazed (duplicate)/
White iced (duplicate)
Boston cream (duplicate)
Jelly (duplicate)
The best of the bunch
Chocolate iced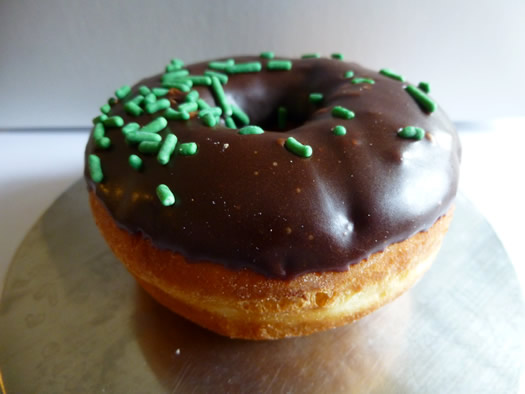 Strong cocoa aromas and flavor leap out of this icing. There's no mistaking this for anything but a chocolate iced donut. The shell has a great fry and the thin crisp exterior layer adds a little bit of crackle to the soft and yeasty donut. A real winner all around.
Boston cream

The vanilla center tastes more like a custard. Topped with a fudgy, cocoa icing and graced with a crispy fried edge, it's rich and balanced. Even if the crumb is a little stiff, the well proportioned filling to donut ratio makes sure there is cream filling in every bite.
The solid choices
Glazed

So much crackling glaze. This is the texture glaze strives to achieve. It's a bit non traditional in that the glaze has a bit of citrus, however that's not what keeps this flavor from achieving greatness. Rather, it is that the thick glaze pushes the sweetness a bit too far and may prove cloying for some.
Jelly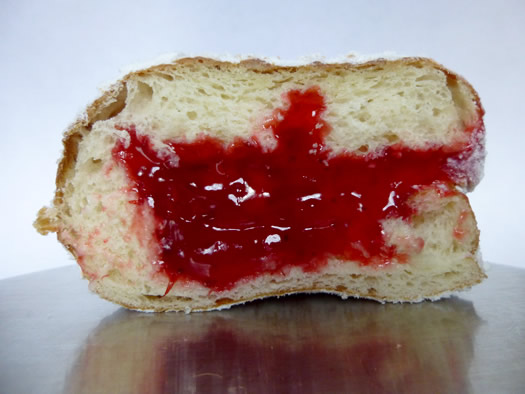 Hello strawberry. I wasn't expecting to see you here. But there you are with your little seeds and small pieces of fruit inside a surprisingly red donut jelly. Color aside, the jelly has a restrained sweetness, which is important when in a powder sugar dusted donut. With a well distributed filling and good flavor, this is a good donut.
The disappointments
White iced
The promise of a donut iced with the same icing used on cinnamon rolls was exciting. But there's no cream cheese happening here. Just thick, grainy sugar. It's pretty. Especially with the winter themed sprinkles. But it's just sweet. A bit too sweet at that. And tastes mostly like straight sugar.
Cinnamon
Welcome to the no fun donut. While some donuts can be too sweet, this one was barely sweet at all. Plus the texture of granulated sugar on a yeast donut felt like a mouth full of sand. The cinnamon sugar had spotty coverage, and didn't cling well to the donut itself, which also served to make it a messy affair. Don't do this to yourself. It's not worth it.
Double dipped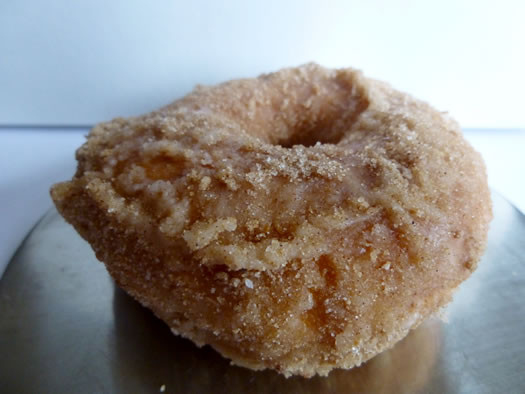 Take a glazed donut and then dip it into cinnamon sugar. Now you no longer have any of the problems mentioned above. What you do have is sugar on top of sugar. Some people may really enjoy the head rush that comes from taking a bite of this sugar bomb. But nobody could argue that it's a well balanced donut.
The best dozen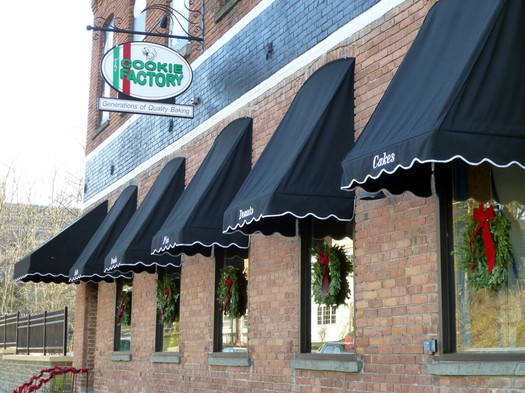 4 Chocolate iced
4 Boston cream
2 Glazed
2 Jelly
The Cookie Factory lineup of donuts will appeal to two kinds of people: sugar fiends and chocolate lovers.
Donuts with chocolate icing were the best of the bunch, so this dozen has a majority of those flavors. With the recommended dozen, you will have an even split between filled donuts and ring donuts, and only two that are covered with powdered sugar. It's a pretty clean-eating box that's packed full of flavor.
If, for whatever reason, you're reluctant about making your way up the hill to the bakery, don't be. It's a quick trip up via Route 2 (Congress Street) and The Cookie Factory even has a private parking lot. Parking is easy, as is the drive. And even if it wasn't, the journey would be worth it for the flavor of these chocolate iced donuts.
Daniel B. is the proprietor of the FUSSYlittleBLOG.
More Best Dozen:
+ Park Side Eatery in Saratoga Springs
+ Bella Napoli in Troy
Earlier on AOA: Eat This: Glazed donuts at the Cookie Factory (2011)
Find It
The Cookie Factory
520 Congress St
Troy, NY 12180
Hi there. Comments have been closed for this item. Still have something to say? Contact us.