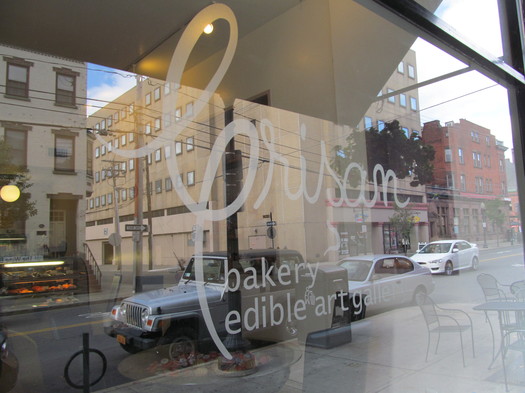 Updated at 3:40 pm: We spoke with Crisan's owners about the changes coming to the bakery in the new year.
News from Lark Street today: Crisan, the bakery that has become part of the neighborhood fabric over the last six years, will be closing its cafe. Neighbors were notified this weekend that starting January 1 the bakery will close its storefront and focus on wholesale orders and weddings and custom cakes.
From the note: "What was once a place to socialize, to ponder, to read and to work, will be transformed into a cake decorating workspace and a private tasting room." (An image of the full note is after the jump.)
Though the cafe portion of the business is closing, owner Claudia Crisan Calabria and her husband Iggy Calabria emphasize they're not closing the bakery itself and its products will still be available.
They took a few minutes to talk with us about their decision.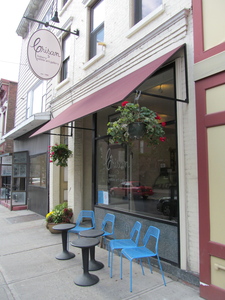 "We believe in this neighborhood. We live here and we love the people here," said Claudia.
But they both agreed it was time for a change. They said the popularity of the bakery and cafe was wonderful, but overwhelming. If they were going to grow, they say, they needed to focus.
"It's a lot of work, a lot of energy," said Claudia, "and we were spreading ourselves too thin. Which is very hard to say and to acknowledge and be OK, but something had to give and this is what had to give. It took us forever to actually have the guts to do it, because we just think of everybody, we think of the regulars that come in and they are so wonderful."
But, Iggy said, they're not going away. "The product will be here and we will have hours during the day for pick up. Birthday cakes, platters, anniversaries -- any kind of cakes."
Iggy said customers will be able to order platters or even a dozen croissants to pick up. "We want to be clear that that is not going away. We are not closing -- this is our career and we love our kitchen."
He's got good things to say about other other cafes on the street now -- "There's Stacks, which has the best espresso, and The Brakes" -- and ays they're considering trying to get some of their products into existing neighborhood cafes. They're also working with Honest Weight and other select outlets and restaurants to get their desserts on menus.
The Lark Street storefront will become a display window for cakes. It will have a tasting area and a climate-controlled decorating room in which Claudia can make some of the fancier cakes, which is what she's always hoped to do.
Crisan employees a number of students -- Claudia and Iggy they say they will keep them on staff -- and Claudia compares this change to going to school.
"You work for a few years doing this and that and then you declare a major." So Crisan is majoring in cakes.
"I want to make pretty things... beautiful things," she smiles, "that's what I do."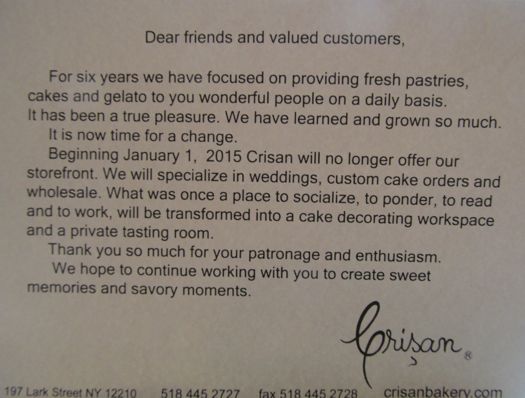 ____
Earlier on AOA: Interesting in 2008: Crisan's Claudia Calabria
Hi there. Comments have been closed for this item. Still have something to say? Contact us.