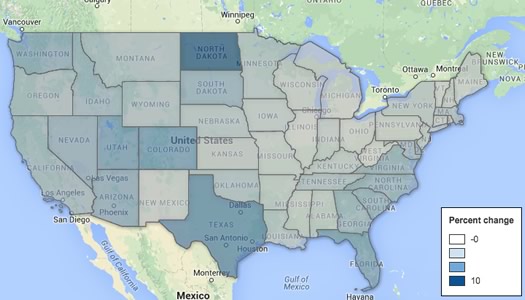 New York has slipped to #4 in the national population rankings, according to new Census Bureau estimates for 2014 out today. Florida edged past New York to take the #3 spot behind California and Texas.
It's not that New York lost population, it's just that didn't grow as fast as Florida (and many other states). The Census Bureau estimates the Empire State had 19,746,227 residents as of this past July. That's up about 50,000 residents from the year before (about .2 percent). In that same time Florida is up approximately 293,000 residents (about 1.5 percent). The difference between New York and Florida is now about 147,000 in the Sunshine State's favor.
Zooming out a bit and looking at the numbers since 2010 highlights some of the trends. The nation's total population grew an estimated 3.3 percent between 2010 and 2014. But New York's population grew 1.9 percent (roughly 368k people) -- and Florida was up 5.8 percent (roughly 1 million people). The Empire State ranked just 31st in the country for population gain.
So, what's contributing to these totals?
Well, New York is more or less keeping pace when it comes to "natural increase" in population -- that is, the number of residents born versus the number who died. Over the past five years, its rate of increase is pretty much right on the national average (about 1 percent). But New York registered a very small net loss -- about 1,600 people -- in migration. More than 486,000 residents are estimated to have moved out of state during that time. That loss was almost offset by international migration into the state.
But other states -- Florida, among them -- have been racking up relatively large gains in both domestic and international migration. The Sunshine State was approximately plus 917k people because of migration, about 450k of that from other states.
The situation stings for New York even a bit more because it's often losing people to... Florida. Of all the other states, Florida has the highest number of residents who were born in New York. And between 2009 and 2013, New York lost about 25,000 people a year to Florida in net migration, on average (according to Census Bureau 1-year estimates).
Earlier on AOA: Where people moved to/from when moving from/to the Capital Region
Hi there. Comments have been closed for this item. Still have something to say? Contact us.