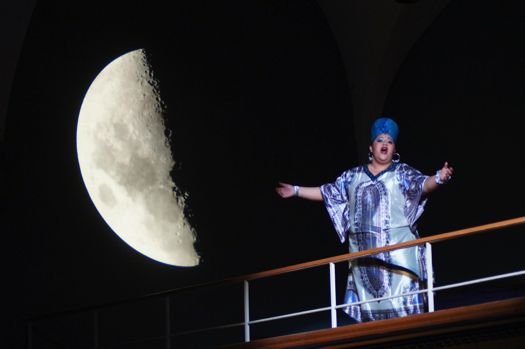 With 2014 wrapping up, we thought it'd be fun to ask a bunch of people about some of their favorite/most interesting things from the past year.
Today we check in with a group of artists, performers and reviewers for their take on some of their favorite shows of 2014.
Chris Wienk - WEXT
Picking a best show of 2014 is difficult. There were so many great shows. Some were well attended, some could have used a little more love.
Sean Rowe knows how to melt my heart. I've chosen his Madman record as my number one for 2014. It's no surprise that I will call his CD release show my favorite show of the year. The magical night was orchestrated by Sean and his dear wife, Christine. It took place in the haunting beauty of CAC Woodside. Members of Railbird (now called Lip Talk), The Rodeo Barons and Eric Margan helped elevate the night to the moon. Sean is a superstar! One might say, "But he's from here. Of course, he'd electrify the room. Everybody knows him." You could say that, but I've been at shows in other cities, and Sean is a superstar there too. I love watching and hearing as Sean continues to develop as a major artist.
I said there were other great shows, and there were. James Taylor at SPAC was a glorious night. Ray LaMontagne, Jackson Browne and Warren Haynes at The Palace. Rodrigo Y Gabriela with Bobby Long, Brett Dennen and John Hiatt at The Egg. Storyman (formerly Guggenheim Grotto), Bobby Long and the Hello Strangers at The Linda. Of course, I'm sure I'm missing a bunch. The Troy Music Hall killed it with Bela Fleck and Abigail Washburn, Bruce Hornsby and others, too.
2015 is already shaping up to be a great year with Joe Bonamassa, Ani DiFranco, and Lost Leaders all coming in January. Plus, on the way, shows from Joan Armatrading, Justin Townes Earle, JJ Grey and Bruce Cockburn, too. It's great to be out there supporting these artists, and the great Local 518 artists as well. Music is our life. Thank goodness, it keeps breathing.
Laura Glazer - Hello Pretty City
Sylvan Esso's self-titled album is my favorite of 2014 and I thought nothing could beat listening to it at the highest volume. I was wrong. No other show will compare to seeing them play it live with my best childhood friend at the 9:30 Club in D.C., the same club we used to sneak into the city to go to when we were in high school.
Local shows deep in my memory:
+ Beck at MassMoca
+ Kristian Bezuidenhout at EMPAC
+ Fauré: Requiem at the Cathedral of All Saints
+ M.R. Poulopoulos - Songs Inspired by William Kennedy's Novels at Albany Public Library
+ She Keeps Bees (opening for Sharon Van Etten) at Helsinki Hudson
+ Literature at The Low Beat
+ Hand Habits at The Low Beat
+ The Firs at The Low Beat
+ Maryleigh opening for Lord Huron at Jennings Landing
+ Albany Symphony Orchestra performing Elgar's Enigma Variations at the Palace
+ Chris Thile and Edgar Meyer at the Troy Savings Bank Music Hall
Michael Eck - musician, former arts critic for the Times Union, Broadway liaison at Proctors
No longer making my living as a critic, my habits of consumption have changed considerably; and personal involvement with at least five local venues means that much of what I see and hear, comment-wise, ethically, is off the table. Toss in the fact that I can finally gig more than I can goggle, and I'm choosing from a shorter list. Still, 2014 managed to yield unexpected beauty.
King Crimson
Holy crap. The Egg played host to the live concert debuts of half of 1974's colossal art-metal masterstroke, Red. I'm not big on nostalgia and neither, it seems, is Robert Fripp. A newly constituted drum-heavy lineup of KC crushed everything in its path. I can die saying I've seen Mel Collins.
Capitle
Even in the 80s, I proclaimed the fierce sonic rock gyrations of Albany's hardcore kings akin to Crimson on crack. Seeing both revived bands at work within a few weeks of each other proved it incontrovertibly. The Scumfest reunion set was the band's best ever.
Joe Henry
I realize City Winery isn't local, but when god comes to earth, you go to god. Mesmerizing, inspiring, daunting. I'm glad I went alone, to be selfish with the bliss.
Bucket list fulfillment: Allan Toussaint at MASS MoCA.
Bittersweet rewards: Seeing Ian MacLagan (The Linda) and subdudes' Johnny Ray Allen (The Egg) bring it just before they were gone.
Other cool stuff: Hanging with my son at Mountain Goats (Club Helsinki); old pal Andy Statman at The Egg; jamming with Peter Case (The Low Beat); Brad Mehldau (The Egg); Nick Lowe/Los Straitjackets (The Egg); Chris Thile (Grey Fox, Troy Music Hall). What I missed: Would have really liked to have seen Matthew Shipp and Myra Melford at the Sanctuary for Independent Media.
Ethan Ullman - Comedian,story teller
Mike Birbiglia at Troy Music Hall
A welcome change of pace from the one-man show format he's been doing almost exclusively the past few years, Mike showed that he still can tell really funny jokes without weaving them into a big overall story. One of my all-time favorite performers!
Found Footage Festival at Proctors (GE Theatre)
One of the few live events I've been to this year that caused me to laugh until I cried. Nick Prueher and Joe Pickett find obscure VHS tapes, sift through thousands of hours of footage, and present the absolute funniest of the funniest.
Aparna Nanacherla headlining Pretty Much the Best Comedy Show at Proctors (Underground)
Disclaimer: I produced and performed in this show. But the well-rounded line-up and hilarious Aparna tops my list of favorite comedy shows of the year just as a fan of comedy, not a shameless self-promoter. Reminiscent of a show you'd expect to see at a cool club in NYC or LA.
Maria Bamford at The Egg
Another one of those comedians that should be better known. So funny and talented, Maria gave an amazing show with her odd voices and unique view on life.
Matthew Moross, theater reviewer for The Schenectady Gazette
Once again, this area can be thankful for many remarkable theatrical productions that graced Capital Region stages in 2014. Here, in no particular order, are just a few of the productions that will remain in my memory long after that calendar page turns over to start the New Year.

The Book of Mormon - Proctors
There was enough laughter and pearl clutching to please, amuse, impress and appall just about everyone. When is it coming back? Not soon enough!
War Horse - Proctors
Magnificent and thrilling, War Horse is everything that is great about theater and art. Told with astonishing artistry involving life size puppetry, a smashing good story and a heart-stirring musical underscore, not only does the play awe, it inspires. If there was a "Best of the Best", War Horse wins the race. And not by a nose.

Fool for Love - Williamstown Theatre Festival
The onstage heat created by the perfect pairing of Sam Rockwell and Nina Arianda in Sam Shepard's twisted, sexually-charged drama left the audience breathless from start to finish. Don't worry if you missed it, it lands on Broadway in the Fall of 2015 with its director and stunning cast intact.
Breaking the Code - Barrington Stage Company
Based on the tortured life of mathematician and puzzle solver Alan Turning, this seldom seen play was given a stunningly creative production centered by the magnificent performance of Mark Dold. This production this production still haunts, in just the best way possible.
The Old Man and the Moon - Williamstown Theater Festival
A visual and visceral feast, The Pig Pen Theater Company's marvelous production of this fable of love lost, and then regained, was a lunar tide of richly satisfying stage craft, folk music and camp-fire storytelling.
The Lyons -- Curtain Call Theater
Playwright Nicky Silver's examination of a despicable family and their outrageous dysfunction is a tough play to witness. Curtain Call's production took no hostages, and whitewashed nothing. Masterfully done.
Jeremy Buchner, playwright, director, founder of Local Actors Guild of Saratoga
When I think of theater in the past year, I think of community. The community in "community theater" was apparent this past fall as I sat in two different theaters waiting for shows to start. First was at Home Made Theater to watch The Addams Family and the second was at Not So Common Players watching Chess. I sat in two theaters surrounded by people from the local theater community. This past season of theater was filled with amazing performances from so many different companies, but the support that we as a theater community showed for each other is greater than any moment onstage. Alas, this is a "best of" list and, as I say to my friends, theater is art and art is subjective, so my choices for great theater are based on how I felt watching the shows.
Caroline or Change at Schenectady Light Opera Company
I was lucky enough to grab a last minute ticket to this wonderful musical. I didn't know that much about it and I didn't have any expectations going into it. From the moment the first note was sung I was hooked. It's hard to even single out a performer in this amazing group of people. This show is very rarely done. After watching it I know why, mounting a show like this takes guts and it's a risk to any theater company for doing it. Bravo to SLOC on taking that risk and succeeding.
Confetti Fest at Confetti Stage
New works by local writers are very hard to come by in the Capital District but Confetti Stage really sets the standard for showing new works. This was the first year I was able to attend their new play festival and I was in awe. I couldn't imagine what a huge undertaking it was to put up a show that contains so many new works all done in one evening. It truly inspired me to present new works at my company. After producing my own new play festival I take my hat off to them for doing it for so many years and never giving up on it.
I also wanted to mention 25th Annual Putnam County Spelling Bee at SLOC, A...My Name Will Always Be Alice, State Fair and Chess at NSCP, Avenue Q at Family Players and The Addams Family at HMT. I attended all of these shows because I knew someone in the cast and I was blown away by the amount of talent in all of these casts.
AOA Mary
We're fortunate in the Capital Region to be surrounded by so much theater, both professional and community. The summer festivals, Proctors, Capital Rep, and some really solid amateur companies bring us wonderful shows season after season. Here are a few of my favorites from this past season:
The Visit - Williamstown Theatre Festival
Williamstown Theatre Festival's production of Kander and Ebb's The Visit, starring Chita Rivera and Roger Rees. One of the last shows of the great Kander and Ebb, known for shows like Cabaret and Chicago, The Visit was originally slated to go to Broadway just prior to 9/11. It went back into a drawer for years and was remounted this summer by WTF and director John Doyle. The show was written by Terrance McNally and it's based on a dark satirical play about the revenge of the world's wealthiest woman on the town, and the man, who scorned her in her youth. Everything about this show was amazing. The performances, the eerie set created with coffins, the music. It's seldom that a show stays with you the way this one did with me. I thought about it. A lot. For weeks. I still think about it. And it has changed the way I think, and behave in certain situations. I see a lot of theater and seldom have I felt so changed by a show. The Visit is headed for Broadway this season if you'd like to give it a try.
Avenue Q - Family Players
If you closed your eyes for a moment during the Family Players production of Avenue Q directed by Jeffrey Hocking, you might think you were listening to the original cast album. The music was tight, and the performances, by turns, funny and moving. This fresh, fun production gave a group of amazingly talented young people an opportunity to share their talents with audiences in the Capital Region. Any one of these folks could have been in a Broadway or touring production. They choose to live here and share their talents with us. We're just lucky that way.
Caroline or Change - Schenectady Light Opera
Oh. My. God. I saw this show on Broadway and later in San Francisco with members of the original cast, and still I was blown away by what I saw and heard in that little theater in Schenectady. I went back three more times. The show is based on an incident in the childhood of the playwright, Tony Kushner (Angels in America), in Louisiana in 1963. It's the story of an African-American maid and the Jewish family who employs her. Director Corey Rowe assembled some amazing talent, including regional blues and gospel singer Barbara Howard, Dashira Cortes, Elizabeth Sherwood-Mack, and Brandon Jones. If you go to the theater to be moved, this was the show to see this season.
____
More end-of-2014 stuff:
+ Favorite local foods 2014
+ Interesting stories to cover 2014
Say Something!
We'd really like you to take part in the conversation here at All Over Albany. But we do have a few rules here. Don't worry, they're easy. The first: be kind. The second: treat everyone else with the same respect you'd like to see in return. Cool? Great, post away. Comments are moderated so it might take a little while for your comment to show up. Thanks for being patient.