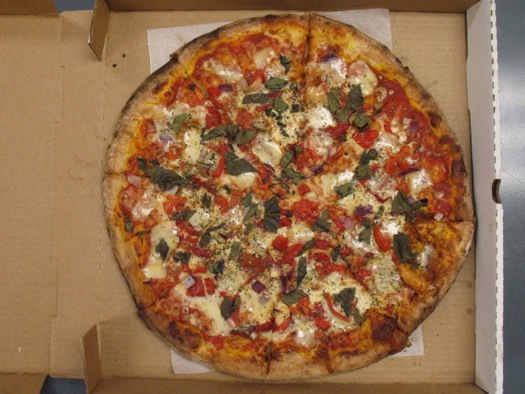 With 2014 wrapping up, we thought it'd be fun to ask a bunch of people about some of their favorite/most interesting things from the past year.
First up: Favorite local things to eat or drink this year.
Albany Jane
Stony Brook Squash and Pumpkin Seed Oils [from the Finger Lakes]: These have been my go-to host(ess)ing, housewarming, and food gift for the past year. Daniel B first got them on my radar a few years ago (drizzling them over vanilla ice cream and topping with sea salt - an excellent combination), and 2014 has been the year I give these things out willy nilly. The Honest Weight Food Co-Op usually has butternut squash and pumpkin seed oils; and Whole Foods Albany and Healthy Living Market stock them, too. They are roasty, toasty, and oh so flavorful. A little bit of a splurge to add to regular food shopping purchases, but that's what makes it a great gift -- it's about the cost of a bottle of wine and lasts much longer.
Albany Jane writes at Albany Eats. And she was again a judge for this year's Tournament of Pizza.
Deanna Fox
This is single hardest question you could ever ask me. There is no dearth of delicious food in my life. I've eating so many tasty things in 2014, it is hard to crown one as king of kings. French onion soup at The Ginger Man; jerk chicken and plantains at First Choice Caribbean; the burger at 15 Church; allllll of the empanadas at La Empanada Llama; meze at Ali Baba. They're all contenders. Ultimately, my favorite thing I ate this year is a tie between the Sloppy Track milkshake at Shake Shack via Saratoga Race Track and the broccoli and ricotta pizza at Marino's. The shake gets the nod because I would gladly drive up to Saratoga and attempt to find parking, weaving my way through throngs of people during peak-season just to drink it. The pizza gets the honor because it single-slice-edly changed my entire world view on white pizza. I'm looking forward to what culinary delights 2015 brings my way!
Deanna Fox writes about many things, mostly about food. (She writes the Eat This! feature here at AOA, and was a judge for this year's Tournament of Pizza.) More can be found on her website, Twitter, or Instagram
Otis from Burnt My Fingers
This one is a bit off the wall. My favorite local food was the Wor Shu (pressed) Duck at Tasty Chinese, a hole in the wall takeout place in the Price Chopper mall in Malta. It¹s a thrifty old-school Chinese American way to use the leftover bits, sort of like Chinese scrapple. I didn't think anybody made it any more.
Otis writes at Burnt My Fingers.
Jerry Papandrea
On almost a weekly basis, I've been loving the corned beef hash at Illium Cafe [in Troy]. It's a reconstructed deconstruction of the dish. Cubed potatoes are deep fried, corned beef is slowly braised, and shallots are sautéed. Everything is married together with a small amount of roasted red peppers, a good amount of bacon, and some dry spices. The hash is then topped with an over easy fried egg smothered in tarragon Hollandaise. This dish is unorthodox and doesn't at all conform to diner corned beef hash standards, but it is an oddly reminiscent homage.
Jerry writes at derryX.
J+R from Chopsticks Optional
This past summer, we discovered Moroccan cuisine via Tara Kitchen [in Schenectady]. We were awestruck by their deft use of bold and vibrant spices. As much as our tongues were on fire with each bite of harissa grilled shrimp, the intense punch of heat was insanely craveable. But it was the lamb tagine that hooked us in with its intoxicating blend of saffron, preserved lemon, and a funky fermented butter called smen. This dish exposed our palettes to a whole new world of global flavors that hit all the right notes.
J+R write at Chopsticks Optional.
LorreS of Albany Dish
My favorite thing was pear cider from Nine Pin Cider Works in Albany. I got it on a Ciders and Sliders night at the cidery. Not only did it taste refreshing, light and fruity, but the whole idea of a cidery right here in our little town is wonderful. I am very happy that they continue to develop ciders of different characters and to connect with apple and pear producers to create a new economy around apples, pears and cider. Yay!!!
LorreS writes at Albany Dish.
Emily from Capital Region Dining Blog
Berle Farms Yogurt, available at Honest Weight Co-op or visit to the farm in Hoosick Falls (call Beatrice, 518-686-3249 to ask for directions, experience beautiful country drive, leave $6 in the tin can, grab your yogurt from the fridge, pet the dogs on your way out). 2014 turns out to be the year of yogurt in my life. It's refreshing, healthy, and a base for all kinds of delicious healthy foods like pineapple chunks, strawberries, blackberries, and granola. One of the very best things about living in this area is access to delicious, wholesome products lovingly produced so close by, and this yogurt is amazing. It's so fresh, and tangy with a silky, luxurious texture.
Emily writes at Capital Region Dining Blog
Jon in Albany
The vegetarian pizza submitted by DeFazio's to the Tournament of Pizza Finals was just plain great. The pizza was sauce, tomatoes, roasted red peppers, red onion, smoked and regular mozzarella, basil and what I would argue was the best crust I've ever had from DeFazio's. It's been two months and I still can't believe how much I liked this pizza. And it wasn't just me, my wife and kids couldn't believe how much they liked this pizza, too.
Jon writes at Jon in Albany, and was a judge in this year's Tournament of Pizza.
Ashley Dingeman
My favorite thing I ate this year was the zeppole from 15 Church in Saratoga Springs. These delicate pillows of fried dough covered in cinnamon and sugar was the type of dessert I had to have every time I visited 15 Church, regardless of how full I was. In fact, I'd go to 15 Church just for these little suckers, they are that good. The zeppole come with two dipping sauces, a housemade salted caramel sauce and a vanilla custard. Choosing between the two for each bite was a delightful dilemma that I look forward to having once again in 2015.
Ashley writes at Saratoga Food Fanatic.
Julie from Julie Journeys
Cheesecake from Cheesecake Machismo in Albany. I have a major sweet tooth. Cheesecake Machismo is my favorite locally owned, affordable, and utterly delicious place to grab dessert! I oogle at their unique flavors daily on Facebook. I love that I can walk to their location easily in Center Square!
Julie writes at Julie Journeys.
Lauren Hittinger
I love margaritas, but they are a careful balancing game. If they're too sweet, you end up with a sticky mouth and an angry stomach. But if they're not sweet at all, you might as well be doing tequila shots. The Malt Room has been my go-to location for the perfectly balanced margarita on the rocks. Even though my favorite bartender Michael isn't there anymore, I have faith that they can mix the best margarita that I can find locally.
Lauren Hittinger Hodgson writes The Thrifty Ginger and is contributor for AOA.
Daniel B.
Chicken Fried Steak with Sawmill Gravy at The Low Beat [in Albany]. I have a fat tooth. Fried beef covered in gravy? CFS used to be a favorite of mine, but I hadn't had it for years. Then I learned back in October that chef Josh Coletto was picking up some local grassfed beef to turn into this CFS for his monthly brunch at The Low Beat. But it was the gravy that put it over the top. After he shared the recipe with me, I totally understand why.
Daniel writes at the FUSSYlittleBLOG and is a contributor for AOA.
Hi there. Comments have been closed for this item. Still have something to say? Contact us.