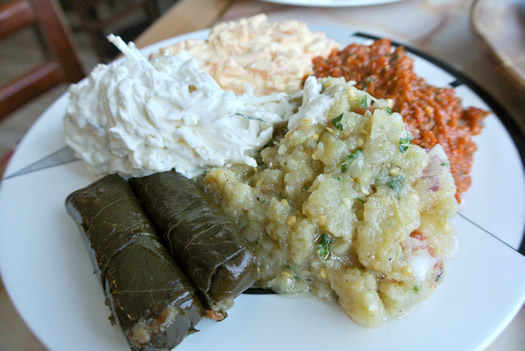 By Deanna Fox
My ancestral background is less of a patchwork and more of a woven blanket -- the weave and weft is all the same color with little variation. I can trace my familial heritage almost exclusive to the lush, green landscape of Scotland, Ireland, and Wales. There are a few one-offs here and there, but overall it is a fairly homogenous mix.

One would think I should crave potatoes and boiled meat for my daily meals. Why, then, do I yearn constantly for the cold, exotic salads of the Middle East?

Once you eat at Ali Baba in Troy, you want to keep eating at Ali Baba. And I'll be content to keep eating the meze there.
Meze is the general term applied to appetizers or small dishes to accompany drinking throughout the Middle East, Greece, and Balkan region. At Ali Baba, meze is referred to simply as a mixed plate, and it comes in small or large sizes. Don't be fooled by the "small" label: It's easily a filling, satisfying meal for one, sometimes two, people. The plate is composed of a variety of cold salads, dips, and spreads, and sometimes dolmades (stuffed grape leaves).

A cold case in the front counter of Ali Baba hosts the day's choices of salads, though it tends to be a set menu. Classic offerings like hummus will always be there. When ordering a mixed plate, you can choose your own selection, or just let your server select for you. I recommend the latter until you know what it is you hanker for.

On my most recent visit, I opted for ezme (a thick puree of walnuts, peppers, and tomatoes), cacik (a yogurt-dressed celery and dill salad), carrot salad, eggplant salad (which is funny, since I'm not really an eggplant fan -- this is quite tasty), and dolmades, which are stuffed with dried fruits and nuts.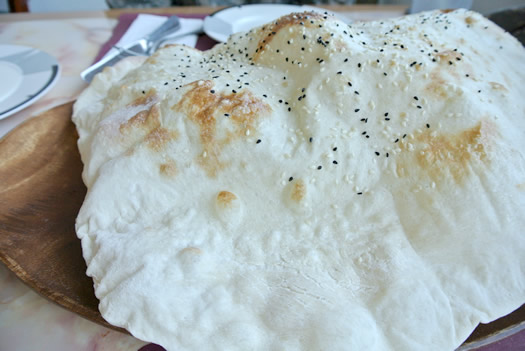 A side of lavash, an unleavened bread baked in a wood oven and topped with sesame seeds, is the only utensil needed to eat the salad. Just rip off a piece and scoop up your ezme, insert directly into mouth.

The lavash will come to your table baked to order. It is bloated with steamy air when it comes to the table, and ripping into it deflates it quickly. Be careful not to burn yourself. It will remain soft soon after being baked, but turns brittle fast, so eat up.

What makes the mixed plate at Ali Baba so good? It is hard to say. For me, I think it has to be a combination of bold flavors with clean ingredients. Even though it is pungent and snappy, it just feels healthy to eat it. Olive oil and yogurt grace most of the salad offerings (if you like beans, try the piyaz). A copious use of vegetables and heavy hand on spices awakens the palate and leaves it feeling refreshed. Ali Baba is a nice breakaway from so much heavy, greasy food that is the typical grab-and-go option.

That is, until you hit dessert.

I'm a sucker for baklava. Each Mediterranean or Middle Eastern culture has its own spin on baklava, and what Ali Baba serves is a nod to Turkish or Lebanese styles. A one piece "taste" will set you back $2, and a four-piece order is $4.95. Order the four-piece, take it home, and indulge throughout the week. Be wary of eyes that are bigger than the stomach. The flakey layers of phyllo dough filled with crushed nuts and sweet, sticky honey only require a few bites to satisfy.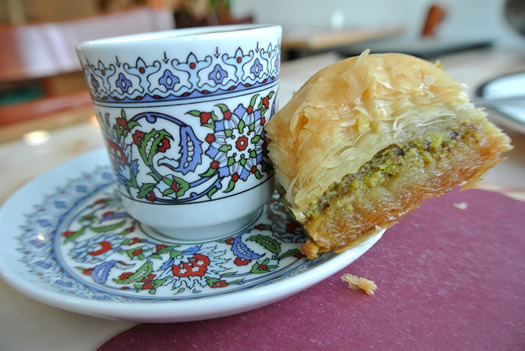 An accompanying Turkish coffee, equally sweet and syrupy, costs $2.75 and could serve as rocket fuel.

The small mixed plate at Ali Baba costs $10.95. Many entrée items, like wood fired pizza and chicken iskender (a chicken dish with tomato yogurt sauce over rice, served with pickled onion and cabbage) run around the same price point.
At that price Ali Baba rings in only a few dollars higher than the average fast food option. And located just a few blocks off Hoosick Street, it's is a a quick, healthy, and satisfying meal.

Deanna Fox writes about many things, mostly about food. More can be found on her website, Twitter, or Instagram.
More Eat This
+ Pizza at Kay's Pizza
+ Breakfast taco at Five Points Grocery
+ Shrimp Banh Mi Wrap at Reel Seafood Co.
+ Spumoni at Civitello's
+ Fried oysters at Javier's
Find It
Ali Baba
2243 15th Street
Troy, NY 12180
Hi there. Comments have been closed for this item. Still have something to say? Contact us.