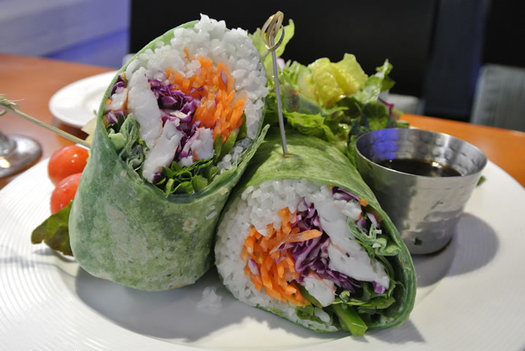 By Deanna Fox
I've a bold proclamation to make.
No one in the Capital District is making an authentic banh mi. Not nobody. Not no how.
There are many places that certainly give it the ol' college try, but they all fall short in one way or another. Now, I'm not saying that these eateries should just give up, but maybe they should start rethinking what they are trying to do.
One area restaurant is already doing that, and it might come as a surprise. It's Reel Seafood Co., one of the independently-owned holdouts on Wolf Road in Colonie, and its take on banh mi is something to be admired.
Banh mi is a Vietnamese sandwich, but it also represents a merging of cultures and a side effect of European empire building. When the French colonized what is now modern-day Vietnam (then referred to as Indochina), they brought along the classic baguette. Today, banh mi denotes an individually-sized baguette sandwich that is filled with a range of items that draw upon flavors from Vietnamese cuisine. The primary sandwich agents are quick-pickled vegetables (typically carrot and daikon radish that's been julienned and brined in rice wine vinegar), a grilled and thinly sliced meat (usually pork), and cilantro. A seasoned mayonnaise sometimes enters the mix, but the most critical element is the bread. Banh mi means, essentially, bread, and it is where most restaurants fall short when attempting to make this sandwich.
I've had banh mi that were good. Really good. I've also had banh mi that were downright inedible from formerly outstanding restaurants, and I had to pay 15 bones for the experience. The stumbling point is always the bread. Sometimes it's more an Italian ciabatta. Other times, it's basically a toasted sandwich roll. Neither are right for the job.
Reel Seafood Co. gets around this problem by completely forgoing the bread. In going this direction, it replicates the best part of the sandwich (the flavors) while avoiding its most common downfall (again, the bread).
Changing things up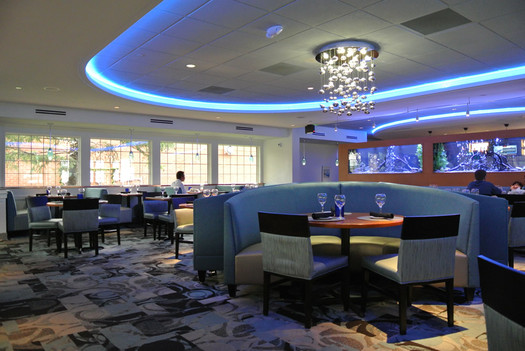 Reel Seafood Co. was spearheaded by LeGrande Serras, the ebullient and mustachioed owner/front of the house maestro, for 30 years before selling his restaurant to daughter Aliki Serras earlier this year. At 28 years old, Aliki understands the changing dynamics of dining culture, the aging demographic of typical patrons to the restaurant, and the increasingly sophisticated palate of the Gen X/Millennial eater. Aliki quickly got busy with a restaurant refresh to ensure that Reel Seafood Co. was around for another 30 years.
The dining room was revamped and the menu was updated. Among the updates: a re-imagined banh mi.
Gone was the baguette, and in its place was a warmed spinach wrap. In doing this, Reel Seafood Co. focused on what it does best (fresh, quality seafood), while appealing to a younger dining crowd (international flavors at a fair price point).
The shrimp banh mi wrap featured shrimp so fresh, so perfectly cooked, that if not for the characteristic "pop" that shrimp gives once bitten, one probably wouldn't realize they were eating shrimp. It isn't the least bit fishy tasting, it just tastes like ocean -- crisp, sapphire-blue ocean. Sticky rice, shredded red cabbage, quick-pickled carrots, a hint of jalapeno, cilantro sprigs, and a side of ginger ponzu dipping sauce round out the wrap. At $11 and with a choice of fries, house salad, a cup of chowder, or coleslaw, it's a generous lunchtime option that is filling and satisfying.
If you're a diehard for the crunchy, crusty version of banh mi that leaves little crumbs of leavened happiness on your lap, this isn't it. But if you, like me, want the flavor of banh mi without the unmitigated bread disappointment that will no doubt follow at most places, maybe you should consider Reel Seafood Co.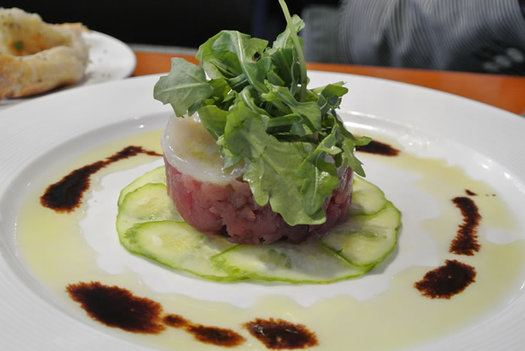 Tuna tartare with scallop crudo is enhanced by meyer lemon-infused olive oil and white balsamic vinegar.
The shrimp banh mi wrap isn't the only worthwhile dish on the new Reel Seafood Co. menu. Other lunch options worth a try include the yin yang scallops ($13), tuna tartare with scallop crudo ($13), the short rib melt on a brioche bun ($13), and chicken clubhouse wrap ($10).
Try lunch
Notice how I focused on the lunch menu? Well, here's a secret I'll key you in on. A lot of people don't think they can afford to dine at well-known, reputable, upscale establishments for fear of the menu being cost-prohibitive. Trying out a restaurant at lunch is a great way to overcome this. The kitchen is the same, and a diner will receive a representation of what is available on the dinner menu, usually at a lower price. (Oftentimes, the lunch menu is simply a scaled-down portion of what is served for dinner.)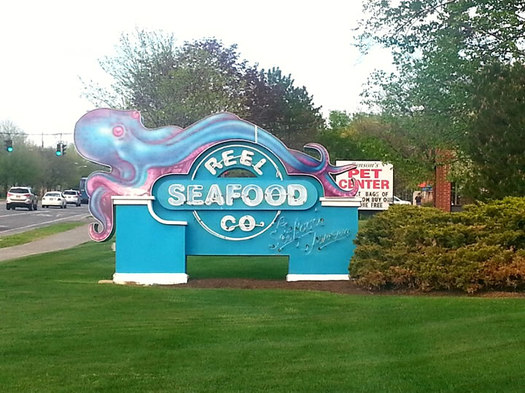 Sure, you could go somewhere cheaper on the chain-filled straightaway that is Wolf Road, but I can bet you the vast majority of those restaurants aren't sourcing seafood weekly from hometown operations like Fin - Your Fishmonger. And dining there supports a local independent stalwart.
The best part of Wolf Road is that it is easy to get to from basically all points in the Capital Region, which makes stopping in for lunch or a post-work drink even more attractive.

Deanna Fox writes about many things, mostly about food. More can be found on her website, Twitter, or Instagram.
More Eat This
+ Spumoni at Civitello's
+ Fried oysters at Javier's
+ French onion soup at The Ginger Man
Find It
Reel Seafood Co.
195 Wolf Road
Colonie, NY 12205
Say Something!
We'd really like you to take part in the conversation here at All Over Albany. But we do have a few rules here. Don't worry, they're easy. The first: be kind. The second: treat everyone else with the same respect you'd like to see in return. Cool? Great, post away. Comments are moderated so it might take a little while for your comment to show up. Thanks for being patient.