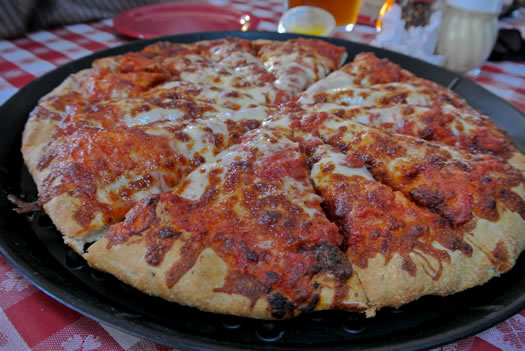 By Deanna Fox
It is said that the pizza you grow up with is the pizza by which all other pizza will ever be judged -- regardless of how good or bad that childhood pizza was. As a result, pizzas of many types -- and a range of relative merits -- have a special place in the hearts of people.
Sure, that very poofy crust/exceptionally thin crust/sweet sauced/tangy sauced/underbaked/overbaked/whatever pizza might have its flaws, but it's your pizza. And eating it evokes memories.
No matter what type of pizza holds that place in your heart -- and no matter how good (or bad) that pizza is -- there is little doubt the pizza from Kay's will stand up to it favorably.
There are several reasons why someone would venture over hill and dale to dine at Kay's Pizza in Averill Park. One might be for location. (Kay's is situated nicely on Burden Lake.) One might come for the history. (The building has a long history as a restaurant, serving pizza since 1958). And some come for the aesthetic. (Vinyl checkered tablecloths cover each table, with a table number written in Sharpie on the end of each. There is almost always a deluge of cars overwhelming the tiny dirt road and parking lot, which only leads to a lingering line on the front porch. Waitresses call you "hun" and "babe" and squeeze your shoulders and the owner frequently steps out of the kitchen to wish you well.)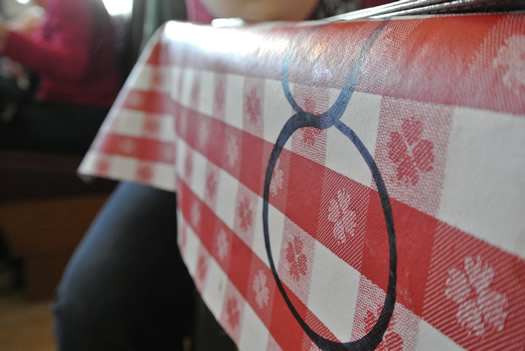 But mainly, people come for the pizza and the prices.
Let's start with the pizza. This is pub-style pizza at its finest. Soft, squishy crust is baked in a pan, and slathered with just enough sauce so the top layer of dough is almost soggy (in the best way, like when you dip baguette into the leftover jus from boeuf bourguignon). Atop the sauce is a stringy mix of cheeses -- mostly mozzarella -- that holds everything together and brings joy to giggling children as they marvel with each new slice at the long strands of molten delight.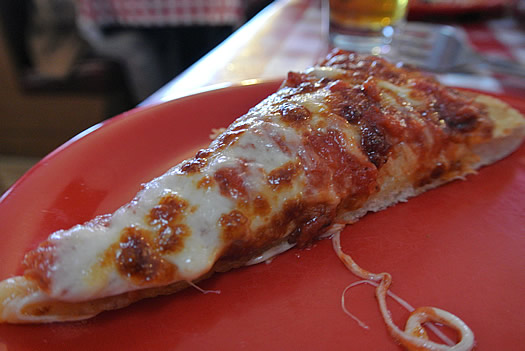 From there you could add toppings, but why would you? The cheese pizza is so satisfying that it's hard to justify throwing anything else on there. But people do, and Kay's offers a variety of toppings and specialty pizzas, including BBQ chicken and a gluten-free version.
The pizza will come to you quickly, but don't hesitate in ordering an appetizer anyway. The steamed clams are sure to please, and feel especially fitting when dining waterside. The Buffalo wings are a classic, no-fuss iteration of the area menu staple but tasty nonetheless.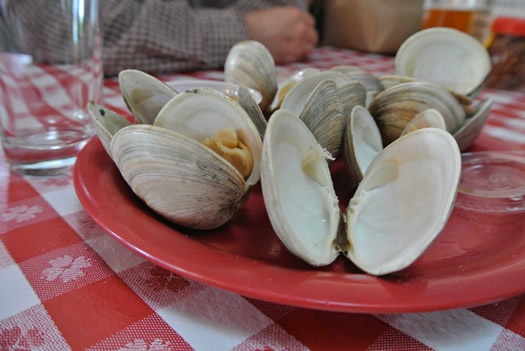 Beer comes in pitchers with not-quite-a-pint plastic glasses that evoke that old neighborhood hangout feel. (I'm pretty sure you can order pop in pitchers, as well, which might be especially helpful if feeding a mass of hungry youngins.) And while there are plenty of two- and four-tops to accommodate smaller parties, there are long tables that somehow fit perfectly on the uneven floors.
One would be hard pressed to find a more cost-friendly place to feed a group. The prices feel almost criminal and make you wonder how it is possible for the joint to stay operational. My first foray to Kay's included two pitchers of beer, two large pizzas, a basket of wings, and a basket of steamers, and the bill barely came to $60. I had to double check to make sure that everything was tallied up right.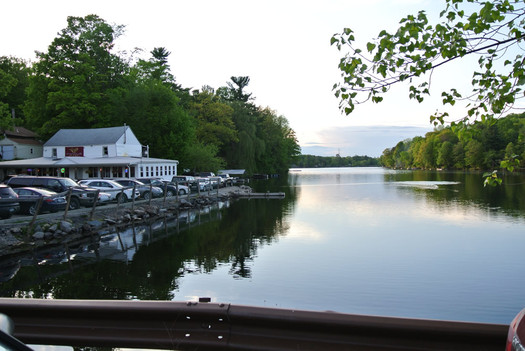 While it might be a wee bit out of the way for many, don't overlook Kay's for meetups with friends and for family nights out. You can always swing by Moxie's in nearby Wynantskill for ice cream on the way home.
Kay's is only open April through October. But don't worry, you still have 123 days left to take part in the tradition that throngs of people throughout the Capital Region have come to love.
Deanna Fox writes about many things, mostly about food. More can be found on her website, Twitter, or Instagram.
More Eat This
+ Breakfast taco at Five Points Grocery
+ Shrimp Banh Mi Wrap at Reel Seafood Co.
+ Spumoni at Civitello's
+ Fried oysters at Javier's
+ French onion soup at The Ginger Man
Find It
Kay's Pizza
10 Walsh Lane
Averill Park, NY 12018
Hi there. Comments have been closed for this item. Still have something to say? Contact us.