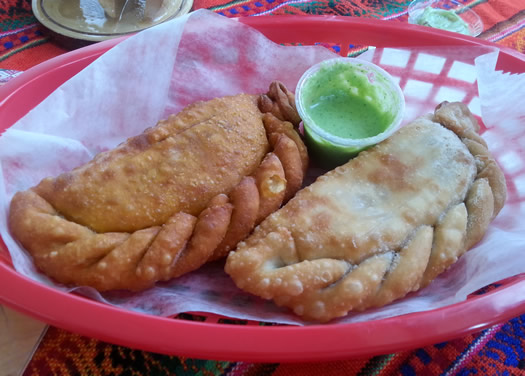 By Deanna Fox
When it comes to the eating of feelings, I am the champion. The contents of my refrigerator are direct indicators of my mood. Happy or generally content times manifest as plenty of fresh produce, lean meat, and other aspects of a homemade, well-balanced diet. Other times, you'll find all the things that would make Jenny Craig blush.

One particular crappy day had me hankering for something fried, spicy, and perhaps even a little sweet. How could one better address all those cravings that with fried handpies? And on this day, that came in the form of empanadas at La Empanada Llama.

In one single bite, I could feel my entire day turning around.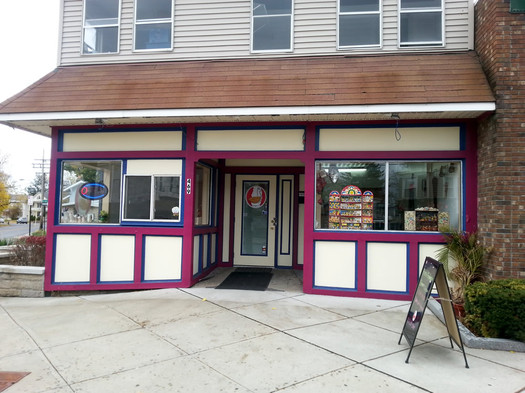 La Empanada Llama had been in the back of my mind for some time , but I just never seemed to be able to make it over for a visit. As luck would have it, the restaurant recently moved to a space on Delaware Ave in Albany. And needing to be in the area anyway, I felt an epic display of emotional eating might be the perfect way to brush this cloud of Murphy's Law away from my head.

Within one bite, I was sold. I swear the skies opened up and sunshine flooded the Delaware Avenue sidewalks where the rain once fell.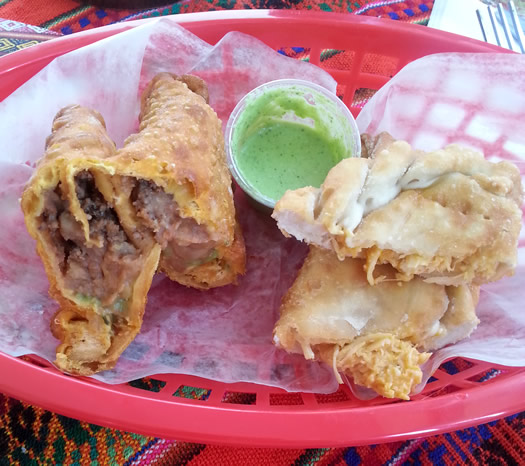 I started with two savory empanadas, not knowing how filling they would be. They were perfectly filling, but you need to let them settle in your belly first. (They are easy to eat, you'll undoubtedly scarf them down fast, and the result will be a bloated, overstuffed feeling if you're not careful.) My first empanada was the chicken ($3), filled with shredded meat in a traditional aji amarillo sauce - it's like a spicy queso sauce, and it's every bit as delicious as it sounds. I also tried the Mexican ($3), but not without some hesitation. I'll be honest, I'm not a big refried beans lover, but the Mexican was a perfectly balance trio of the beans, seasoned ground beef, and guacamole. Smearing a little "green sauce," a closely guarded secret no doubt consisting of cilantro and hot peppers, on either empanada brings a vibrancy, a piquant hit, to the flavor that works to highlight the flavors already happening.

Especially crap-tastic days call for sweets, though, and I decided to double-down on desserts, opting for both the tres leches cake ($3.25) and the dulce de leche empanada ($3). You can order the dessert empanada with or without coconut -- always opt for with. About the same time, my friend Daniel invited me over for a cup of his Cuban coffee, so I took the sweets to go, ordering another round of empanadas and a side of plantains ($3) to bring along to accompany the black beans and rice he also offered up.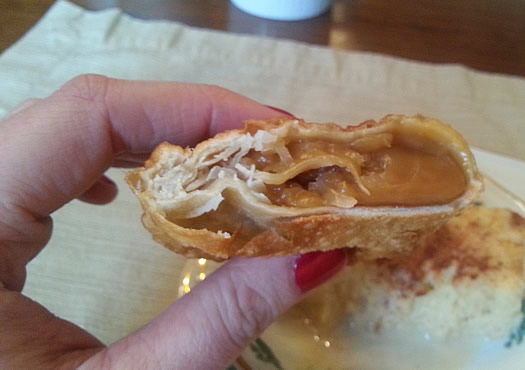 "Oh my God."

That's what Daniel said when he split the dulce de leche empanada in half and watched the river of molten, golden caramel ooze over the fried empanada pastry like a treasure chest spilling over with riches. The tres leches was on par with any other I've ever had. But the dulce de leche -- sweet with the flavors of burnished sugar and cream -- was the real pinnacle of the meal.

Seeing a friend, and pairing that with excellent food, brought solace to my woes. Empanadas, it turns out, are my foodie Prozac. Sure, some jerk cut me off on Whitehall Road after I left La Empanada Llama, but in slamming my breaks a pair of Ray Bans I thought were long gone came sliding out from under the passenger's seat. And yeah, my gas tank hit "E" on my way back from Daniel's house.
Food can't fix everything, but it can make the day a little brighter. A handmade, lovingly formed empanada from La Empanada Llama brings a little sunshine on even the darkest of days.

Deanna Fox writes about many things, mostly about food. More can be found on her website, Twitter, or Instagram.
More Eat This:
+ Chicken parm at D'Raymonds
+ Waffles at Iron Roost
+ Grilled cheese at The Cheese Traveler
Find It
La Empanada Llama
469 Delaware Ave
Albany, NY 12209
Hi there. Comments have been closed for this item. Still have something to say? Contact us.