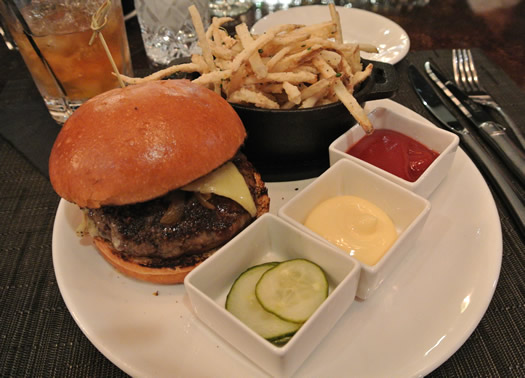 By Deanna Fox
Ever have a cheeseburger change your life?

I haven't either -- though I've had plenty of cheeseburgers that remind me why it's good to be alive.
To me, cheeseburgers are prized because they're quick, filling, and relatively inexpensive. It's part of the reason they've lasted through decades, beyond trends.

For all those reasons, it never made much sense to me to have a cheeseburger on the menu of an upscale, top-rated restaurant. Why, when you are going to dine at an eatery that features Artic Char with quinoa, squash puree, Greek yogurt sauce, and pickled black currants -- or beef carpaccio with crispy oysters, fried capers, shaved Parmesan, and truffle emulsion -- would you order a cheeseburger? Facepalm.
If you want a cheeseburger, go somewhere that's going to give you that cheesy, fat-dripping patty of delight that with leave you just a few bucks poorer. (In that situation, Five Guys is my burger of choice.)

But then I ate the cheeseburger at 15 Church in Saratoga Springs, and I had a shift in perspective. I was trapped in a food identity crisis. I'm a thin-patty kind of girl who fell in love with a hockey-puck mound of ground meat. All I thought I loved/hated about a burger was being questioned.

The trick is to think of it less as a cheeseburger and more as a preparation of steak.

Brady's Burger ($16), named for 15 Church chef Brady Duhame, is at a blend of short rib, sirloin, and brisket -- a tender and flavorful mix. (I ordered mine medium-rare, and I suggest not going beyond medium when you order yours, or else you'll lose much of that tender quality.) Because of the blend of meat, you need to consider this burger as ground steak and not a ground patty. Savor it like you would steak, order it like you would steak. It tastes like steak, except it is placed on a perfectly charred brioche bun and topped with cave-aged gruyere, bacon, and caramelized onions.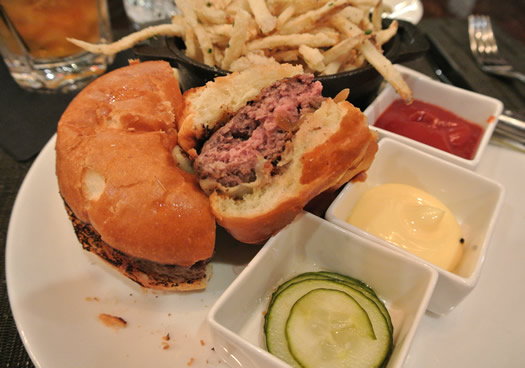 The restraint in toppings highlights the flavor of the meat, which melts in the mouth and floods your palate with umami flavors. The meat is the star of this burger, unlike many other burgers where the accoutrements are what make the burger shine. Ketchup, house-made sweet pickles, and Kewpie mayo (a spot-on addition to the burger with its salty, eggy flavor) are served on the side. But I barely touched them simply because this burger stands on its own and doesn't need the addition of a lubricating condiment or sweet accent to cut through the fatty, juicy contents of the burger.

Shoestring fries come on the side. I wasn't crazy about them (I wish they were crispier), but the coating gives them almost a tempura-fried airiness that provides a unique punctuation to the burger.

The thing I like best about Brady's burger is that it doesn't "fuss it up" too much. It's a simple preparation of just a few quality ingredients. Bread. Meat. Cheese. Onion. That's it. It doesn't add caviar or foie gras to try to mask inferior meat or give credence to a fact that there is a burger on a fine dining menu. It just is what it is, unapologetically, without explanation or question.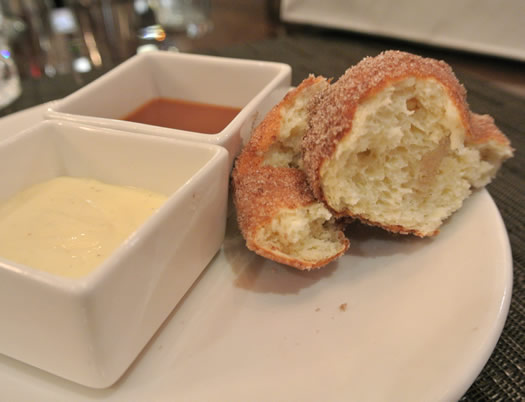 I also enjoyed a perfectly executed Dark and Stormy ($12), the classic rum and ginger beer cocktail. Two ingredients might seem like child's play in the mixology world, but it can be hard to get right. (See: Martini, Gimlet, Rusty Nail, Horse's Neck.) 15 Church does it superbly. I also enjoyed the zeppole, the Italian ricotta doughnut akin to a beignet, served with vanilla bean crème Anglaise and salted caramel sauce. I highly recommend you budget out $12 and a little stomach space to cap your meal with zeppole.

15 Church isn't cheap. Expect to drop some bucks if you are going in there. Starters run upwards of $20, while an entrée can range from about $25 to $50. Add in a drink or two, possibly dessert, and it wouldn't be hard to rack up a $100-per-person bill. At the same time, it is possible to get a more affordable meal. I could have easily split my burger and dessert with a friend.
15 Church won't be my go-to burger joint. But it made me realize that when done right, a ubiquitous sandwich option can live in a world of tuna tartar and beluga lentils. I will definitely be eating it again.

Deanna Fox writes about many things, mostly about food. More can be found on her website, Twitter, or Instagram.
More Eat This:
+ Empanadas from La Empanada Llama
+ Chicken parm at D'Raymonds
+ Waffles at Iron Roost
Find It
15 Church
15 Church
Saratoga Springs, NY 12866
Hi there. Comments have been closed for this item. Still have something to say? Contact us.