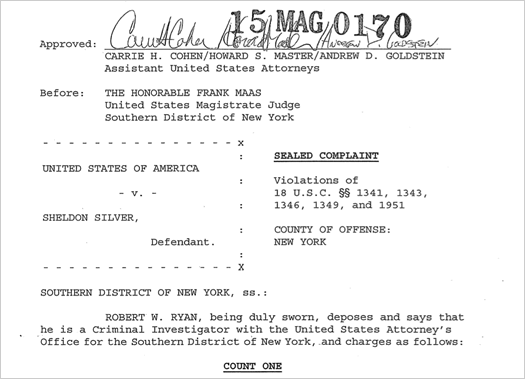 As you have no doubt heard incessantly today, Sheldon Silver -- the loooongtime speaker of the state Assembly, one of the most powerful politicians in New York -- was arrested by the feds today on corruption charges. Silver said Thursday afternoon that he's "confident that when all the answers are aired I will be vindicated." [State of Politics]
So what exactly are the feds accusing Silver of having done?
Here it is, broken down in a quick-scan format.
Boiled down, what are the feds alleging?
Federal prosecutors allege that Sheldon Silver "monetized" his public office by trading his influence and ability to direct state funds for almost $4 million in kickbacks and bribes that were disguised as referral fees. (The feds got a warrant to freeze $3.8 million of Silver's allegedly corruptly obtained funds.)
The allegations get at a question that's hung in the air at the state capitol for years: What exactly does Sheldon Silver do for the law firm(s) that employs him? Silver has always been relatively quiet on this question. Last year a Silver spokesman generally outlined an arrangement in which Silver vetted clients for a law firm. [NYDN 2014 July]
But as US Attorney for the Southern District of New York Preet Bharara said Thursday during a press conference of Silver's legal work: "He does nothing. Speaker Silver never did any actual legal work."
How do they say Silver worked these alleged kickbacks and bribes?
The feds say Silver had two arrangements:
The asbestos cases
Sheldon Silver has been on the payroll of the personal injury law firm Weitz & Luxenberg for $120k a year, according to the feds. In addition to that base pay, the law firm also paid Silver $3.2 million for referring cases between 2003 and 2014 November.
And where did those cases come from? Here's where the feds say there was a corrupt setup:
1. Silver allegedly directed $500k in state funds (along with other favors) from a non-itemized state fund that he controlled to a research center and org connected to a doctor in Manhattan who treated patients suffering from mesothelioma, a condition related to asbestos exposure. When the program for that funding changed, the feds allege Silver continued to coordinate favors for the doctor, including an official state Assembly resolution honoring the doctor, and help getting a job for one of the doctor's family members.
2. That doctor then prompted his patients to turn to Weitz & Luxenberg to pursue their asbestos-related law suits.
3. And then the law firm paid Silver for the patients coming on as clients. The feds say Silver did no legal work related to the cases because, from the complaint: "he lacked the knowledge and experience necessary to evaluate those cases."
In the complaint against Silver, the feds say they turned up evidence indicating Silver referred more than 100 clients to the Weitz & Luxenberg, "the majority of which were referred for potential asbestos litigation, rather than negligence or other types of personal injury litigation as SILVER had claimed publicly."
As Bharara said at the Thursday press conference, Silver's accused of effectively converting $500k in public money into $3 million of his own income.
The real estate cases
The feds say Silver was connected to a small law firm that specialized in New York City property tax cases, a relationship that was not publicly disclosed. And they allege:
1. Silver approached two prominent NYC property developers who had lobbied him on real estate issues and asked them to hire the law firm to which he was (not-publicly) connected.
2. The developers hired the firm and paid it a cut of property taxes the firm was able to save the developers, an amount that totaled millions of dollars over years.
3. Silver allegedly got a portion of the fees paid to the firm -- some $700k -- for his referral of the developers. The feds allege Silver did no legal work associated with the developers' cases.
4. From the US Attorney's press release: "While continuing to receive the fees and in furtherance of the scheme, SILVER took official action beneficial to the developers. For example, while SILVER was publicly associated with advocating for tenants, a proposal made by the one of the developers who sent work to the Real Estate Law Firm was in substantial part enacted in real estate legislation in 2011 with SILVER's support."
____
Elsewhwere: NYT's coverage includes reporting on the alleged identities of the doctor and one of the developers. And Capital has more about the doctor.
What are the actual counts against him?
Sheldon Silver is facing five counts:
+ two counts of honest services fraud
+ one count of conspiracy to commit honest services fraud
+ one count of extortion under color of official right
+ one count of conspiracy to commit extortion under color of official right
Honest services fraud? Doesn't that sound like the Joe Bruno case?
Yep, Bruno faced similar charges. And, as you know, he ultimately escaped them after two trials, with a Supreme Court of the United State decision in between.
SCOTUS ruled that the "theft of honest services" law used to convict Bruno in the first trial was "unconstitutionally vague." The ruling narrowed the scope of the law to situations where a bribe or kickback was involved. On the feds' second swing at Bruno they argued that consulting fees he had been paid were actually kickbacks and bribes for Bruno's influence in the state legislature. But the argument didn't stick with the jury and Bruno walked.
So that will be a key part of the feds' case against Silver if it ends up making it to trial: Can prosecutors convince a jury that the arrangements in which they allege Silver was involved constitute illegal kickbacks and bribes. Said Bharara of the prosecution's case for establishing corrupt quid pro quo: "We believe we will make that out."
What's the potential penalty?
The maximum penalty for each count is 20 years. But sentencing would be up to a judge, and this whole situation is a very long way away from that point (if it ever even gets there).
The complaint
Say Something!
We'd really like you to take part in the conversation here at All Over Albany. But we do have a few rules here. Don't worry, they're easy. The first: be kind. The second: treat everyone else with the same respect you'd like to see in return. Cool? Great, post away. Comments are moderated so it might take a little while for your comment to show up. Thanks for being patient.