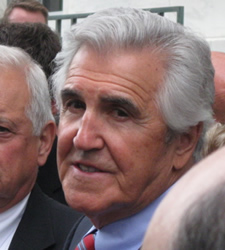 The Supreme Court of the United State issued decisions today in three cases (1, 2, 3) involving the "theft of honest services" law -- the law used to convict Joe Bruno.
The Supremes were unanimous that the law is "unconstitutionally vague". Ruth Bader Ginsburg writes in the majority opinion of Skilling vs. US (as in Jeff Skilling, the Enron guy) that Congress intended the law to cover "schemes to defraud involving bribes and kickbacks," but it's too vague to say it covers anything beyond that. [NYT] [SCOTUS]
Federal prosecutors went after Bruno mainly for not disclosing conflicts of interest -- not for bribes or kickbacks. And the Supremes ruled that the law doesn't cover such conflicts of interest. So these rulings could help Bruno get off the hook. [TU] [SCOTUS Blog]
His lawyers are reportedly setting up a meeting with federal prosecutors to discuss the case. The judge in Joe Bruno's case has allowed the former state Senator to stay out of prison, pending the decisions in these SCOTUS cases. [NYT]
Earlier on AOA:
+ Speed reading the coverage of the Joe Bruno sentencing
+ Joe Bruno sentenced to two years
+ Should the "Joe" name go?
+ Speed reading the coverage of the Joe Bruno guilty verdict
+ Joe Bruno guilty on two counts
+ Retro Joe Bruno
Hi there. Comments have been closed for this item. Still have something to say? Contact us.