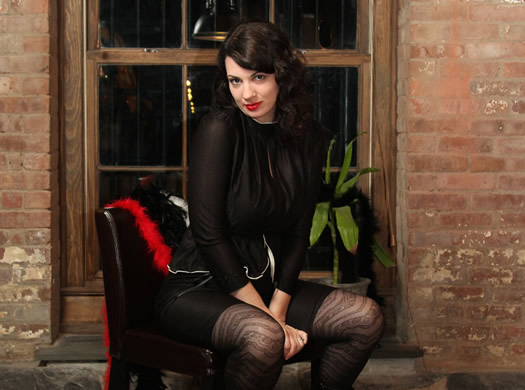 By Lauren Hittinger
There's a new kind of Valentine's Day event at the Takk House in Troy this year. And it involves masquerade, burlesque, a mysterious host, and a whole lot of secrecy.
Zhenelle Falk is planning The Love Story, a carefully-orchestrated alternative to Hallmark cards and heart-shaped boxes.
I chatted with her about this immersive event that is aiming to be frightening, exciting, and sexy all at once.
Tell me a little bit about The Love Story and your inspiration behind the event.
It is a masquerade. But I'm calling it an immersive theatrical event, because it's not just a masquerade. The idea started coming together when I was looking for reference material for Queen Mab's Enchanted City, which was in Troy this past October. And out of that, sort of out of the festival, but more out of the after party that we had at The Malt Room, I became aware that people will come out, dress up, and have a really bawdy adult good time.
[The after party] was a burlesque show, and we had a few performers up from New York City. One of them, Darlinda Just Darlinda, came up and did a really quick, amazing act, and that was where this whole Love Story thing started to come together in my mind. I was totally blown away. I had seen burlesque locally, but I still hadn't seen anything of the caliber of Darlinda.
I wanted to see more of that, and I wanted to see more people in costumes, and I wanted to do something again really soon. I had the momentum of the festival, and I like to be really overwhelmed in my life, so I thought 'What can I do really soon, that will bring together all of those components?'
Valentine's Day was an obvious pick. And then the masquerade element was immediately fireworks in my mind, because you could go in so many directions.
What can people expect during The Love Story?
So there's a flow to the evening. After people check their stuff, they'll be funneled into the ballroom, and held there until we reach critical mass. From that point forward, there's a flow to the night. And I can't get into too much detail, because we want it to be a surprise, but I think people are going to be really blown away by the amount of creative energy that is going into a Valentine's Day party. Because we do want it to have elements of theatre, and the performers involved are all professionals. Each one of them brings something totally unique.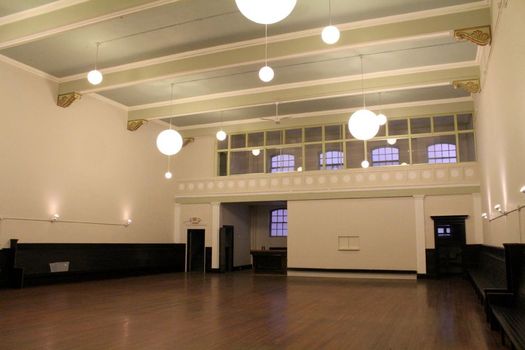 The Takk House ballroom.
From 9 to 10 there will be performance in the ballroom, where Dr. Lucky is our headliner. She's another amazing NYC burlesque performer, and she's doing this routine in a Marie Antoinette outfit, that pokes a lot of fun at that whole aesthetic. And then we have a whole local troupe of burlesque performers like C. Amanda Boutahorse, Heather Whatever, Persephone Pomme -- they're doing a choreographed routine with Mistress Couple. That will be the real striptease. And then for the most part, after that, it's going to be a dance party with DJ Momotaro.
I've been following along and noticed some of the event language says that you have to participate in parts of the evening whether you'd like to or not. Is that true?
So there's some vetting to the participatory aspect. Because the people involved don't want to be forcing anyone to do anything. But a lot of that is still shrouded in secrecy.
When we say sensory, it's basically a grown-up game of truth or dare, sort of, but the dares are very benign. There are things that are meant to elicit a response and get the couple talking to each other. Because these exchanges are about the couple, and trying to bring them closer to a point in their relationship where they confess something new to each other. And for a lot of people, maybe as some points, you feel like you've run out of things. This is an opportunity to prove people wrong. You actually don't know everything about each other. And maybe here is an opportunity to expose yourself a little bit -- not take your clothes off-- but intellectually, emotionally expose yourself and get a little vulnerable, with instruction, and walk away changed.
And maybe here is an opportunity to expose yourself a little bit -- not take your clothes off-- but intellectually, emotionally expose yourself and get a little vulnerable, with instruction, and walk away changed.
And maybe not. Maybe you walk away laughing hysterically because you have no idea what you just encountered, but I'm OK with that too. I think that's equally as valuable to just have fun with the whole experience, the whole night.
It's going to be very extravagant and over the top. That's why the food is meant to all be aphrodisiacs and the dessert is all aphrodisiacs, and so, like, some of that is psychosomatic, but I want people to feel like they're having a really fun time. And that's why I chose burlesque over anything else. There's really not a better performance art form for this kind of event because they're going to get a little naked, they're going to make people laugh.
Somebody said to me recently, and I get this a lot from women: 'I really want to go, but my husband doesn't.' There are a lot of women that really want to go, for lots of reasons, but they're held back by their husbands. Because their husbands are like, 'I don't want to wear a costume. I don't want to wear a mask. I don't participate in any of that kinky stuff.' What do you think we're going to do to you, man? You're going to dance with your wife, you're going to eat some really good food, and maybe, if you're lucky you're going to get summoned. Because the summons are going to be about a dozen couples, tops.
What are the summons?
So when the summons happen, they occur in the ballroom, and there's no way you can't see them coming. Because you're actually summoned by Scary Ben, and he has two assistants that help him summon couples. When we do these summoning things, there's a ritual aspect to this whole process that feels ceremonial. After Ben vets some couples, he'll report back to The Author, who will be overlooking the ballroom, and she picks.
Each of the encounters is genuinely meant to pull information out of these people that then The Author will use to further develop the closing ritual. So at midnight we are conducting a ritual with everyone who is still there. It's really just a call and response, through which The Author is communicating what she's learned about true love and romance. And her assessment of that is based upon the interactions she's had with a dozen or so couples.
And The Author's identity is private?
The Author is anonymous. And it's not me (laughs).
It's not me, but we're not disclosing who it is, so people can't have any preconceived notions about what's going to happen or who they're talking to. And it's a masquerade, so maybe you'll never know who it is.
We want it to be really mysterious and kind of scary. A little scary. Because I think that too is a kind of exciting. It's the adrenaline rush of 'I'm not sure I'm comfortable with this,' and then you do it and you realize 'I was totally fine.'
And that's one of the messages of this whole thing. We all hit that point where we think that we can't do something, or we don't want to, or we don't know how. And a lot of times we find that if we push through and we actually do it, you can.
Loving someone is really not very different (laughs).
This interview has been lightly edited and condensed.
____
The Love Story is Saturday, February 14 from 7pm-1am at the Takk House in Troy (55 3rd St). Tickets are $150 per couple.
Lauren writes about shopping, crafting, and living well on a small budget at The Thrifty Ginger.
Earlier on AOA: Takk House
Zhenelle Falk photo: Organic Images Photography/Breanna Berger-Tzabar
Say Something!
We'd really like you to take part in the conversation here at All Over Albany. But we do have a few rules here. Don't worry, they're easy. The first: be kind. The second: treat everyone else with the same respect you'd like to see in return. Cool? Great, post away. Comments are moderated so it might take a little while for your comment to show up. Thanks for being patient.