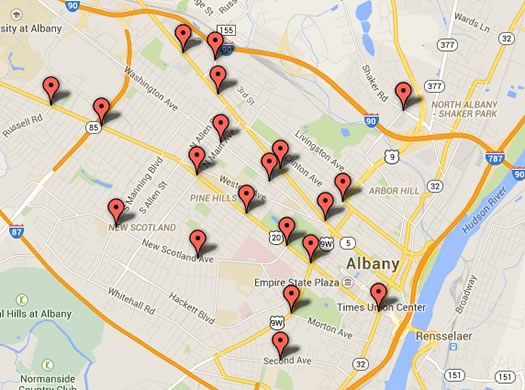 The Albany Police Department released the final list of intersections for the city's new red light camera system Friday. There are 20 intersections in all.
Here's the list with some crash stats, along with a clickable map, and a few quick things and thoughts.
List and map
They're above in large-format -- click or scroll all the way up.
A few quick things about the program
+ Quick review of the basics: The Common Council passed an ordinance allowing 20 intersections to get red light cameras. Violations will be $50, no points. The city budget includes a line for $2 million in revenue from the cameras. (Here's is much more about the background.)
+ Here's some background on the work that went into creating the list of intersections, including how the APD was sifting through the traffic incident data, as well as an explanation of why some intersections were excluded from the program. Back in December APD assistant chief Brendan Cox said the crash data from the period October 1, 2011-September 30, 2014.
+ The city of Albany hasn't announced it's picked a contractor for the red light camera system, yet -- five companies have submitted proposals. (Here's the city-issued RFP.) [TU]
A few quick thoughts on the list of 20 intersections
+ After studying the map for a few minutes, we're not surprised by any of the intersections picked. They're all mostly along major corridors. Some of the intersections, like Madison Ave/Quail Street, are notorious for accidents.
+ One that might be a little bit of a surprise is Western Ave/Brevator Street. That intersection wasn't on the list of candidate intersections released in December. And it doesn't have a high number of crashes compared to the other intersections. But it was mentioned in public comments during at least one of the December info sessions. And, for what's worth, we have personally witnessed people run that red light multiple times (in fact, we saw someone blatantly run it just this week).
+ City officials -- APD assistant chief Brendan Cox, in particular -- have talked about trying to approach this program methodically and openly. And so far, they're seem to be doing a pretty good job, identifying the possible intersections and releasing crash info about them.
But the next part is where it gets hard. The process of picking the contractor needs to be open and documented. As the system is ready to come online, the city needs to make a concerted and prominent effort to notify people of the cameras. Once the system is operating, the city needs to be open about the numbers. And if the system doesn't perform, there should be changes/adjustments or even removal.
As has been reported many times, there are people who are skeptical of these systems. And the track record in some other cities gives good reason for that skepticism. So continuing to be open and methodical will be the best way for city officials to address those concerns.
Totally speculative, back-of-the-envelope math
The city budget includes a projection of $2 million in revenue from the red light camera system. We've been skeptical of that figure (as have others), because it seemed like it required a relatively large number of tickets. So based on the camera placement, we did a little bit of math to think through it. This is, at best, back of the envelope and really is just some rough thinking to get some perspective.
Based on federal data for traffic volume just along the Madison/Western, Washington Ave, and Central Ave corridors, we roughly estimated that about 65,000 vehicles travel those corridors each day on average. (Again, that is a very, very rough estimate). So let's plug in some numbers:
Of course, this doesn't include total volume throughout the whole system. And we have no idea whether tagging .10 percent of vehicles along a corridor for red light violations per day is high or low. But there's a little bit of very rough perspective.
Hi there. Comments have been closed for this item. Still have something to say? Contact us.