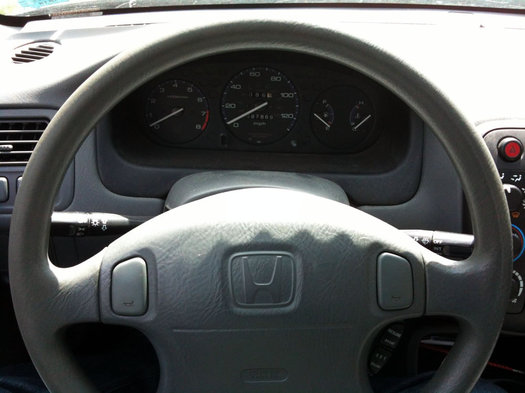 A theme that's popped up often in recent years among developers, planners, cultural observers, whoever: more people -- younger adults (the Millenials), especially -- don't like to drive. You see it mentioned in national articles, and we've had developers and planners mention it to us locally.
We had that idea in mind this week when we came across some numbers about vehicle use over the last few decades, both nationally and here in New York State. One thing led to another and we ended up calculating driver's licenses per capita for counties around the state. (Because of course.)
A few interesting bits floated by along the way. Among them: Of New York State counties that are not part of New York City, Albany County has one of the lowest levels of driver's licenses per capita in the state -- and the rates for all of the Capital Region core counties in 2013 were down compared to 2007.
Here are a few quick graphs, and a few thoughts.
Graphs and a map
They're above in large format -- click or scroll all the way up.
A few things
+ Of the 57 non-New York City counties, Albany County ranked #4 for lowest number of driver's licenses per 1000 people (age 16 and older). Rensselaer County ranked #24, Schenectady County #44, and Saratoga County #54.
+ Tompkins County (where Ithaca is located) had the lowest driver's licenses per capita figure.
+ All four Capital Region core counties had lower rates of driver's licenses per capita in 2013 compared to 2007.
+ Whether there are actual significant trends here is a good question. But it does look like there's been some sort of ripple the last few years.
+ It's probably also not a coincidence that transit ridership nationally in 2013 was at its highest level in more than half a century. And here in the Capital Region, CDTA has been reporting record ridership in recent years.
+ There are a lot of theories about why younger people aren't driving as much compared to other generations. One is that they just haven't been able to afford a car. Others have argued it's more a cultural shift. It'll be interesting to see if things change as the economy picks up.
+ If the future does mean fewer drives -- whether because people choose not to get a license, or simply choose not to drive -- then that seems like an opportunity for places/orgs such as cities and transit orgs. All the more reason to provide people with good experiences such as pedestrian-friendly landscapes and easy-to-use, efficient transit systems.

+ Having a driver's license doesn't mean you have a car, nor does it mean that you drive, of course.
Hi there. Comments have been closed for this item. Still have something to say? Contact us.