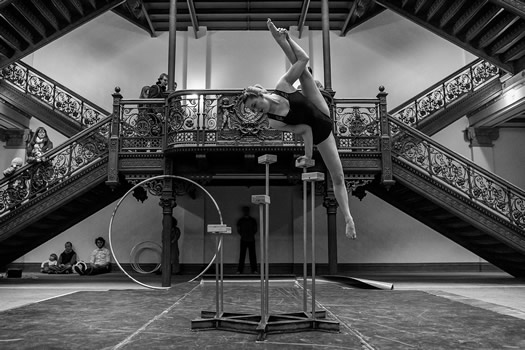 By Lauren Hittinger
It's not every day that you get to meet and interview a professionally trained clown.
Set aside your preconceived notions, because Aaron Marquise isn't just some guy in bright pants and a painted face. He's about to graduate from the National Circus School in Montreal with a diploma in clowning.
Originally from Round Lake, Marquise is back in town this week to produce a series of shows at the Gasholder Building in Troy alongside the FAQ Circus collective. And he's got his sights set on continuing to expand circus in the Capital Region.
Tell me a little bit about the FAQ Circus.
So the company that is co-producing the performance this weekend is called FAQ Circus, and it is a collective of friends who studied at the National Circus School in Montreal. We all came together at school and started throwing around the idea of creating a circus collective. So we got together and we raised money on IndieGoGo in 2012 for our first summer. Our second summer we went on tour: we went to Troy, Arlington, Mass, and New York City. And then we did another summer tour, going back to Troy and other places.
And so that's where we've been at now. We're just a small, start-up circus company of friends trying to push the understanding of contemporary circus here in the United States.
A lot of North Americans, especially US citizens, think of the circus as Ringling Brothers, with animals and 30 clowns running around in big costumes with lights. That's not what we're about. We don't use animals, and we tone down the costumes. We're not in a big arena. We try to make it more personable, and easier to see the artists, who they are as human beings, and what they're doing.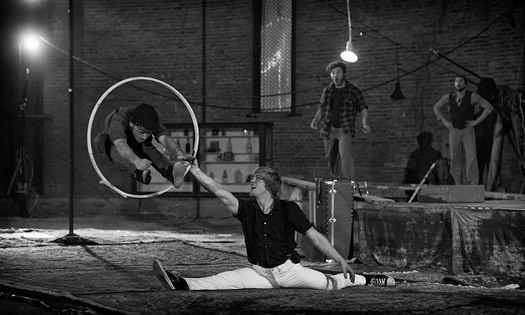 From the October 2014 performance by FAQ at the Gasholder Building. / photo: Doug Liebig
So, I'm one of the 10 co-founders, and co-manager of FAQ. And, more recently I've been trying to produce more work through them. So the Light Up Troy event in October was produced by them, but also produced by me personally.
The company I'm starting now is a production company, where I will be the artistic director, in order to produce more circus, and because I come from a theater background, producing more theater and perhaps musical theatre here in the Capital Region as I grow as an artist.
Why did you decide to go to circus school?
I wasn't enjoying college in the States. I was in New York City studying musical theater and playwriting. And it was tough to live in New York, so I was kind of missing something. At that time I had been working for a friend of mine, Sean Fagan, who runs Circus Theatricks out of Troy, which is a program that teaches circus skills to young adults and children through summer camps, weekend programs, and after school programs. And I was working with him teaching what little circus I knew at the time, and the more I worked with him, the more I got interested in circus. Then I started researching circus for a public speaking class at college and I found out about the National Circus School and I called my grandmother, and my parents, and Sean, and said, "You know what, I'm going to quit college and spend two months preparing for circus school."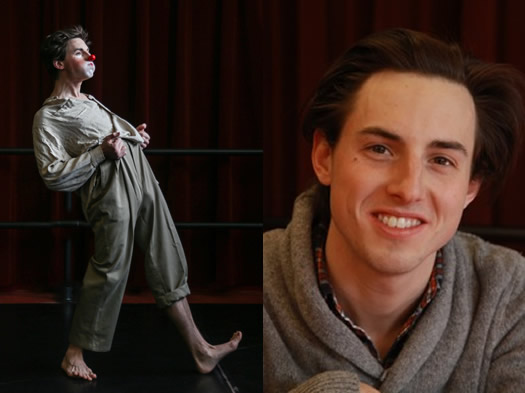 Aaron Marquise / photo: Renald Laurin
Was your family supportive?
When I first said I want to join the circus there was that hesitation of "What?"
But you have to explain it to them -- not like Ringling brothers, but more like Cirque du Soleil. That kind of circus that's different, and there's no animals. You have to explain it to them a little bit, and then once they start getting onto it, then they're like, "Oh... OK."
I just got a contract in Switzerland for five months at the end of my schooling. And when I told them about that, their reaction has completely changed over the four years. Now it's much more, "We're so proud of you, that's so great. This worked out, and you're going to have a job. That's awesome."
So when you go to circus school, do you already know what types of things you want to do as a performer? Or, do you have to cross-train?
The only reason I went to circus school was to be a clown. And that's what I'm graduating as. Because I couldn't have done anything else. At the heart of who I am as a person, I'm a clown -- I like to make people laugh, and I like to make connections with people that way.
But I know a lot of people enter the school with, kind of like in college, an undecided major. But those people tend to be in the preparatory year, and they try out circus hoping to find what they want to do. You know, they may be high-level acrobats who did gymnastics for 12 years and now they want to expand on their artistic fields.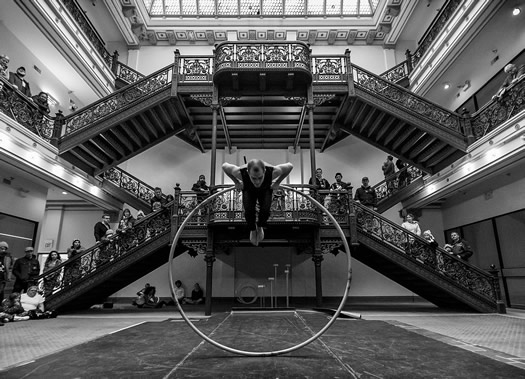 Justin Dale performing during the FAQ preview in the Frear Atrium earlier this month. / photo: Doug Liebig
I heard that you might be moving some of the circus permanently to Troy.
My vision, I guess you could call it, is to continue along the path that I am in the respect that I want to continue to produce circus here in Troy. I think there's an audience for it, especially with RPI and Sage. There's the younger crowd, but at the same time there's this crowd that's starting to support more local business here in Troy. Troy is really pushing. With the farmers' market alone, there are people in there just supporting local businesses. And I think that's awesome.
This kind of project is so much harder in a city like New York or Boston, where it's a lot bigger and you have to fight a lot more beasts. Whereas here, I love that you can walk down the street and people just know each other.
So, yes, I do want to continue to produce circus here. I feel like the support is here, especially from businesses. So ideally, my vision would be to bring circus to Troy as much as I can. We're right between New York City and Montreal, so it's very accessible to have top-notch artists. We have access to these artists and I want to continue to bring people to Troy and show them how great the city is, but also show how great the Gasholder is, or the Frear Atrium is. And to produce circus is so much fun.
Any plans for a circus school here?
I'm not interested in opening my own circus school, but I am interested in furthering circus education here with Sean Fagan. I think circus as an educational tool, as a community-building activity -- it's great. Circus teaches you to trust in other people and to be able to work together.
It's really a family. When you're in the circus, you start to feel like a family because you spend a lot of time together and you trust in people.
This interview was lightly edited and condensed.
____
Aaron Marquise, along with FAQ Circus and Sage Brothers Painting Inc, is presenting "Running: A Contemporary Circus" this Friday, February 20 at 7:30 pm, and Saturday, February 21 at 2 pm and 7:30 pm. The show takes place in the Gasholder Building on 5th Avenue in Troy. (Be sure to dress warmly.)
Lauren writes about shopping, crafting, and living well on a small budget at The Thrifty Ginger.
Find It
FAQ Circus at the Gasholder Building
5th Ave. and Jefferson Street
Troy, NY 12180
Hi there. Comments have been closed for this item. Still have something to say? Contact us.