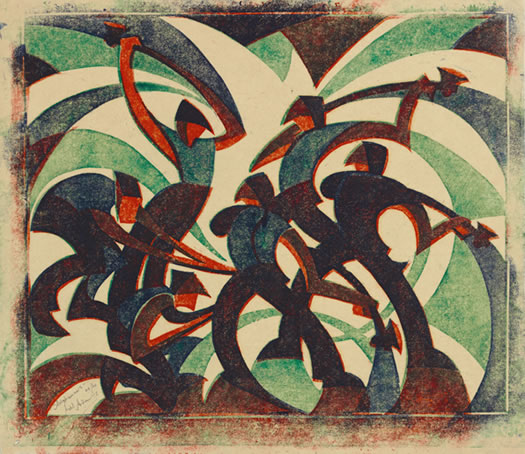 This looks interesting: The Clark is opening an exhibit called Machine Age Modernism: Prints from the Daniel Cowin Collection this Saturday (February 28). It includes prints from a handful of early 20th century British printmakers. Exhibit blurbage:
The first three decades of the twentieth century in Britain were a time of great civic and cultural change, ones that witnessed social and economic growth followed by depression, political turmoil, and vast technological advancement. Today known as the Machine Age, this was an era when industry and mechanization were embraced both economically and visually. New modes of communication and transportation--radios, trains, automobiles, airplanes--along with the rise of new building types such as the skyscraper transformed the landscape of the country. Amid the mass consumerism that emerged at this time, the fascination with all things mechanized ultimately gave rise to its seeming opposite: a desire for a return to craft and the hand-made.
The exhibit includes 13 works by Sybil Andrews, as well as works by Edward Wadsworth (image search) and C. R. W. Nevinson (image search).
There's an exhibit opening talk with curator Jay Clarke this Sunday, March 1 at 3 pm.
Machine Age Modernism is at the Clark through May 17.
Earlier on AOA: Day trip: Williamstown and The Clark