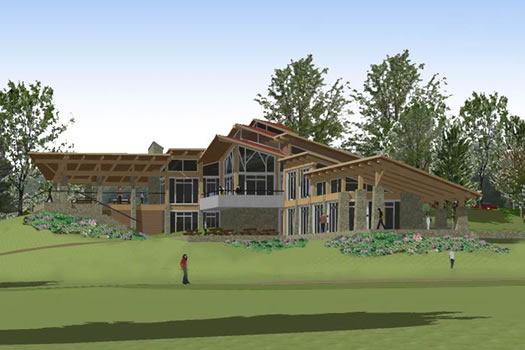 The rendering above is the latest version of the new visitor center planned for Thacher Park State Park. It was released this week as part of the announcement of the Cuomo admin's NY Parks 2020 plan, which proposes to spend about $900 million on upgrades for state parks.
The plan reiterates some of the already-planned new amenities for Thacher Park, including the $3.8 million visitors center which will overlook "the most dramatic views in the region." Dan Keefe, deputy public information officers for the state Office of Parks, Recreation and Historic Preservation, says there isn't a target completion date for the visitors center yet. But planning is already in progress for exhibits inside the center, and an effort to raise private money to pay for those exhibits will start this spring.
Thacher is also in line for new facilities for mountain biking, caving, and a high ropes course. Keefe says those are expected to be ready for this summer. And park officials will be working with the Thacher Climbing Coalition to identify rock climbing locations after the snow melts.
Other state parks in the region are also slated for upgrades as part of NY Parks 2020 (pdf). Among those plans: facilities improvements for Spa State Park, possibly adding the former Mt. McGregor prison forestland to Moreau Lake State Park, and the digitization of a collections at at Peebles Island. [Daily Gazette] [TU] [Troy Record]
Earlier on AOA:
+ Funding for new Thacher Park visitor center
+ A master plan for Thacher State Park