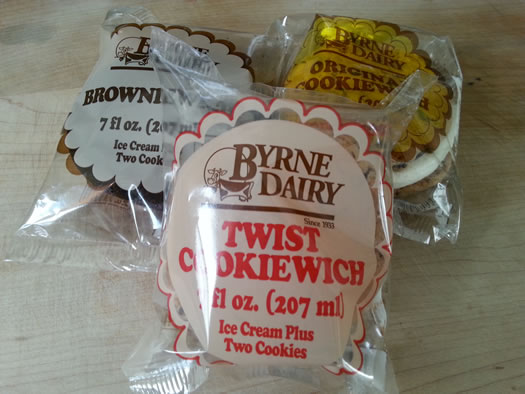 By Deanna Fox
Though milder weather is apparently on the way, ice cream probably still isn't at the top of your mind.
But, really, any time is a good time for ice cream. And if you need justification, try this one that AOA Mary told me her dad used for wintertime ice cream while she was growing up: Eating food that's roughly the same temperature as the air around you will help offset any unpleasantries that weather or temperature might bring by creating an equilibrium between the temperature of your insides and the temperature of your outsides. (Also: Eating ice cream is, in general, an excellent distraction from what's going around you -- including the cold.)
While we have a bevy of good ice cream places in the Capital Region, Stewart's is perhaps the best known for year-round ice cream availability. But let's not overlook that other great New York State regional dairy, Byrne Dairy, which claims the hearts of Central New Yorkers. (It's the official chocolate milk of the New York State Fair.)
And it has one thing Stewart's doesn't: ice cream sandwiches.
There are no Byrne Dairy outposts in the Capital Region, but several stores do carry their products. It isn't hard to find a half-gallon of Byrne Dairy's chocolate milk locally. And lucky for us, the same is true for the ice cream sandwiches.
These sandwiches aren't the typical sticky, cake-y cookie layers encompassing a slab of bland vanilla ice cream that you might find in any supermarket frozen section. Available in a variety of flavors, Byrne Dairy's sandwiches are instead two large baked cookies (or brownies) that squish a generous swirl of the company's own ice cream. It is ice cream AND (actual) cookies. You don't have to choose between the two.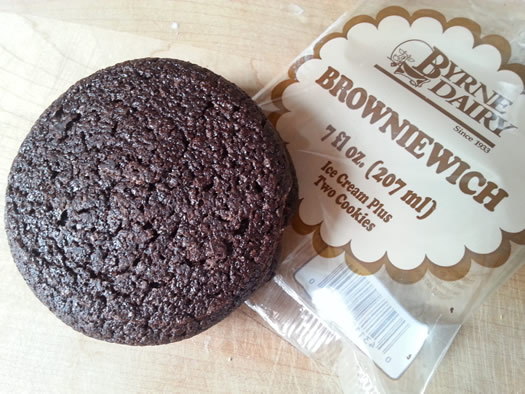 Byrne Dairy refers to the products as either a "Cookiewich" or "Browniewich," depending on the exterior layers. Cookiewich sandwiches ($1.89) feature chocolate chip cookies, while the brownwieches are self-explanatory. Flavors include the classic cookiewich or browniewich with vanilla ice cream, as well as cookiewiches with chocolate ice cream or vanilla-chocolate twist ice cream. The browniewich is also available with raspberry or mint ice cream.
The ice cream used on the sandwiches almost has the consistency of soft-serve, making the filling light enough to bite into with ease. It means you can eat it right from the freezer without having to let it warm enough to be edible.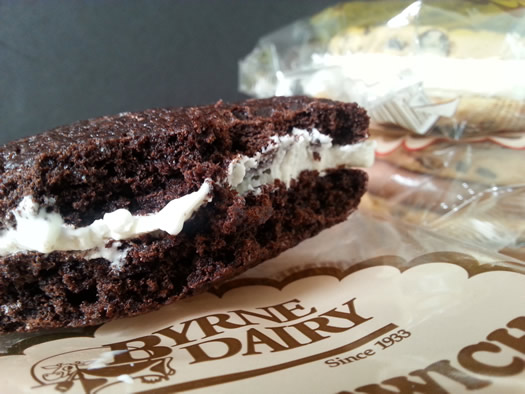 But perhaps the biggest difference between Byrne Dairy ice cream sandwiches as other readymade options is that Byrne's offering feels, for lack of better terms, homespun.
And in the Capital Region, we are just as likely to dine based on emotional attachment or personal feeling as we are based on the quality of the thing we are eating. We don't always eat the thing that is qualitatively the "best."
Thankfully with Byrne Dairy ice cream sandwiches, we don't have to choose sentimentality over flavor, because they are very tasty, and when I eat one, I find pleasure both on the palate and in my soul.
For me, Byrne Dairy brings a taste of nostalgia to dessert time. I grew up on Byrne Dairy, the way my kids are growing up on Stewart's ice cream and milk, and ice cream sandwiches were always a special treat that were indulgent without being expensive. So until Stewart's starts making a comparable product, I'll keep a stash of Byrne Dairy's sandwiches in my freezer.
The Byrne Dairy ice cream sandwiches are available at Rite Aid locations around the Capital Region, as well as the Countryside Mart in East Berne, and the Olde Country Store in Schoharie.
Deanna Fox writes about many things, mostly about food. More can be found on her website, Twitter, or Instagram.
More Eat This:
+ Knish at Nibble Inc
+ Éclairs at Sovrana's
+ Tortas at El Mariachi
Hi there. Comments have been closed for this item. Still have something to say? Contact us.