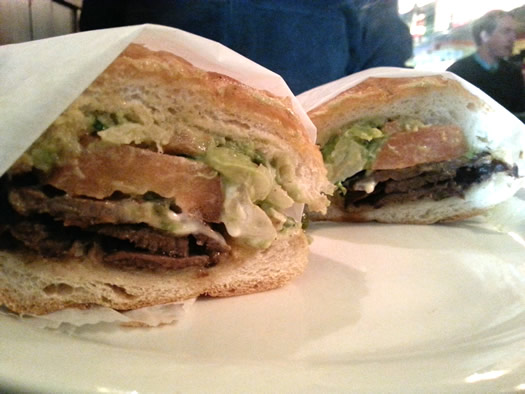 By Deanna Fox
You don't need to go south of the border for a lunchtime taste of Mexico. You just need to go a little south of Central Avenue.

Tortas are a traditional Mexican sandwich often sold on the street during lunch. Using whatever ingredients are on hand, tortas act as a quick, filling lunch that comes cheap, is easy to eat, and offers utility that is only rivaled by flavor.

The tortas -- in various interpretations -- at El Mariachi in Albany don't disappoint when it comes to a fast, hearty lunch that bring a hit of flavor to an otherwise drab, wintery workday.
The tortas at El Mariachi come in five flavors:

+ carne enchilada (marinated pork),
+ pollo (chicken),
+ papas y chorizo (potato and sausage)
+ aguacate (avocado),
+ and carne azada (steak).
Each will run you $5.95, and come slathered with beans, mayonnaise, avocado, tomato, onion, and lettuce. The El Mariachi website indicates that jalapeno is served on the sandwich, but on my recent visit the pickled jalapeno was served on the side (like a Mexican version of a Jewish deli offering).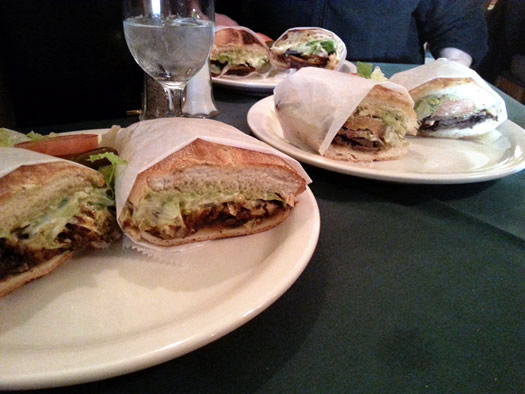 I opted to try the pork, steak, and chorizo sandwiches. The pork was my favorite, and the flavors of the marinated meat really shined among the other ingredients. The steak of the carne azada torta was cooked well, but the cut of meat (flank or skirt, most likely) made it hard to get a consistent bite of sandwich eat time. I ended up eating it with a knife and fork, which seems counter the nature of the thing. Chorizo and potato, when mashed together and layered on top of beans, created a nice texture that made eating the torta a breeze. To me, the chorizo was a little bit mild -- I was expecting something more pungent and spicy -- but the combo of ingredients is a classic pairing.

The bread was really interesting (the waitress said the bread is brought in by a Mexican import distributor). The telera is like a Mexican version of baguette, and the origin of the bread includes French influence. (In that sense it shares something with the bread of another classic sandwich, the banh mi.) It's a crusty roll with airy crumb that sops up meat juice and creates little pockets of mayonnaise bubbles. You'll find a quarter-loaf's worth of crumbs in your lap after you eat the torta.

The sandwiches would have been undoubtedly better if the pickled jalapeno was sliced and included on the sandwich. The acid pucker brought from the pickled pepper brightened the entire torta, which sometimes felt a bit heavy with layers of bean, meat, and fat (avocado and mayo). Sure, I could have balanced a bit of sandwich with a bite of jalapeno, alternating between the two, but it seems so easy to just add it to the sandwich, and would have saved the meal from feeling a little underseasoned.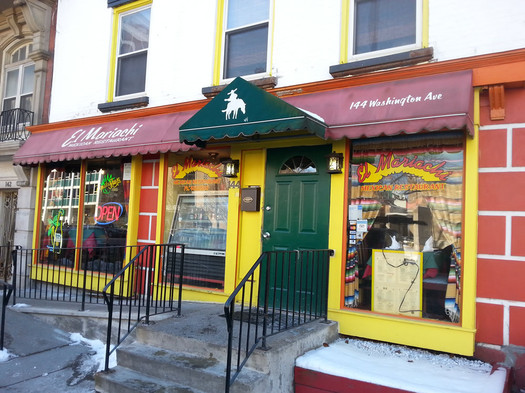 The tortas are traditionally a lunch food in Mexico. And at the Washington Ave El Mariachi they are only available during midday.
If you find yourself in downtown Albany around lunch, consider a torta. It's quick, it's filling, and true to its roots, it won't break the bank. A lunchtime trip over to El Mariachi is a good excuse to get away from your desk and take in some delicious food and a prandial stroll around noon.
By the way: El Marachi has two locations in close proximity in the Center Square/Hudson/Park neighborhood -- the Washington Ave location and the spot on the corner of Hamilton Street and South Swan. The Hamilton location was damaged by fire a year ago and has been closed for renovation ever since. But, during a quick peek through the windows last week, it looked like it was close to being completed, and the restaurant's website says it will be re-opening soon.

Deanna Fox writes about many things, mostly about food. More can be found on her website, Twitter, or Instagram.
More Eat This:
+ Breakfast Pizza at Bella Napoli
+ Paska bread from Schuyler Bakery
+ Lunch buffet at First Choice Caribbean
+ The burger at 15 Church
Find It
El Mariachi
144 Washington Ave
Albany, NY 12210
Hi there. Comments have been closed for this item. Still have something to say? Contact us.