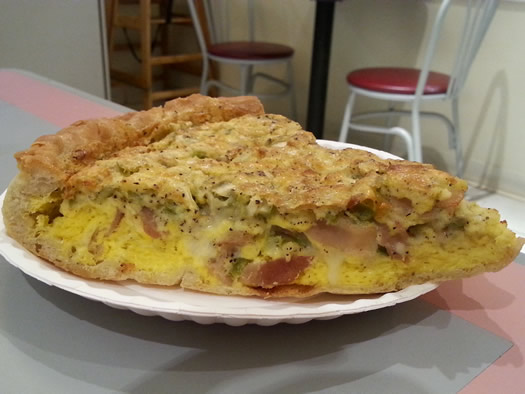 By Deanna Fox
Fortunately for me, eating pizza has rarely been a case of taking whatever cold slice might be left in the box from the night before. The Capital Region is flush with pizza options, so it comes as no surprise that the first meal of the day be covered by the pizza category.

How do you make pizza suitable for breakfast? You put an egg on it. Some iterations, like the Eggs in Purgatory pizza from More Perecca's, rely on coal-fired crust to support spicy, house-made tomato sauce with a few poached eggs on top. (Sidenote: I'm fairly certain EiP pizza is the perfect hangover cure.)
Others, like the breakfast pizza at Bella Napoli in Latham, forgo the sauce altogether and make the eggs the star of the show.

And even though sauce is my favorite part of the pizza, I'm OK with that.
Breakfast pizza at Bella Napoli in Latham falls somewhere between a deep-dish pizza and a quiche; it relies on pizza dough being stretched across a high-sided round pan, then filled with a mixture of eggs, milk, ham, and sautéed green peppers and onions. A high oven temp and well-seasoned pan sears the bottom of the crust, keeping it from becoming soggy under all those eggs. The top of the eggs, laced with a bit of cheese, develop a golden, slightly crunchy skin that offers a burst of burnished flavor on first bite. The entire thing is perfectly seasoned.

Thinking about it, what this actually reminds me of is an egg-filled version of a timpano, without the top crust. (Like from Big Night.) It's thick and deep, but at the same time the eggs are light and fluffy, like a perfect omelet. It all somehow loosely stays together, but don't expect to fold it in half and nosh on it while driving or trying to get any sort of work done. No, in true deep-dish fashion, eating this breakfast pizza is a commitment, one that will require you to sit down, with fork and knife, and eat with intention. Thankfully the coffee at Bella Napoli is outstanding, so bring a newspaper or get ready to check your Flipboard on your iPad. You're going to be here for a while.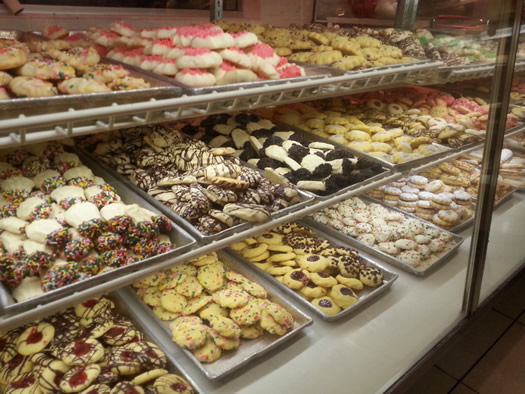 To my surprise, many people I've spoken to about Bella Napoli do not realize there is a whole savory side to the operation -- to them, Bella Napoli is synonymous with Italian cookies and pastries and some of the area's best donuts. Look to the right of the donut case... you'll see a sandwich counter and a cold case, filled with individual pizzas, salads, and servings of pasta. The breakfast pizza in on the bottom shelf, and if you don't see it, ask the person behind the counter. There will likely be some in the back. (Another pro for Bella Napoli: somehow, they seem to always have everything in stock, and it's always fresh. Even the day-old donuts are better than most "fresh" donuts.)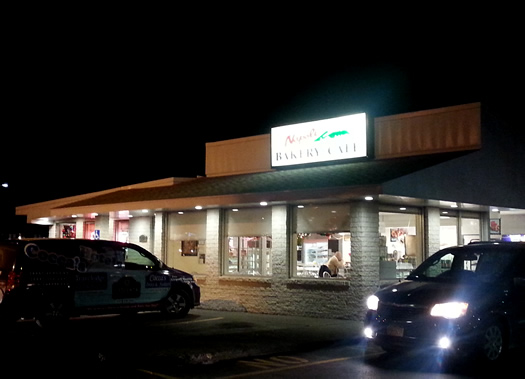 One more quick note about Bella Napoli: park in the lot in the back, don't struggle with the few spots in the front. There is a door on the back side, to the right of the building. You can thank me later.

You can take your breakfast pizza cold or ask the person at the counter to reheat it for you. I like it warmed up, but it's good either way. For $3.99, you have one very hearty breakfast or breakfast and elevensies, easily.
Deanna Fox writes about many things, mostly about food. More can be found on her website, Twitter, or Instagram.

More Eat This:
+ Paska bread from Schuyler Bakery
+ Lunch buffet at First Choice Caribbean
+ The burger at 15 Church
+ Empanadas from La Empanada Llama
Find It
Bella Napoli Latham
672 New Loudon Road
Latham, NY 12110
Hi there. Comments have been closed for this item. Still have something to say? Contact us.