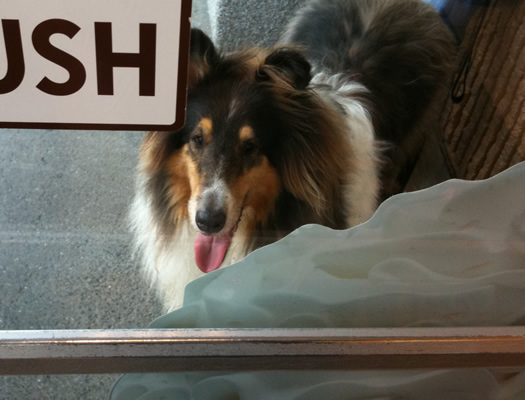 In New York State it is against the law to allow a dog in a restaurant -- even (technically) on an outdoor patio. But a bill sponsored by Assembly member Linda Rosenthal (D-Manhattan) would open the door for dogs to legally be in outdoor eating areas.
The bill includes a bunch of qualifications for allowing dogs in these areas -- here are just a few:
+ "The owner of the food service establishment elects to allow pet dogs in its outdoor dining area."
+ "A separate outdoor entrance is present where pet dogs enter without going through the food service establishment to reach the outdoor dining area and pet dogs are not allowed on chairs, benches, seats, or other fixtures."
+ "Food and water provided to pet dogs shall only be in single-use disposable containers."
+ "Employees serving food are prohibited from having direct contact with pet dogs while on duty. Employees who have direct contact with a pet dog shall wash his or her hands."
+ "The pet dog is on a leash or confined in a pet carrier and is under the control of the pet dog owner."
The bill was referred to committee today, and it doesn't appear to have a "same as" bill in the state Senate, so it's a long way from being passed.
We love dogs -- obviously -- and it'd be great to be able to go for a walk in the summer with Otto and stop someplace to eat. (Well, this already happens because some places are kind of casual about the rule.)
But... there's probably a good case to be made by people who are not dog people that dogs don't need to be everywhere -- and maybe restaurants, even outside, are a good place to keep that line drawn. (And, of course, the behavior of dogs and their owners plays a big role here, too -- a calm, well-behaved dog probably isn't going to be an issue for most people.)
[via @mahoneyw]
Dogs, dogs, dogs, dogs, dogs
While looking up this bill today, we noticed there are a lot of proposed bills that somehow relate to dogs. Among them: a bill requiring the microchipping of all dogs, a bill prohibiting the tethering or caging of a dog at night, a bill that would make the theft of a pet dog or cat a felony, a bill that would prohibit the "devocalization" of dogs and cats, a bill that would allow for courts to provide dogs to certain witnesses in order to ease the stress of testifying, a bill that would establish a tax credit for adopting a dog or cat, and a bill that would designate the service dog as New York's official state dog (sponsored by Kathy Marchione in the Senate).
Earlier on AOA: Eateries that allow or accommodate dogs?
Hi there. Comments have been closed for this item. Still have something to say? Contact us.