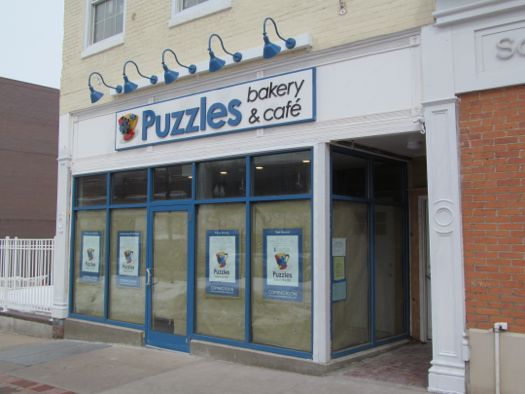 One year after winning the AOA Startup Grant contest, Puzzles Bakery and Cafe is about to open.
In addition to serving sandwiches, salads and baked goods, Sara Mae Hickey's bakery and cafe has a mission: Puzzles is a for-profit business with a commitment to employing people with disabilities -- autism, especially.
The cafe was inspired by Sara Mae's experience with her autistic sister. She set out to create a business at which adults with developmental disabilities would have an opportunity for personal growth, a source of income, social interaction, and a sense of purpose.
The last year of renovating the building, creating the space, and preparing to open the business has been a long road with a few unexpected bumps -- including a burglary, and a front loader plowing into the back of the building. Three times.
What has the last year taught her?
"Well, I've learned that opening a business is one of the hardest things that a person can do. I know that about a year ago I thought we were able to open in a month or two -- and here we are almost a year later and we're finally ready to open our doors for real."
It's difficult dampen Sara Mae Hickey's spirits.
"I grew up with a very disabled sibling," she said this week, "and I've been through my ups and downs my entire life -- so all this this is really not that big of a deal, I guess."
It took a wayward snow-clearing front loader to shake her faith.
"It was a disaster. There was a hole in the back of the building and police tape everywhere and the fire department was there, and I said, 'Oh, this is it. We're never going to open. This is so scary.'"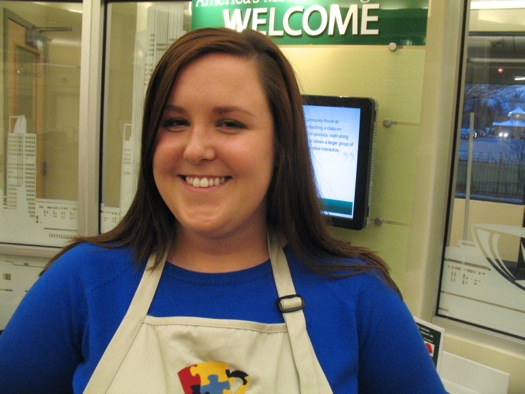 Hickey's parents own the building at 515 State Street, and they've been working to renovate it and create the space for Puzzles for more than a year. Another setback along the way: someone broke into the building and stole $7,000 of her father's tools.
But now the building's ready, the menu is set, the employees have been trained, the first cookies have been baked, and Puzzles is ready for a soft opening this week.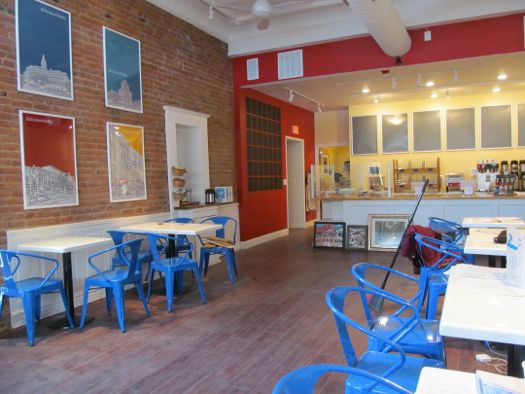 Startup Grant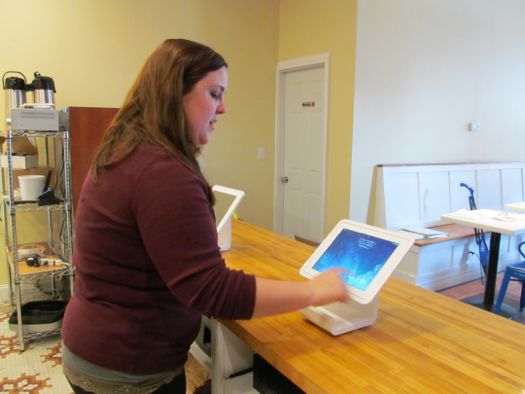 The $1,500 Sara Mae won in the AOA Startup grant contest with support from Berkshire Bank and Staff Ciampino and Company, P.C. paid for exactly what Sara Mae said it would -- a Square register system with two iPads, a printer, and two cash drawers.
"They seem so small, but really -- this is our business," Sara Mae said of the registers. "What I love about the Square registers is that they are very user friendly, which is perfect for our employees, especially those with developmental disabilities. A lot of people with developmental disabilities already use iPads as a part of their daily lives, whether for communication or learning purposes or just for fun, so pretty much all of our employees were able to just hop right on register and it is like the easiest thing in the world."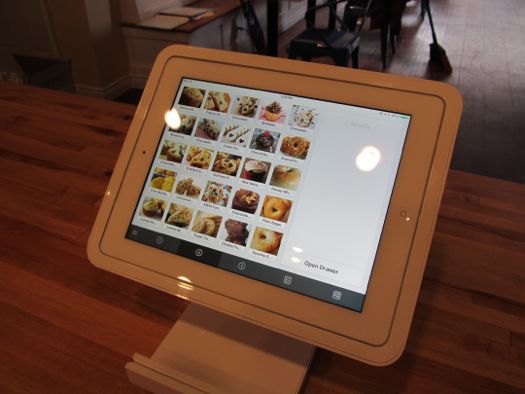 Employees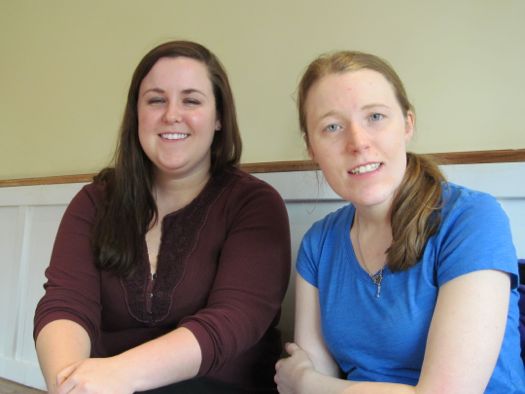 One of those employees is Anne Cushing of Schenectady. She's a summa cum laude graduate of SUNY Oneonta and Fulton Montgomery Community College, and has training in graphic design and culinary arts. But she said her autism has made finding jobs a challenge.
"Aside from it being a very rough market it has been very difficult to talk about my disability," Cushing said. "You say you are disabled and that is immediately a red flag that people don't want to hire you. There is still a lot of discrimination against people with disabilities, be they physically or mental handicapped."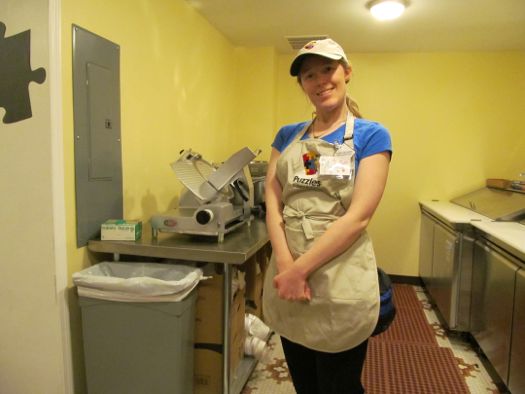 Cushing said she's looking forward to working at Puzzles and she's hoping that customers will come away from the bakery and cafe with more than just good food, but also more of an understanding of autism.
"I wish people would understand that just because someone has autism... it doesn't mean they are stupid. In fact, Temple [Grandin] has proven if anything that people with autism are very brilliant. I hope that when people come in here they see normal smiles and regular people and they are not going to associate this place with a charity that just hires disabled people. I hope they're going to see that autistic people can be like regular people."
For Cushing, working at puzzles means something very empowering --"It means something very good. It means you can be open about your disability and not be afraid of it," she says.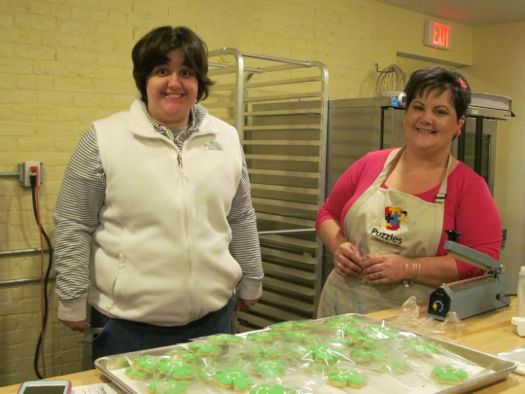 Maddy Hannon and baker Kris Giovannone
Twenty-two-year-old Maddy Hannon will also be working at Puzzles. It will be Hannon's first job, though she's volunteered quite a bit. She's looking forward to making cookies.
"Maddy had a very interesting resume," said Sara Mae Hickey. "She sent pictures of her in her chef's hat. She trained with the BOCES culinary program."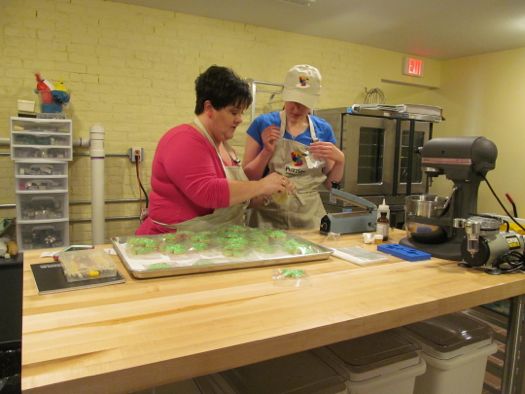 Hickey said more than 400 people applied for jobs at Puzzles. And of the initial 19 employees, more than half have disabilities.
"We have an integrated workplace," Hickey said. "We are looking to hire the person who is the best fit for the job. We have a mixture of people with disabilities and without disabilities. But at any given time there will be at least one person with a disability."
Most of the employees at Puzzles who don't have disabilities have some connection to people with disabilities. One has an autistic son, and another a sister with autism.
"One thing during the hiring process that was important to me," says Hickey, "is that you can't teach people how to be compassionate and how to be nice and understanding individuals. That was really huge when we were looking for the right mix of employees. We wanted people who had an understanding of disabilities."
She said the employees without disabilities are more than just fellow workers, they're teachers and advocates.
"I'm really happy with our team," she said. "We noticed at employee orientation that everybody really hit it off and all of our employees really seem to get along. And they are all so behind our mission."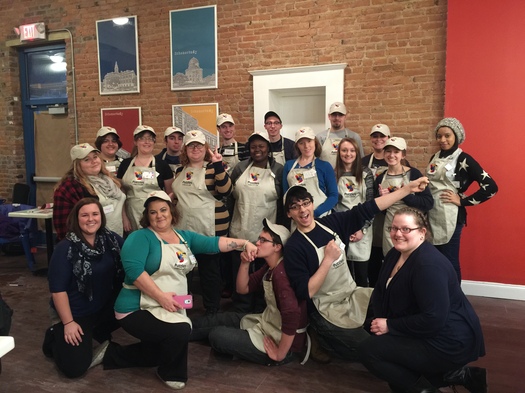 There are three types of jobs at Puzzles:

+ Front of house employees will take orders and work with customers.
+ Food prep associates do everything from bake cookies to assemble salads and sandwiches.
+ Cafe attendants will bring food out to the customers, bus tables, help with washing dishes, greet customers, decorate cookies.

Hickey said the cafe attendant jobs will be exclusively filled by people with disabilities. The other jobs will be filled by both employees with and without disabilities.
Food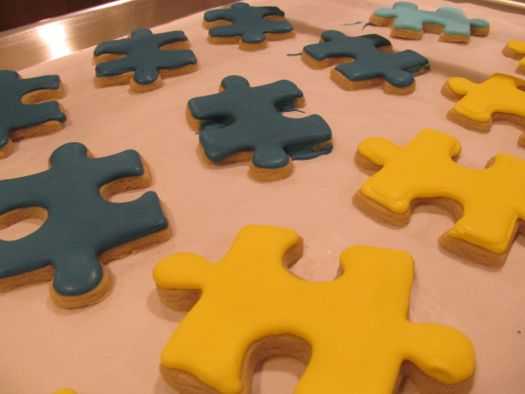 As for the food, Hickey said there will be nine sandwiches and nine salads on the menu, along with bagels, muffins, cookies and other goodies. Everything will be made on the premises except the gluten-free items to avoid cross-contamination. And, Hickey said, she's trying to work with as many local suppliers as possible.
"Our granola is from Gatherer's Granola here in Schenectady and we're making a pesto aioli using Buddhapesto."
Community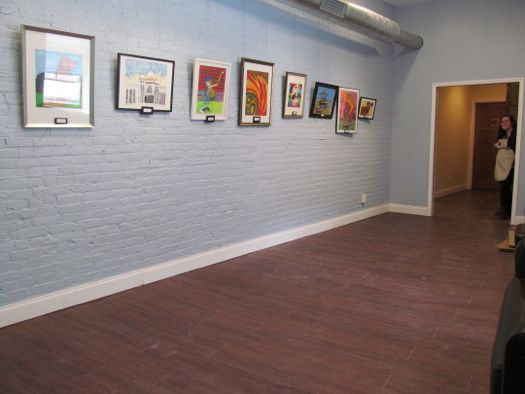 Puzzles also includes a community room in which Hickey said they're planning movie nights and other events. The cafe is decorated with artwork by artists with disabilities and Hickey says Puzzles will have prints, coasters, and calendars available for purchase.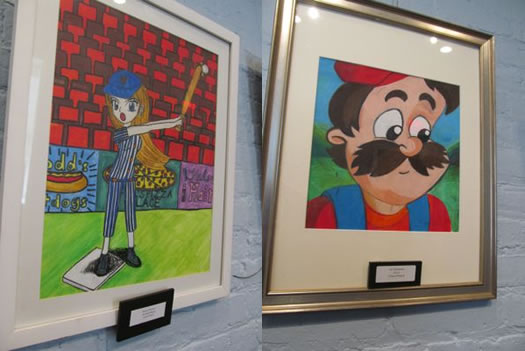 "We want to help support not only people who want to come here and work with food and customers but also those people might who be fantastic artists and fantastic musicians and all sorts of things people might be good at -- we want to support all that as well."
Opening
Puzzles will have an invitation-only soft opening this week. It will then be open regular hours beginning March 16. And the grand opening is on April 2 -- World Autism Awareness Day.
Find It
Puzzles Bakery & Cafe
515 State Street
Schenectady, NY 12305
Say Something!
We'd really like you to take part in the conversation here at All Over Albany. But we do have a few rules here. Don't worry, they're easy. The first: be kind. The second: treat everyone else with the same respect you'd like to see in return. Cool? Great, post away. Comments are moderated so it might take a little while for your comment to show up. Thanks for being patient.