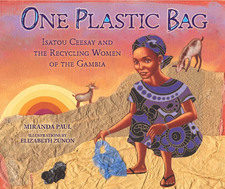 The Albany Institute is hosting an event this Saturday with Isatou Ceesay, a Gambian woman who created a community-based recycling program. Her story is the subject of One Plastic Bag, a new picture book by author Miranda Paul and Albany-based illustrator Elizabeth Zunon. Paul and Zunon will both be at the event.
Here's a Guardian feature about the program Ceesay and group of women started in Gambia. It's a remarkable story -- they built a recycling program in place where there wasn't even municipal waste collection, and did it in a way that helped provide jobs and income for people.
The Albany Institute event will include a reading and talk, as well as a project for kids to create their own recycled art project -- there are workshops at noon and 3 pm. It's free with museum admission.
Earlier on AOA:
+ Holiday gifts: Elizabeth Zunon
+ So, how do you create a giant clog sculpture?