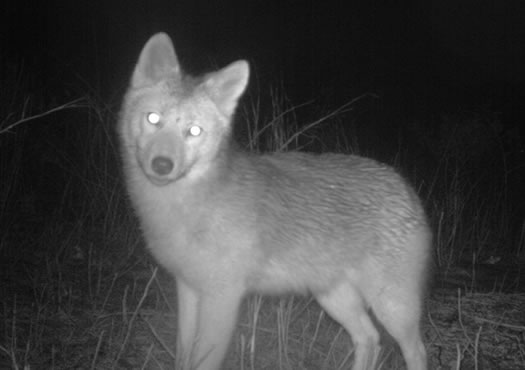 Noted this week, from the state Department of Environmental Conservation press release:
If you see a coyote, be aggressive in your behavior - stand tall, and hold arms out to look large. If a coyote lingers for too long, then make loud noises, wave your arms, throw sticks and stones.
Just remember that words will never hurt them.
Coyotes? Here? Yep.
There are maybe 30,000 coyotes in New York State, according to study a few years back from researchers at the SUNY College of Environmental Science and Forestry. ESF has a good info page about the animals. Here's a clip from a section coyote/human interaction that suggests why the DEC is urging people to scare off coyotes:
Although coyote attacks on people have been historically rare, this concern is not unwarranted in the light of more recent events. Such attacks have become more frequent as both coyote and human numbers have increased and merged in space and have been reported in several states (including New York), but most notably in California. Attacks have primarily occurred in suburban areas where coyotes have lost much of their fear of humans due to lack of pursuit and where associated with an easy food source such as garbage and pet food. In some cases, coyotes had been deliberately fed. The best insurance against coyote attacks is to 1) keep all garbage or other foods safely secured, 2) keep pets and their food indoors or safely secured if out doors and 3) harass any coyotes which come into your neighborhood by making loud noises - shouting, starter pistol, alarm devices, etc. If coyotes become persistent or unfazed, lethal removal may be necessary.
Attacks on dogs in rural areas most often occur during the coyote mating and pup birthing period - January through June - as a territorial defense behavior. Coyotes have frequently closely followed and sometimes attacked dogs when being walked by their owners - and sometimes the owners. Coyotes relish cats as food items.
The story of coyotes in New York is interesting and somewhat understood. There are a few different ideas about how coyotes ended up here, but the most popular take is that the coyotes moved into New York over the last century, filling the space left behind after humans pushed out wolves. There's also DNA evidence that many of the coyotes in this part of the country are actually coyote/wolf hybrids (coywolves).
The eastern coyote has since taken up residence throughout the state -- including here in the Capital Region core. You can hear them -- and every so often see them -- at Capital Hills in Albany. And apparently the Pine Bush is another hot coyote hangout. (A few years back, former State Museum curator of mammals Roland Kays, who studied urban wildlife, told us that research indicated this area was a "population sink" for coyotes -- the animals were often being killed by cars.)
Coyotes are very stealthy, capable moving through even densely populated (human) neighborhoods unnoticed. There was an interesting episode of Nature last year -- "Meet the Coywolf" -- that tracked a coyote through a suburban neighborhood.
Hi there. Comments have been closed for this item. Still have something to say? Contact us.