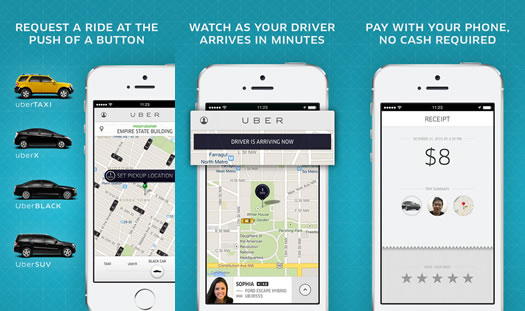 The open letter that Matt Baumgartner and Vic Christopher released Tuesday calling on local mayors to help bring Uber to the Capital Region has been getting a lot of attention in the local media. And that makes sense. Baumgartner and Christopher are both prominent local business figures, and it's no secret there is ample frustration with local taxi services.
But the taxi issue in the Capital Region has been simmering for a while (Baumgartner and Christopher first reached out to Uber more than a year ago.) And there are a handful of important to angles to keep in mind...
Letter of Support for Uber from Capital Region entreprenuers by Relentless Awareness
Uber's not the only player in this game
The two biggest players in the taxi-app industry are Uber and Lyft. And as it happens, representatives from Lyft have already been in the Capital Region. As we reported earlier this month, Lyft reps met with Albany officials in March. And a Lyft spokesperson told AOA that the company has been talking with cities across the state.
Lyft has already tried to start service in other upstate cities -- it operated briefly in Buffalo and Rochester last year, but stopped operations there after the state raised concerns about its insurance situation. Its only operation in New York State is now in New York City where it's using commercial drivers in order to comply with state laws and regulations.
A state-level issue
One of the road blocks to Lyft's continued operation in Buffalo and Rochester is that current New York State insurance laws don't mesh with the "transportation network company" setup used by Lyft and Uber. There's currently legislation in both the state Senate and Assembly that would add these sorts of companies to state law (the term first arose as part of California's regulatory efforts) and change the insurance rules to allow them.
We get the impression that Lyft is pushing for this legislation behind the scenes with the hope of opening the way for its (re)expansion into Upstate New York. (Is Uber also involved? Good question. We haven't seen an indication of that, yet.)
And local-level issue
Even if that state legislation goes through, it doesn't necessarily mean that Lyft or Uber could start operating wherever they wanted. Just before Lyft ended its operations in Buffalo and Rochester, the company was facing some push back from the city of Rochester over a need to comply with local laws. [Rochester D&C]
Given the municipal structure of the Capital Region -- that is, many small municipalities all packed together, with many popular trips crossing multiple boundaries -- getting local approval here could be a long process. A short cut could be working out some sort multi-municipal agreement.
Regional approach
Since the release of the Albany County Convention and Visitors Bureau's taxi experience survey last November, the org has gathered together a group of local officials to discuss possible regional approaches to addressing concerns about the taxi situation. We hear this group includes state Assembly members Pat Fahy and John McDonald along with reps from the CDTA, Albany International Airport, the Albany-Colonie Chamber of Commerce, and the Albany Police Department. The group has also reached out to the mayors of the cities of Albany, Rensselaer, Saratoga Springs, Schenectady, and Troy and the supervisor of the town of Colonie. The group met for the first time in March.
It will be interesting to see what bubbles out of this group -- maybe something like a regional metering system -- and what sort of legislation might be necessary to pursue the potential initiatives.
By the way: Some sort of public event -- a forum, panel discussion, public hearing -- could help focus public attention and help everyone understand the issue better. Invite all the players, especially the taxi companies. Having this discussion in public, especially since it already involves reps from so many public orgs, isn't a bad idea.
ACCVB Taxi Report Comments 2015-04-01
There are reasons to be wary of the taxi-app companies
As we mentioned when writing about Lyft a few weeks back, the taxi-app companies have many fans and supporters who praise them for their user experience and what's described as an innovative approach to the rides-for-hire industry. But the companies have also been criticized by traditional taxi companies that argue the app companies have an unfair advantage because they don't follow all the same rules. And others have criticized the model these companies operate on, in which the drivers are not considered direct employees of the companies, for shifting the risks of operating the business from the corporation to the individual drivers. [NPR] [Slate] [Washington Post]
Does it have to be either/or?
One way to frame this situation is Uber/Lyft or traditional taxi service. But there are good reasons to not approach the situation that way. Among them:
+ These taxi-app companies are still relatively new, and it's not a bad idea to take a sober view of their longterm viability. What happens when the billions in venture capital stop pouring into a company like Uber?
+ Both types of companies -- app companies and traditional taxis -- are potential competition for each other, which, in theory, should be good for people who use the services. Having one company completely wipe out the local competition to have the market all for itself seems like a bad bet for riders in the longterm.
+ A lot of issues currently faced by traditional taxi companies here, like regionalization, will also apply to the app services. The problems will have to be fixed one way or another.
What are the real underlying reasons for bad taxi service?
The central question in any discussion about the relative quality of taxi service in the Capital Region should be this one: Why are things the way they are right now?
If the current situation is truly as bad as the survey results indicate, is it a result of bad management? A lack of training? Low pay? Problems with cost structure? Lack of real competition? Lack of consistent demand? Something else about the way things are set up here?
It's important to answer this question because these very same underlying problems could also end up affecting rides provided by one of these taxi-app services. And in that case, we'd just be trading one set of companies for another without actually fixing the problem.
Earlier on AOA:
+ A Lyft for Albany?
+ Surveying Albany taxi experiences
+ An attempt to hail Uber for the Albany area
For the sake of disclosure: Vic Christopher had been set to serve as a judge in the AOA Startup Grant competition this month until an unexpected scheduling conflict arose.
Hi there. Comments have been closed for this item. Still have something to say? Contact us.