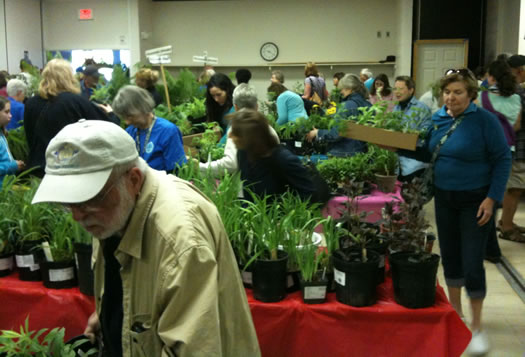 As the April rain falls and the grass regains its green, we're thinking about all the things that will be growing soon. And maybe some of those things will be growing in your garden.
Here's a quick list of some upcoming plant sales...
May 9: Fort Orange Garden Club
The annual Fort Orange Garden Club plant sale is May 9 at the Pruyn House in Colonie from 9 am to 2 pm. (We don't know much about this sale, but it's been suggested in the past -- can anyone share an experience about it?)
May 16: Cornell Cooperative Extension - Albany County
The Cornell Cooperative Extension Albany County's annual Garden Education Day is May 16 from 9 am-1 pm at the cooperative extension facility in Voorheesville. Master gardeners will be there for tours and advice, but the big draw is the plant sale.
We've been in past years and it's intense. There are a bunch of high-quality garden plants -- including both vegetables and flowers -- for low prices. And people start lining up before it starts in order to get their pick of the offerings. So, get there early and have in mind what you're looking for.
May 16: Capital Roots
The annual Capital Roots spring plant is sale is May 16 at the Produce Project farm on 8th Street, between Eagle and Hutton at the new Urban Grow Center in Troy (594 River Street). We've also shopped this sale in the past and we were able to score good plants. (It's not as intense as the cooperative extension sale.) It typically has veggies (including heirloom tomatoes), flowers, and perennials.
Of course, Capital Roots is the new name for Capital District Community Gardens.
Washington Park tulip dig/sale
The annual Washington Park tulip dig/sale is typically the weekend after the Tulip Festival -- that's May 16 and 17 this year. But sometimes it gets pushed back because of weather/slow-blooming tulips (that happened last year). Watch the Washington Park Conservancy FB page for details.
If you want your pick of the tulips, the day to go is Saturday as volunteers dig up the bulbs -- for every bag you dig for yourself, you dig one for the Sunday sale. And if you go to the Sunday sale, go early -- the tulips sell very quickly.
May 17: Siberian Iris & Perennial Sale
The Capital-Hudson Iris Society's annual Siberian Iris & Perennial Sale is May 17 from 9 am-noon in the parking lot of Main Square Shoppes in Delmar (318 Delaware Ave). Blurbage: "Siberian irises, daylilies, hostas, and a wide assortment of sun and shade perennials from our members' gardens. The prices and selection will be extraordinary."
May 30-31: Thacher Park Annual Native Plant Sale
The Friends of Thacher State Park Annual Native Plant Sale at returns to the park's overlook May 30 and 31 from 10 am-3 pm each day. Blurbage:
Choose from over 50 hard to find perennials, ferns, shrubs and small trees native to this region. Kid's crafts and face painting will entertain the younger visitors. Join a guided hike, talk with a beekeeper or meet staff from the Audubon Society, NYS Bluebird Society, Landis Arboretum or Friends of Thacher Park.
Saratoga Tree Nursery
This isn't sale exactly, but the state DEC's Saratoga Tree Nursery sells seedlings during the spring. You can order seedlings, subject to availability, through mid May and then pick them up at the nursery in Saratoga Springs. Details are at that link.
Hi there. Comments have been closed for this item. Still have something to say? Contact us.