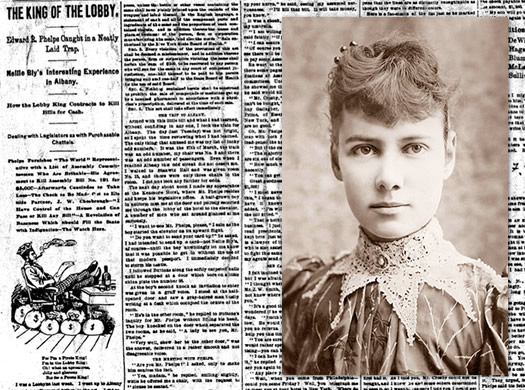 Tuesday -- May 5 -- was the birthday of Nellie Bly, one of the most important and colorful figures in the history of American journalism.
In 1887 Bly, whose real name was Elizabeth Cochrane, became famous for pulling off an audacious undercover story in which she got herself checked into a New York asylum for the mentally ill and reported on the conditions. She'd later stoke her fame by racing around the world in less than 80 days.
If Nellie Bly was around today -- even the actual 19th century Nellie Bly, transported in a time machine -- she'd probably have her own online media startup and would be killing the competition. Vice, Vox, Buzzfeed, bow down before the original queen.
One of Bly's articles for the New York World brought to her to Albany in 1888. And the story will have a familiar ring to it: she came here to buy some state legislators.
In "The King of Lobby," published April 1, 1888 in the New York World, Bly explained that a well-known lobbyist named Ed Phelps was said to able to bribe legislators to affect bills:
I was a lobbyist last week. I went up to Albany to catch a professional briber in the act. I did so. The briber, lobbyist and boodler whom I caught was Mr. Ed Phelps. He calls himself "King of the Lobby." I pretended that I wanted him to help me kill a certain bill. Mr. Phelps was cautious at first, and looked carefully into my record. He satisfied himself that I was honest, and talked very freely for a king.
He said he could buy up more than half the members of the Assembly. It was only a question of money. I pretended to doubt his ability to do this. To prove his strength he took out a list of members and put a lead-pencil mark against those he swore he could buy. In his scoundrelly anxiety to prove his strength and to get my money he besmirched the character of many good Assemblymen.
Bly took the train up to Albany from New York City and met Phelps at the Kenmore Hotel on Pearl Street. Her account of their first meeting is great:
I thought my surest bait for this occasion was assumed innocence and a natural ignorance--not entirely assumed--as to how such matters are conducted.
"Mr. Phelps, I came to consult you on a matter of importance," I began nervously, as if afraid of my position. "I--I hope no one can overhear us?" and I looked at him imploringly.
"Oh no; you are safe to speak here," he assured me, with a pleasant smile.
He drew his chair closer to me and adjusted his glasses carefully on his nose, meanwhile looking at me critically.
"I have come to see you about a bill," I began to explain. His face lighted up as a girl's will over strawberry soda on an August day. He smiled encouragingly, and rubbed his hands together gently.
"What bill is it," he asked eagerly.
"A bill about patent medicines," I answered. "My husband is ill, and he sent me to New York from Philadelphia to place some advertisements, and a friend, who also has a patent medicine, told me of this bill, so I came up to see if anything could be done."
"Have you the bill with you," he asked in a low tone.
"Yes; my friend gave it to me when he told me about it," I replied. He got up and walked over to the door, as if to be positive it was tightly closed. Then he came back, and taking the bill, which I held in my hand, he quickly scanned it.
"Do you think you can kill it?" I asked, with a proper amount of enthusiasm.
"Oh,yes,"he responded heartily. "Never fear, I'll have it killed."
Phelps ultimately tells Bly that the bill -- which would more closely regulate patent medicines -- could be killed for $1,000, plus his fee of $250, by bribing members of a committee. (That's about $32,000 in today's dollars.)
They later meet up again in New York City, the bill now dead, to finish the deal. Bly's still undercover:
"My husband could not understand how you could buy the whole committee for $1,000. It seems so little," I suggested.
"I couldn't if that was my only case, but you see this is my business; I spend all my time at it; I pay these men heavily on other bills, so that makes some bills more moderate."
"I have control of the House, and can pass or kill any bill that so pleases me," was Mr. Phelps' astounding reply.
"Next week," he continued, "I am going to pass some bills, and I'll get $10,000; I often get that and more to pass or kill a bill."
I was stricken dumb. I did not what to say.The brazen affrontery of this appalled me.
Bly eventually talks her way out of Phelps's office, without paying, on the promise that she'll meet him in a half hour at her hotel. She heads for the New York World office to write her story instead.
"So far as I personally know, Mr. Phelps is still waiting my arrival in the parlor of the St. James Hotel."
Here's a reprint of the story with legible text -- it's a quick read, and Bly's prose is entertaining.
Phelps responded to the article, accusing Bly of "efforts to concoct a sensational romance such as you seem to suppose that your readers relish," and asserting the he knew she was trying to play him. (His response also includes a condescending line about how he hopes a husband for her "will not long be a false pretense.")
Later that month both Bly and Phelps ended up testifying before a state Assembly committee on the episode. Bly recounted her story as told in the article. And Phelps repeatedly denied engaging in any discussion or agreement to buy off legislators.
The committee's report concluded:
The committee, therefore, do not hesitate to say that there is no evidence whatever even tending to impeach the character of any legislator named in the World article. We go further than that and say that the testimony of witnesses and the circumstances surrounding the transaction prove beyond the possibility of a doubt that the statements or what purported to be the statements of Phelps concerning the legislators mentioned, as published in the World newspaper, are absolutely false in every particular.
Phelps ended up leaving Albany after the hearing, and didn't return the next year. But as the Annual Record of of Assemblymen and Senators of from the City of New York in the State Legislature noted in a recap of lobbying for 1891 (emphasis added):
... the lobby included many well-known and experienced individual lobbyists. Among them was the notorious Frederick S. Gibbs, a republican ex-assemblyman, who had charge of various schemes known to have money in them. John H. Camp, ex-congressman, appeared as general corporation lobbyist. Even "Ed." Phelps, who led the exodus of the lobby from Albany when that body was in serious trouble a few years ago, returned, and resumed his old occupation.
Nellie Bly photo: H. J. Myers via the Library of Congress via Wikipedia | New York World clip via the Undercover Reporting archive at NYU
Say Something!
We'd really like you to take part in the conversation here at All Over Albany. But we do have a few rules here. Don't worry, they're easy. The first: be kind. The second: treat everyone else with the same respect you'd like to see in return. Cool? Great, post away. Comments are moderated so it might take a little while for your comment to show up. Thanks for being patient.