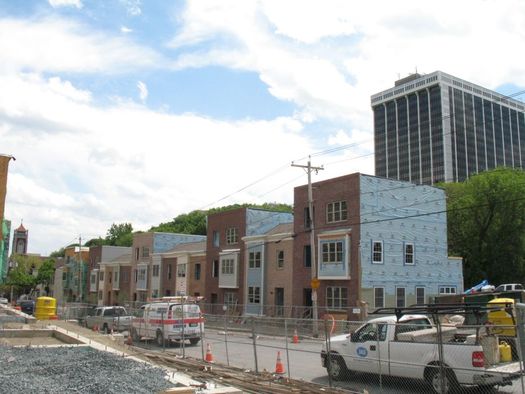 The most interesting real estate project in Albany -- and maybe the whole Capital Region -- is in Sheridan Hollow. Yep, that Sheridan Hollow, the neighborhood that has so often been bypassed, overlooked, and otherwise left with the short end of the stick throughout the city's history.
So what's happening? Habitat for Humanity Capital District and a group of partners are in the process of building a new core at the heart of the neighborhood.
Here are a few reasons why that's so interesting...
There are a bunch of photos from the project site above in large format -- click or scroll all the way up.
It's in Sheridan Hollow
The Sheridan Hollow neighborhood is one of the in-between places -- specifically, it's located in a ravine between Arbor Hill and the area around the Capitol.
Probably in part because of this location, Sheridan Hollow has struggled economically, not just in recent decades -- the median household incomes for Census tracts that include that neighborhood were roughly $17,000 and $25,000 in the 2010 Census -- but for centuries.
Through those many decades the neighborhood has been the home for a succession of immigrant generations and people scraping to get by. And progress moved slowly. One historical example: researchers reported a few years back there's evidence that people living in Sheridan Hollow suffered from parasite infestations during the 19th century for many decades longer than residents of other parts of the city, probably because of inferior infrastructure and utilities. (People there were still using outhouses into the 1920s.)
The neighborhood's history has also included a viaduct built to carry people over it, and later in the 1980s a steam generating plant there was converted to burn garbage. (The plant is still there -- it's no longer burning garbage.)
So, Sheridan Hollow hasn't gotten many breaks through its history. That it's now getting investment and new development is important and noteworthy.
This project is aiming to develop a core for the neighborhood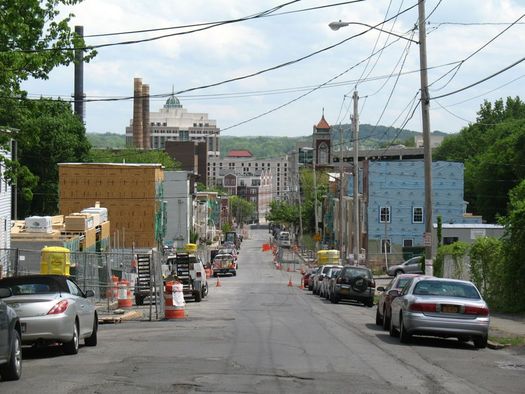 The first phase of the Habitat for Humanity Capital District project in Sheridan Hollow includes the construction of 20 houses -- 10 single family and 10 two-families. A second phase will include another 10 single-family houses.
The project also includes mixed-use space that will eventually house Habitat's offices. And there will be commercial space that's slated for uses that include a restaurant. (There's also some hope that a grocery store might eventually take up one of the commercial spaces.)
Zooming out a little bit, an organization called Housing Visions, which is working alongside Habitat, is building 57 rental units across Sheridan Ave, Orange Street, and Swan Street.
So all together, that's an addition of almost 100 housing units, plus new commercial and office space for the neighborhood.
It's a mixed-income addition to the downtown residential trend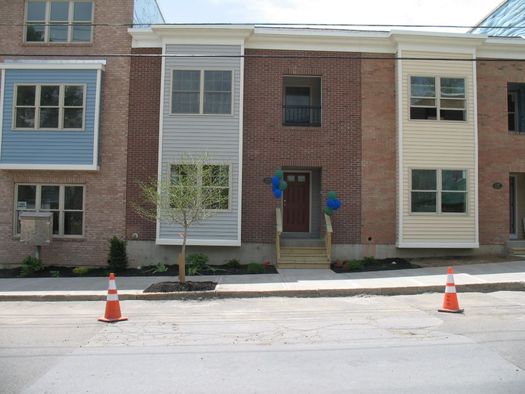 There's been a lot attention for downtown residential development in Albany over the last few years. And that's good -- many of the spaces that have been converted probably weren't going to find other uses, people weren't already living there, and the downtown area could use the influx of development. But these residential conversations have also almost universally resulted in units with relatively high rents.
"We already have some really great apartments and condos [in downtown Albany at places such as] at 17 Chapel and The Monroe," Christine Schudde, Habitat for Humanity Capital District's director of development, said to us Tuesday. "So to have, just a few blocks away, homes that are built exclusively for hard-working lower-income families, to make sure those families aren't pushed out to the fringes of the urban community, to make sure folks working in our service sectors have a place to live that's really close to where they work, to help them have a life/work balance, just to have a really vibrant community filled with all sorts of different folks, we think this location is just the best and that it's going to help bring back all the rest of the downtown area."
Habitat homeowners typically have incomes that range from 40-80 percent of the area's median income. Schudde says that means a family of four could earn up to about $62,000 a year and still qualify for one of the homes. And through a partnership with the Touhey Homeownership Foundation, the project is also building homes that allow incomes up to 100 percent of the median income, which opens the way for a broader mix of household incomes. As with any Habitat project, the homeowners contribute sweat equity to the project and go through a financial education course.
"Everyone brings something different to a community," Schudde said. "And you have young professionals living next to young families, living next to retired folks. We have single folks who are moving into homes. So having that mix of backgrounds and mix of incomes, we really think we're creating sustainable communities."
It's helping people gain a foothold in the real estate market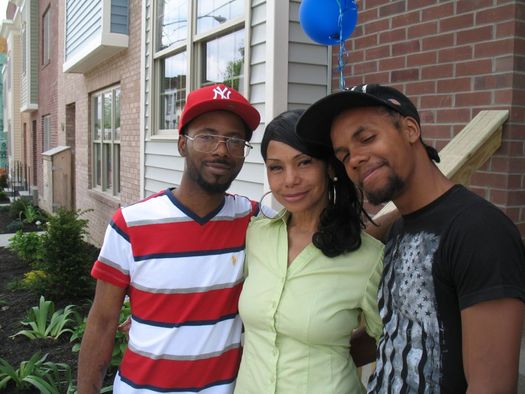 Sheila Y. Wright, with her sons Sharod Black (on the left) and Chilo Gonzalez
Becoming a homeowner is a big step in anyone's life. But when you've struggled financially, it can be an an important inflection point in the story of your family.
"I always wanted to be a homeowner, I just never thought it could happen for me," Sheila Y. Wright told us Tuesday while standing in the row home that will soon belong to her. She was telling us how she'd pass the Habitat site on her way home from her job at Albany Med. "And I was just looking, and just watch. I'd come by the next day and tell myself, 'I'll go in the next day.' And one day I heard a voice say, You're worthy. And that, for me, did it."
To understand how big a deal that was for Wright, you have to know a little bit about the path that brought her to this point. As she explained us, she's gone through rough stretches in her life. She's made mistakes. And even as she's paid for those mistakes, and found the strength to work her way onto an admirable path, it wears on a person. It shakes your confidence that you're worthy of this sort of achievement.
"My kids tell me confirmation every day, 'Mom, you came back and got us. You lost everything, you were homeless, you lived on the street. You picked yourself up. You found every one of your kids that was in foster care, you went back and got all four of us. Then you put yourself through school. You got a better job. Our life got better, and then it kept getting better and better. We love you for that,'" Wright recounted to us Tuesday. "And I guess, as a parent, you just want more. ... So we tend not to think that we're worthy when we do get a blessing or when something good do happen to you."
Wright said it was a matter of trusting that God had a plan for her. And, as she put it, "you just gotta get out of your own way."
Wright and two of her sons are set to move into their new home next month. She sees parallels for the stories of her family and that of Sheridan Hollow.
"It's a new neighborhood. And just like I needed a chance, this neighborhood needs the same chance," she said with enthusiasm. "Just wait in five years when you come back to this neighborhood and see what's going on here. ... You have take pride in where you live, I don't care where you live. If you take pride in it, you come out and you sweep every day, you water the plants, those plants are going to grow, that grass is gonna grow, that tree is gonna grow. If we give it what it needs, that happens."
This project is part of Habitat's evolution as a developer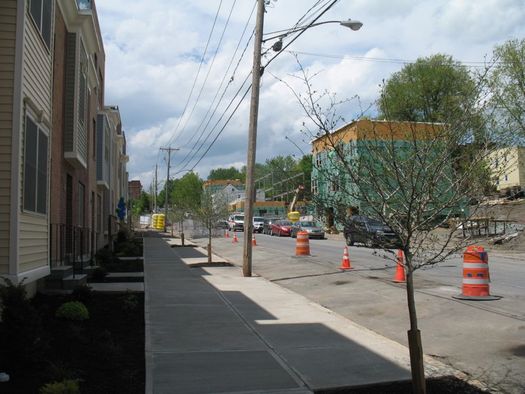 You think of Habitat for Humanity, you probably think of volunteers getting together on weekends and building houses -- one small house, one a time.
Since 1988 Habitat for Humanity Capital District, which serves Albany and Rensselaer counties, has built 100 houses. It hit the 50-house mark in 2006. It's built 50 more since then. So its growth has sloped sharply upward in recent years.
Christine Schudde, the org's director of development, points to a 16-home project it completed on Alexander Street in Albany's South End in 2013 as a turning point for Habitat, as part of an evolution toward becoming something more like a developer.
"We went from building one house at a time here and there to looking at entire blocks, looking at neighborhoods, really doing more comprehensive community development."
She said these sorts of larger projects have Habitat looking not just at how a development can help a few families, but how it can also have a wider effect on a neighborhood.
"You can see other houses are turning around, people are taking pride, there's a sense of investment in the community," Schudde said of the Alexander Street development. "And we think that's what will happen in Sheridan Hollow, especially since it's so close to downtown, there's such a great mix of people here, businesses are already starting to come back. We're optimistic this will turn things around here."
Two families have already moved into the Sheridan Hollow homes. Schudde said another 3-4 will be moved in over the next few months. And the first 10 houses are all scheduled to be finished by the end of this year.
Say Something!
We'd really like you to take part in the conversation here at All Over Albany. But we do have a few rules here. Don't worry, they're easy. The first: be kind. The second: treat everyone else with the same respect you'd like to see in return. Cool? Great, post away. Comments are moderated so it might take a little while for your comment to show up. Thanks for being patient.