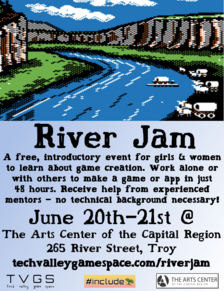 One of the projects in the recent AOA Startup Grant competition that really caught our interest was the Tech Valley Game Space, a Troy-based project aimed at opening the world of video game creation to a wider group of people.
TVGS has a public event coming up this month called River Jam, "a free, 'learn to make a game in 48 hours' event tailored for first time game makers who identify as women." Blurbage:
The first event in the #include series will be River Jam - a free, 48 hour "game jam" that will be held at The Arts Center in Troy starting on the same day as River Fest (Saturday, June 20th) and continuing throughout the weekend. The jam will also be preceded by an optional "intro to game development" workshop that will take place over the prior weekend (June 13th-14th), also at The Arts Center. While the jam is open to all participants, the primary goal for this event is to encourage first time game makers who identify as women to sign up. As such, participants that meet this criteria will be given priority in the event that spaces are limited.
In addition to making an effort to reach out to participants who identify as women, we are also seeking women to help serve as voluntary mentors and provide guidance to the jammers. If you are a local developer that would be willing to contribute some time to help provide expertise and support during River Jam, please send a message to info@techvalleygamespace.com with a brief summary of your background and availability during the weekend of the jam.
River Jam is just one of the upcoming events organized by TVGS -- others include showcases and book-club-like gathering but for video games.
The TVGS co-working studio is at 291 River St. in downtown Troy.
Hi there. Comments have been closed for this item. Still have something to say? Contact us.