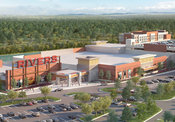 A few quick follow-up links to the new proposed design of the Schenectady casino:
Over at the Biz Review, Rush Street Gaming CEO Greg Carlin tells Mike DeMasi the company is open to the idea of changing the brick facade on the new design.
And over at Stop the Schenectady Casino, David Giacalone argues for the size of the proposed pylon sign outside the casino to be reduced, and compares the sign to other prominent landmarks in the city.
Hi there. Comments have been closed for this item. Still have something to say? Contact us.